http://www.youtube.com/watch?v=ej3ioOneTy8?rel=0
Film Synopsis: During a manned mission to Mars, Astronaut Mark Watney is presumed dead after a fierce storm and left behind by his crew. But Watney has survived and finds himself stranded and alone on the hostile planet. With only meager supplies, he must draw upon his ingenuity, wit and spirit to subsist and find a way to signal to Earth that he is alive.
Release Date: 02 October 2015
With the theatrical trailer for the movie and a couple of weeks until release, it may feel like the plot has been already given away. Short cuts from a space shuttle lifting off, to an astronaut left behind, survival, and a possible rescue – less sometimes could be more.
At the helm of the movie we have director Ridley Scott. Scott has left a mark within the sci-fi community with Alien and Blade Runner (some might want to forget Prometheus). Despite the longer trailer maybe being a Cliffnotes of the movie, I hope that the movie will keep in the peppered humor featured in the trailer to help counteract what could be just another long, dramatic piece to be submitted to the Academy. Sadly, I haven't read the book (yet) of the same name by Andy Weir. But chatter from those who have, like most novel-sourced movies, suggests they just hope Ridley doesn't screw it up.
With the original release date of November 25 moved up two months, it may overshadow Tom Hardy's Legend. The Martian boasts a star studded cast: Matt Damon plays the lead, astronaut Mark Watney, who is thought to be dead and now must survive on a hostile planet. Other Academy Award alums include: Jessica Chastain, Chiwetel Ejiofor, Jeff Daniels and gasp! Sean Bean! Thankfully cast members like Kata Mara, Donald Glover, Sebastian Stan, and Kristen Wiig help balance out the crew so the Oscar vie isn't too obvious.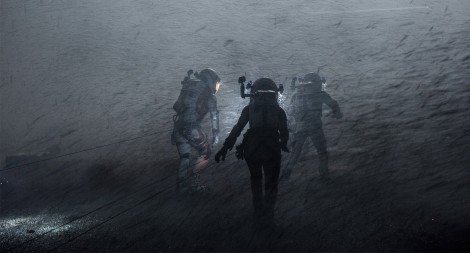 While on the surface, the movie already seems like a play for a nomination nod, the Martian undoubtedly seems like a good time. There may be some more substance to desire plot wise, as the control station watches on in a helpless Truman Show like manner to see whether Watney will or won't live until a rescue crew saves him. For those who haven't read the book like me, the ending may or may not be predictable – we'll just have to see.
However, with lines like, "I'm just going to have to science the shit out of this." and Jimi Hendrix's All Along the Watchtower in the background, it's clear that the audience is just along for the ride – a fun, fun ride. In the vein of Gravity, it exudes tension and a thrilling exploration of human survival and ingenuity. And why wouldn't we go along for the journey? The Martian looks entertaining, the cast has someone for everyone, and we really need to know the answer to the real question: will Sean Bean actually live in this movie?
Do you think the trailer gave too much away? Would you have been more inclined to see it if it was set to release during the summer? Do you think Sean Bean actually lives in this? Let us know!