Synopsis for 1×03: Tensions run high between Travis and Daniel, but they're forced to work together after unforeseen circumstances keep them from separating. Maddy gets a look at what they're dealing with (and tries to ignore how much of a dick Nick is).
Rating: ★★★☆☆
There was nothing wrong with this episode of Fear The Walking Dead, but in the grand scheme of things very little happened. We got a look at how the world is starting to break down around them – and yet there's a very specific scene where neighbors are ludicrously still putting their trashcans out on the curb. Cling to that naivety as long as possible, Los Angeles!
Maddy, Nick, and Alicia are still waiting on Travis to return with Chris and Liza. They get into a small argument about pills, but it's nothing a little monopoly can't fix… for a little while anyway. As the lights go out and the streets turn eerily quiet, they contemplate how much longer they should be waiting.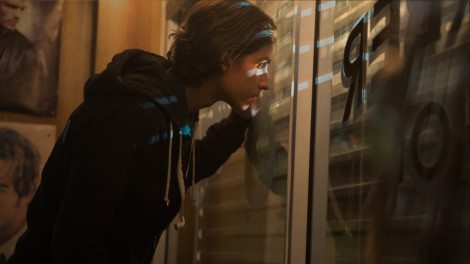 After the store next to Daniel's gets broken into and looted, it's set on fire and the wall shared by the two shops begins to heat up. With no other option but to flee, Daniel, Travis, and their families prepare to enter to chaos. Chris notices an officer getting attacked and Daniel's wife, Griselda, is injured in the process of escaping to Travis' truck. When they try to drop the Salazars off at the hospital so that Griselda can get medical attention, they learn just how bleak the situation is turning. Armed officers are keeping people from entering or leaving the hospital and Travis has no choice but to take them home with him.
Meanwhile, Nick lets in a dog, which attracts the attention of someone outside with its barking. Their brilliant plan is to run next door and steal the neighbors' shotgun to defend themselves. Alicia notices the person enter their house while they're next door and they panic to warn Travis, who conveniently shows up right about then.
He does the stupidest thing possible and gets as close to the guy chewing on a dog as possible. When they finally get back to their own house, Maddy can't shoot him with the shotgun, but Daniel steps in to finish the job – and save all their lives, though Travis doesn't see it that way. Not even after they have to save Alicia from their poor neighbor, Susan Tran, who almost makes her into a snack when she goes back for the shotgun shells. That's like Apocalypse 101 – don't forget the ammo!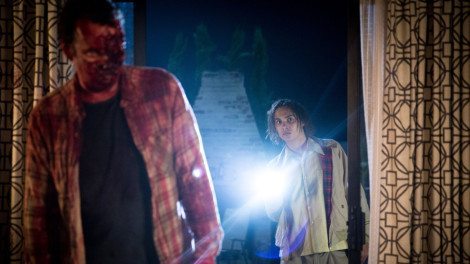 As they argue about leaving right that moment or in the morning, Daniel, Ofelia, and Griselda settle in to wait it out at Maddy's house. Ultimately, they settle on leaving in the morning and Travis sets about burying his neighbor, ignoring Daniel's advice of burning the body. They're at odds as to how to proceed, with Travis not wanting Chris to be taught about guns at all, and it creates a tension between the two families. Maddy knows one thing though – she makes Travis' ex-wife, Liza, promise to kill her if she turns into something like her neighbor, knowing Travis himself wouldn't be able to do it.
This is showcased in the way he talks her out of giving the woman peace with a hammer in the morning before they head out towards the desert to wait it out. Unfortunately, during their exit – where they left Daniel and his family in their home – Maddy notices the husband of the infected neighbor come home and veers around to warn him. As she gets out of the car and yells to him, he approaches his sick wife just in time for someone to shoot her in the head.
The military has finally joined the party! They take out Mrs. Tran and do something with Mr. Tran, who'd been covered in the infected blood. Once they secure the scene, they ushered Travis and his family back to their home and asked him questions about who was in the house. He gave them the names of everyone, Daniel's family included, and a soldier dutifully wrote down the information. They investigated the house, noticing the fresh grave (Maddy told them their dog died), but left them relatively unscathed for the time being.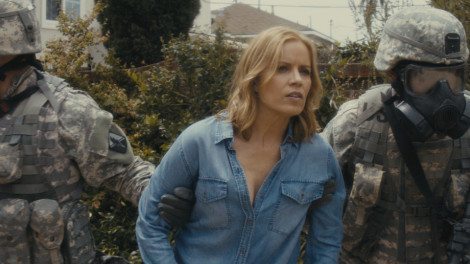 With the military finally on the scene, even as tight lipped as they are about everything, it'll be interesting to see how they handle in. In The Walking Dead, remember Shane barricaded Rick in his hospital room as soldiers cleared the building by taking no prisoners and I can only hope we get some interesting interactions between civilians and the military as society breaks down. Here's to a more exciting season, even if there are only three episodes left!