Conan O'Brien came to San Diego Comic Con the only way he could – in style! He held a bunch of low-key bingo games, our coverage of which can be found here. Then he proceeded to tape four shows for TBS Wednesday through Saturday at the Spreckels theatre, which is directly across from the Westin San Diego Gaslamp Quarter hotel.
We attended the Saturday taping, with guests including Liam Cunningham, Peter Capaldi, and the cast of X-Men Apocalypse and then received a coveted Conan Funko Pop! Figure, Conan's Monster, upon leaving the theatre.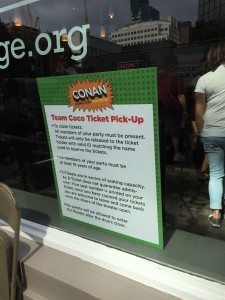 Rather than camping out all morning, as some in line did, we headed over the Spreckels and got our seats around 10:30 am. By then, all of the standby bracelets had been handed out and the line moved quickly for those who had guaranteed seats. It was short and we did end up relatively far up in the nosebleeds, but the Conan crew was good about including our section during the show. We had t-shirts thrown out to us and we're even on the show when the camera swept through our section of the audience.
The doors for the taping opened at 1:30 pm and closed at 2:30 pm for the taping to begin at 3:00 pm, though when we arrived close to 2:30 they were still letting people into the building. It was more or less a free-for-all of following the crowd up the stairs, or up the elevator, and then through the wandering hallways until we went through security giving our bags the cursory check and someone directing us towards our specific seats.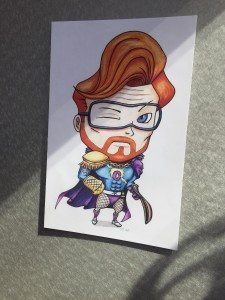 Before the show started, there were audience members up on stage dancing for prizes and the aforementioned t-shirts being thrown out into the audience. Before the taping started, the band was introduced and Andy was brought out. Filmed in real time, there were intervals where the band played and Conan hung out on stage as things were set up for the next segment. It took just about an hour to film the episode and then Conan played some guitar for the audience after it had wrapped.
Another free-for-all exit included the mass handing out of Funko Pops and everything was done around 4:30, though people were still hanging around the stage exit. Minus the break between picking up tickets and actually entering the theatre for the taping, going to the Conan show at SDCC was more or less an all-day time commitment – and would've been more so if we were interested in getting very close seats.
But the best part? Conan announced at the Saturday taping that he'd be back to do it all again next year!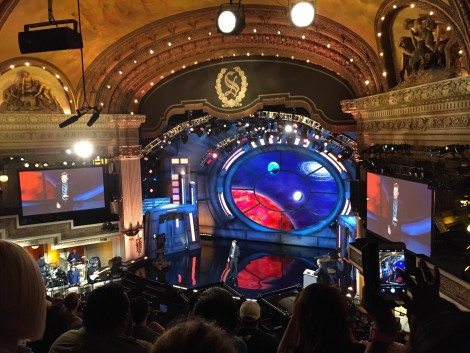 Check out the guests he managed to pull this year:
Wednesday, July 8
Elijah Wood
Chris Hardwick

Thursday, July 9
The stars of The Hunger Games: Mockingjay Part 2:
Jennifer Lawrence
Josh Hutcherson
Liam Hemsworth

Friday, July 10
The stars of Game of Thrones:
Alfie Allen
John Bradley
Liam Cunningham
Natalie Dormer
Conleth Hill
Hannah Murray
Sophie Turner
Carice Van Houten
Maisie Williams

The stars of The Walking Dead:
Norman Reedus
Lauren Cohan
Stephen Yuen
Danai Gurira

Saturday, July 11
Special surprise film cast to be revealed in San Diego during Comic-Con