HIYA FOLKS, MY NAME'S FRANCIS MCGILLICUDDY (NO RELATION) AND I'M REAL HAPPY NERDOPHILES LET ME WRITE THIS HERE GUEST POST FOR THIS HERE DAY OF NATIONAL PRIDE! YOU KNOW, I'M NOT TOO MUCH OF AN ARTSY FARTSY TYPE, BUT WHEN I'M DONE WITH A LONG DAY OF CLEANING MY RIFLES, SHOPPING AT WALMART, AND YELLING, I LIKE TO KICK BACK WITH A COLD BREW AND WATCH ONE OF MY GREAT NATION'S MOVIES. SO HERE ARE THE 10 MOST 'MURICAN MOVIES OUT THERE, WHICH PRETTY MUCH MEANS THE 10 BEST MOVIES TOO.
1. INDEPENDENCE DAY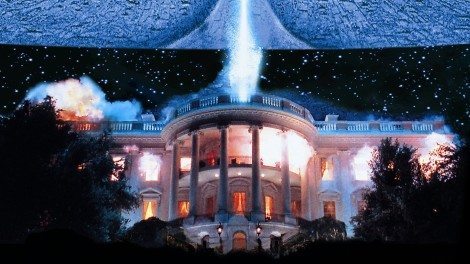 AIN'T NO BETTER INDEPENDENCE DAY MOVIE THAN INDEPENDENCE DAY, LEMME TELL YOU! SEE, WE DON'T GOTTA PROVE TO NOBODY ANYMORE THAT 'MURICA'S THE GREATEST COUNTRY ON THIS HERE EARTH. WE'VE BEEN SHOWIN' THAT TO ERRYBODY FOR ROUNDABOUTS 300 YEARS OR SOMETHIN'. BUT INDEPENDENCE DAY SHOWED FOLKS THAT WE'RE ALSO THE BEST NATION IN THIS GALAXY! BLOW UP OUR CAPITAL, WILL YA? NOT LIKE THAT'LL SLOW US DOWN! PLUS THIS MOVIE'S GOT JEFF GOLDBLUM AND WILL SMITH, 2 OF OUR NATION'S GREAT PATRIOTS. THEY'VE SAVED US FROM DINOSAURS, ZOMBIES… HECK, WILL SMITH TOOK CARE OF ALIENS FOR US IN LIKE 4 OTHER MOVIES TOO. SOMEONE GIVE THAT MAN A MEDAL.
2. CAPTAIN AMERICA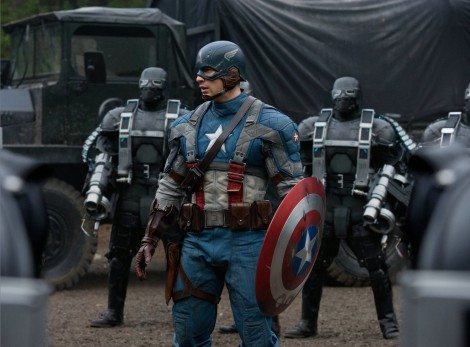 SEE, THIS HERE'S WHY I LIKE AMERICA'S MOVIES SO MUCH – 'CAUSE THEY DON'T TELL YOU ABOUT THE KINDA HISTORY YOU WANNA KNOW IN SCHOOL THESE DAYS. TURNS OUT THIS ONE SUPER DUDE JUST SHOWED UP IN WORLD WAR II AND KICKED ALL THE NAZI ASS AT ONCE! WHO KNEW! BUT THEY WON'T TEACH KIDS THAT BECAUSE THEY DON'T WANNA MAKE ALL THE EUROPEAN FOLKS LOOK AS PUSSY AS THEY REALLY WERE. THANK GOD WE GOT HOLLYWOOD TO EDUCATE US. AND THANK THE ALMIGHTLY LORD FOR CAPTAIN AMERICA! YOU KNOW WHAT, I'M GONNA EXPRESS MY FREEDOM OF SPEECH HERE: **** YEAH! **** THOSE **** ******* NAZI *****! *******! ****** **** THEIR ****** 'MURICAN ****** **** BALLS! [Note: This continued for several paragraphs in the original draft. Mr. Mcgillicuddy insisted on this segment's importance to the article's message, but he agreed to cut the remainder in exchange for a rack of baby back ribs and a live hand grenade. -Ed.]
3. TEAM AMERICA: WORLD POLICE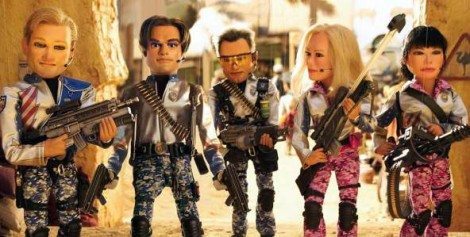 NOW HERE'S A WHOLE LOT MORE GREAT STUFF OUR GREAT COUNTRY HAS DONE. IT REALLY SHOWS FOLKS THE EFFORTS AND SACRIFICES THAT OUR MEN DID IN THE MIDDLE EAST TO PROTECT OUR NATION. THE WEIRD THING IS, I WENT AND SAW THIS ONE IN THE THEATER, ALL THE OTHER FOLKS WERE LAUGHIN'! THERE SOMETHIN' FUNNY ABOUT 'MURICAN PATRIOTISM THAT I DON'T KNOW? BUT TAKE MY WORD FOR IT, THIS IS ONE OF THE MOST MOVING AND HEARTFELT HISTORICAL DRAMAS OUT THERE.
4. PATTON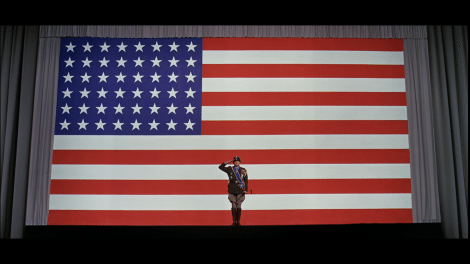 NOW I CAN'T THINK OF NOBODY WHO WAS A GREATER 'MURICAN THAN THIS HERE GENERAL PATTON. THIS GUY WAS ONE OF THE MAIN GENERALS IN WORLD WAR II, AND HE PROBABLY DID ALMOST AS MUCH TO HELP US WIN AS CAPTAIN AMERICA. NOW THIS FELLA DIDN'T BACK DOWN FOR NOBODY. AT LEAST I'M PRETTY SURE HE DIDN'T, 'CAUSE I GOTTA ADMIT THAT I FELL ASLEEP PARTWAY THROUGH IN A DRUNKEN STUPOR AND BY THE TIME MY PET BALD EAGLE WOKE ME UP BY CHEWING HALF MY EAR OFF, THE MOVIE WAS OVER. BUT LOOK AT 'IM THERE! IT DON'T GET MORE 'MURICAN THAN THAT.
5. BORN ON THE FOURTH OF JULY
WELL THIS ONE'S REALLY A STORY ABOUT THE TRUE 'MURICAN SPIRIT. ABOUT THE UNBREAKABLE 'MURICAN SPIRIT. ABOUT THE HISTORICAL TRIUMPH OF 'MURICA IN THE GREAT VIETNAM WAR. I MEAN… OKAY, SO I ONLY WATCHED THE FIRST 20 MINUTES OF THIS ONE AND THEN I TURNED IT OFF BECAUSE IT STARTED GETTIN' SAD, AND I KNOW ANY SAD MOVIE ABOUT 'MURICA'S GOTTA BE AN OUTRIGHT LIE. ACTUALLY I DON'T EVEN KNOW WHO THAT FELLA WITH THE MUSTACHE IN THE PICTURE IS BECAUSE I AIN'T SEEN HIM IN THE MOVIE. BUT THE DUDE WAS BORN ON THE FOURTH OF JULY, RIGHT? AND TODAY'S THE FOURTH OF JULY, RIGHT? THAT'S GOTTA BE WORTH CELEBRATIN'!
6. THE PATRIOT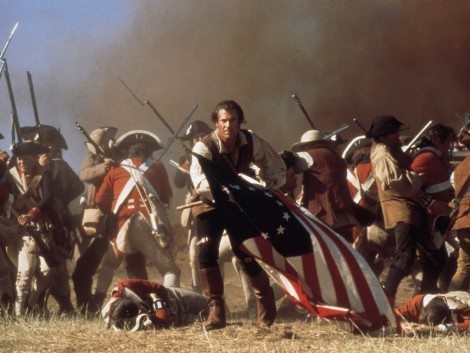 NOW I KNOW THAT MEL GIBSON FELLA WENT A BIT CUCKOO FOR A WHILE, BUT WHAT A PATRIOT! WHAT A MOVIE ABOUT… PATRIOTISM! AND 'MURICA! AND APPLE PIE AND BASEBALL! AND… FLAGS! AND… UM… BOOBS? OKAY, I GOTTA ADMIT, I AIN'T SEEN THIS ONE AT ALL, I JUST FOUND IT ON THE GOOGLE MACHINE. DANG, THIS LIST-MAKIN' BUSINESS IS HARD WORK. HOW DO OTHER FOLKS MAKE SO MANY OF THEM? AND I'M ONLY HALFWAY THROUGH? AW JESUS…. YOU KNOW WHAT, **** IT.
7-10. INDEPENDENCE DAY