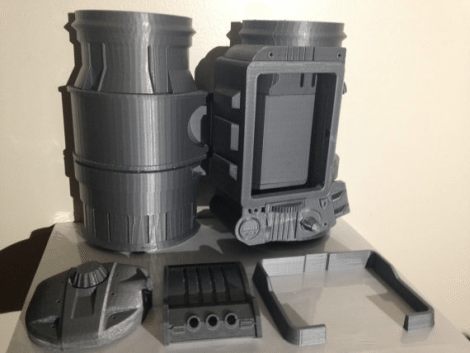 To celebrate the announcement of Fallout 4 and the collectors edition of the game that comes with your own Pipboy, I bring you a Do it Yourself Pipboy kit! Lets be honest, not everyone is going to get in on the collectors edition of Fallout 4 for various reasons, but some of those people may really enjoy having a Pipboy in their collection. This design does fit most iphones it seems, up to the 5c/5s. You're not completely out of luck if you have an Android Galaxy, as the seller does state that the Galaxy s4 fits! As a Do it Yourself kit, this does require assembly. I wish the description openly listed what items this comes with, but that seems to be something you need to message the seller about. It does look like you'll have to provide your own paint. The reviews for the Pipboy kit make it seem fantastic, and I'll put some faith in the hands of other consumers.
A Fallout Inspired Pipboy kit will run you $100. Shipping in the United States is $6, and everywhere else it's $9. A Pipboy Do it Yourself kit is a great project and will really mean that much more to you when you put it together yourself!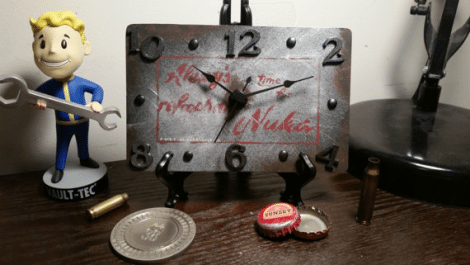 Do you like Nuka Cola, but want something a bit nontraditional to show off  your friends? This Nuka Cola clock may be just what you've been looking for! seriously though, this is a really nice looking clock. The weathering on it is subject to change for every clock since these are handmade, but the weathering here is what really makes this piece stand out. The clock looks fantastic situated with other Fallout goods, and would work with any Fallout collection as it has that dark, post-apocalyptic feel. You can request a custom order from this seller, which I highly recommend if you have something special in mind!
One Nuka Cola, rad infested clock will cost you $40! Shipping in the U.S. is $6, while shipping to anywhere else in the world will cost you $17.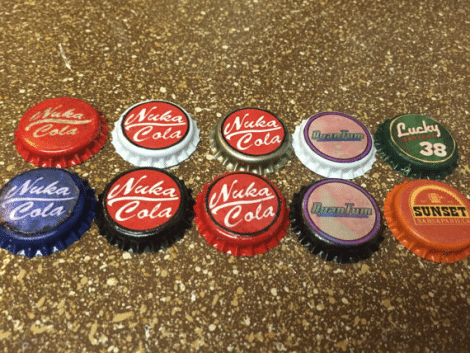 These are specifically shiny, new, unradded Nuka Cola cap magnets. These caps will NOT have a traded for Rad-X feel (as in they won't look worn and torn)! If you are looking for some caps that look like they have seen some use check out WastelandInventions other set of caps here. From the picture above you will receive one of each, so not all ten, but five. As with many Etsy goods, the items seen here are hand painted.
The Nuka Cola magnets will cost $25, but shipping is free! The down side here is that the seller only ships within the United States.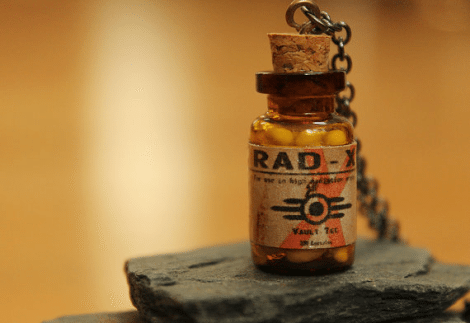 I can't be the only person who thinks this is awesome, right? This piece of Fallout awesomeness comes equipped with an eighteen inch gunmetal cable chain, which sounds freakin' great. The glass vial itself measures three centimeters. If Rad-X isn't what you're looking for, hit up the store for a custom Fallout order! The seller also has other cool items, such as Bioshock Infinite Vigor bottles and Super Mario glow in the dark Super Star pendants.
The necklace costs $16, and shipping within the U.S. is just under $3. Anywhere outside of the U.S., shipping goes up to just under $9. A Rad-X pendant would be a great small gift, but it can be a little pricey.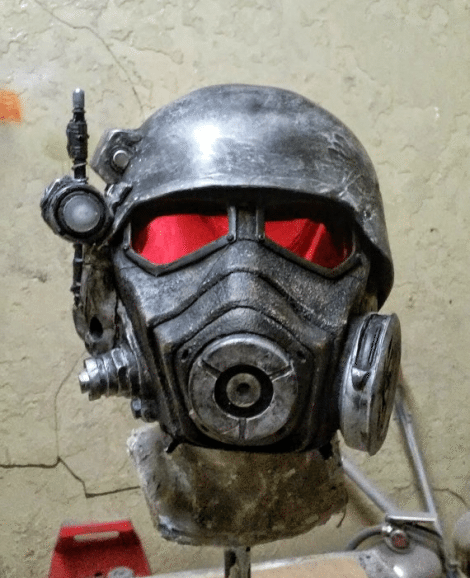 Now this is an item that looks like an incredible amount of work goes into it. Can you imagine having this just chilling around your house with your awesome gaming collection, or wearing this to a con? This is just a really impressive item. The helmet is originally sized to 7-7 1/2, but it can be changed just for you! StandardArtWorks also does custom orders, and if they can make this happen imagine them making your Daedric armor?
Awesomeness of this caliber doesn't come cheap, and it's easy to see why. A lot of work goes into a piece like this. Shipping is $30 everywhere outside of the United States, but only $20 if you ship within the U.S. If you plan on cosplaying a New Vegas ranger, this is just a necessity.
Would you get any of this Fallout gear? Hit me up in the comments!