It is common to hear among the complainers and the nitpickers the phrase, "You know, ten years ago it was never like this." The classic 'back-in-my-day' segue into nostalgic, half-pretentious griping over the crowds, the pushing, and the long lines have become commonplace at San Diego Comic-Con.
Yes, we know, veterans, ten years ago the lines were shorter, the passes were easier to get, the hotels were bookable, and panels were more or less walk-ins. Yes, back then there were less people. Less people fighting for your ticket. Less people in lines that wrapped around buildings and trailed down into the marina. Just, less.
I'm not here to tell you what is better: the old days or what we have now. You are entitled to your own opinion. Both have their pros and cons. Instead, let's talk about some aspects of SDCC and the monumental changes that have happened to the con in just the past few years.
San Diego Comic-Con International has been around since 1970, and has since grown from an attendance of 145 people to over 130,000. These days there are over a thousand panels hosted during the five day event, bringing in millions in revenue and economic impact. Comic Con has exploded. It has earned a reputation as one of the most infamous comic conventions in the world and brings in guests and attendees from all over the globe. It's no longer just a place for the comic book fan or the anime fan or the tabletop gamer. It's hit the mainstream.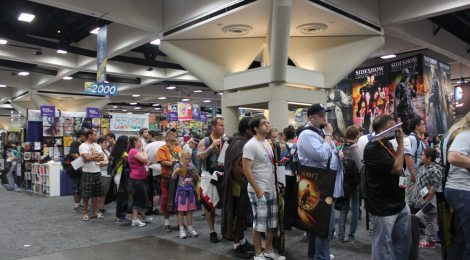 Less than a decade ago, badges were easy to score. They didn't sell out within the hour and the convention center had not even hit capacity yet. In 2008, the event was sold out weeks before for the first time ever, and the rate in which attendance grew was exponential.
The general attraction of the convention to new convention goers grew with its fame. In 2009, CCI began charging for Preview Night, and passes sell out within 90 minutes online. This is also the last year pre-registration was done in person at the Manchester Grand Hyatt versus online, with a line that lasted the entire day and stretched well into the marina.
From there the stats only get crazier. As passes sell out faster, people get more agitated. Long time convention goers lose chances at passes from newbies. There is seemingly no science to getting a pass to SDCC other than brute force and sheer dumb luck. Security is clamped down on as the con attempts to cut scalpers out of the mix through extreme security measures.
SDCC has gained a notorious reputation for being difficult to attend, and despite the fact that even without a badge, the Gaslamp can be a fun time for nerds, the fact of the matter is that it will only get worse. Badges sold out within the hour this year, and CCI has adopted the lottery system for the badge sales in order to be fair. Whether or not it is a success is up to the opinion of the individual.
The problem of attendance has been a growing issue. The convention center can only hold so many people, and as the attraction of the con grows, more people seek tickets. But, what brings in these droves of people? Other large conventions in the U.S. such as New York Comic Con, Dragon Con, and WonderCon pale in comparison when the stats are compared.
As the con grew, so did the number of their guests. As any con runner knows, the kinds of guests you have severely impact the attendance you'll get. And as you accumulate better numbers of attendance every year, you obtain access to higher profile guests. In fact, after about 50,000 attendees, many more doors start opening for convention planners and more notable guests start making appearances. So you can imagine with an attendance of 150,000+, the guests are outrageous. Indeed, this is not longer merely a comic convention.

In one weekend, you can see anything from the indie comic book artist you just discovered last year to stars from your favorite summer blockbuster or television show. Companies like ABC, NBC, WB, TNT, HBO, and MTV are among the many to bring their creative properties to the convention.
With it comes promotion, attractions, and higher press attendance. Traditional media conferences now have a new addition in SDCC. It's become more than just a place for the fans. Magazines, newspapers, blogs, podcasts, and all manner of press members flock for a chance for interviews, photos, and content for their outlets.
It doesn't stop at television, blockbuster movies began attending SDCC, and as titles like The Hobbit and The Avengers started coming in, the numbers took another jump. And the comic-con purists complained more. I'm not trying to say that the purists aren't right in some manner. The booking of more high profile movies and television shows brought in attendees who were only there for a day, but bought tickets for the weekend.
It brought in people who were there just to see a single star or project and happy to just peruse the floor or the Gaslamp for the other days. To a person who has been attending comic cons for years, a person who wants to see almost everything in the weekend, this is understandably a source of irritation.
In addition to the rise in attendance, the lines start getting longer. This is attached to the issue of higher-profile companies linking themselves with SDCC as a source of promotion. Toy manufacturers like Hasbro and Mattel start promoting more exclusives, while television shows and movies start giving out free autograph signing sessions, not to mention the colossal amount of free swag you can get if you happen to be at the right place at the earliest time. All with the proverbial sticker of "SDCC Exclusive" stuck to it, as if you didn't already wake up at 4am to sit in line.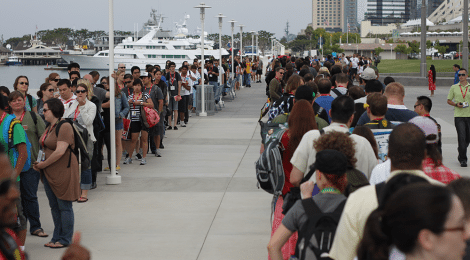 So lines start getting longer, and people start getting more emotional. This not only raises the inevitable hazards that can happen in a crowd, such as people being trampled on, people cutting in line, people getting injured, and people getting in fights. The number of incidents have skyrocketed over the years, from a stabbing in 2010 to someone getting hit and killed by a car in 2012 to a woman being saved from a suicide attempt in 2012. It's a grim addition to all of the celebrity selfies with fans and exclusive swag hauls.
With the people, come the lines. Panel ballrooms like Hall H and Ballroom 20 have lines that start the night before (sometimes several nights before), and it seems for some people a hotel isn't even needed. They've found their home right on the grassy lawn where they'll sleep in line before the next day. It seems that finding a spot in a panel has turned into a science, consisting on a formula of the panel's popularity, location, and time, the line size, and the time you start standing in line. In essence, it's a guessing game.
And it's not just the panels. The exhibit hall floor is overflowing with people, with many incidents in the past resulting in the fire marshall arriving to disperse the crowds by force. It can often be the most cutthroat place if you're a con goer searching for some exclusive swag, because when you mix 'exclusive' and 'free' together, you get some crazy people.
Unlike the panel lines or other lines around the convention center, the booths can often be disorganized. It's first come first serve, or rather first shove first serve. I've seen adult men shove little kids, I've seen security guards curse out rowdy attendees, I've seen an uncounted number of people get hit in the face by waving arms and swinging backpacks, I've seen people run and trip, and I've seen people desperate to just get the hell out of there. Welcome to the jungle.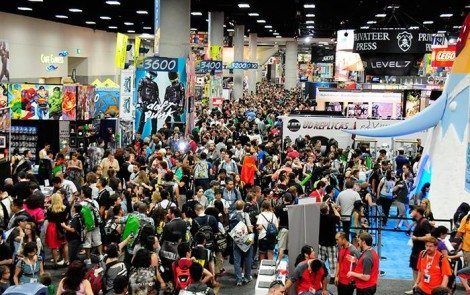 It can be severely disorienting to a newcomer, and often the process of acclimation to such an intense environment takes what feels like the entire weekend to get a hold of. It can ruin an experience for someone. I know from personal experience (as my first time at SDCC, and indeed any comic convention, was over five years ago) that going from the crowds of SDCC to any other comic convention, it can be surprisingly lax. Traditional con goers, going to SDCC for the first time, should prepare themselves for the jarring experience.
Another part of the culture of SDCC that has changed is what to do outside of the convention. Some comic conventions will have after parties or outside events or little meet and greets, but no one does outside con events quite as well as SDCC. The Gaslamp is overflowing with leaflets, protestors, games, events, freebies, and (of course) people. The trolley is packed daily with people. The streets are cloistered with company promoters and con goers.
Places like Petco Park and the attached parking lot become offsite locations with more to entertain the masses. From virtual experiences to themed food trucks to fun houses to zombie runs, the Gaslamp neighborhood can be as hectic as the inside of the convention hall. It even garners additional "sub-conventions," such as Nerd HQ, a four-day event running in tandem to SDCC run by Zachary Levi and The Nerd Machine.
Nerd HQ, unique to SDCC in many ways, not only gives fans an opportunity to guarantee a spot in panels through a paid ticket (different from the first-come-first-serve process at SDCC) but also provides a more intimate setting for popular panelists who might be in large halls that house thousands and thousands of people.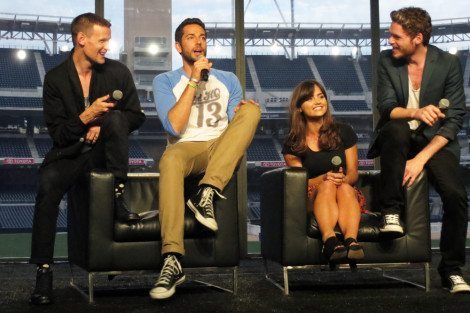 San Diego Comic-Con, for better or worse, will continue to grow. As the guests are announced and the spectacle is reported on, it will draw in fans of all kinds. It's a stressful weekend, to be sure. And it's hard for someone like me (a relatively new con goer) to hear from veterans that they want it back to the old days. The fact of the matter is SDCC is no longer just about comics. It's about pop culture and, in some parts, about promotion.
I can't change that, neither can you.
This behemoth has grown on its own and will continue to do so. Instead, we should opt to celebrate such a large coming together of nerds. We are all nerds, after all, in our own ways. It's tough to hear someone cursing "those Twilight fangirls" (no matter your opinion on Twilight) when it seems to follow the same acrimonious tone as someone saying "those comic book fanboys" thirty years ago.
Just because someone doesn't like what you like, just because someone got what you got, there's no reason to be cruel. You'll hear a lot of hate in line that follows this vein. And when you're standing in the sun for hours, sweating, tired, underfed and dehydrated, it's easy to be pessimistic. But no matter how much SDCC has changed, we're all still the same nerds. It may not have been like this ten years ago, but it's time to do that age-old thing that us humans all do. Evolve.