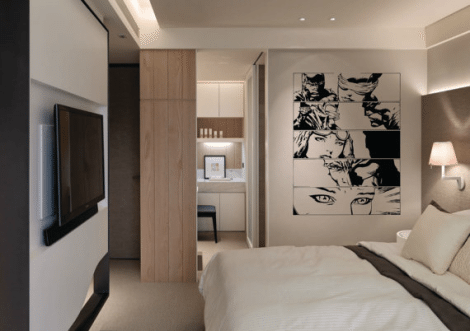 Ever wanted a piece of comic strip on your wall? Well, now's your chance! Have Catwoman and Batman on your wall thanks to iwallstickers. I have posted about these large stickers previously–they are made of vinyl and stick superbly to your wall! This particular strip is inspired from Batman and Catwoman comics, but if you would prefer to have something more tuned to your tastes, HallofHeroes does offer custom orders!
At 59.4 x 84.1cm, this piece will cost you almost $62. If you want it slightly bigger at 84.1 x 118.9cm it will cost you around $73. Shipping through-out the United Kingdoms is free and in the Netherlands is around $8. Shipping anywhere else will cost you right about $13. This product has received high praise via reviewers and is magnificent for a comic lover!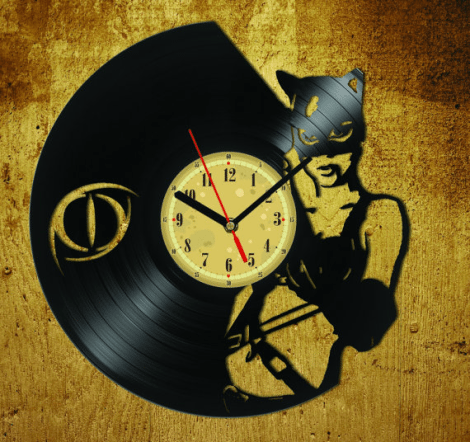 Ever wanted to re-purpose some old vinyl records? Apparently, EcofriendlyClocks aims to make recycling fun. The clock has no loud, annoying ticking noise because it has a quartz mechanism running it. So no need to ever be inspired to run up a wall a crumble it into a million vinyl glitter pieces! The store also accepts custom orders as long as you can send them a template of what you have in mind. As with so many handmade items, expect it to take just over a week before it is ready to ship out.
Catwoman in vinyl clock form will cost you $33 and shipping is $11 no matter where you happen to be currently resting your feet. EcofriendlyClocks really has a great selection to choose from, with Batman, the Green Lantern, and even Game of Thrones to choose from!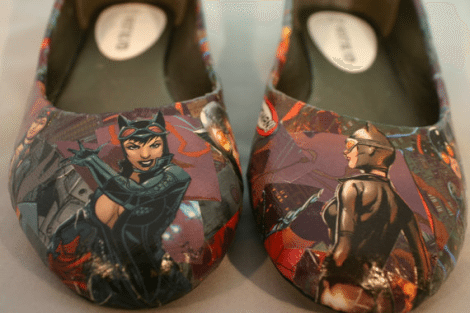 These flats are legitimately coated in comic book pages to feature your favorite character! The flats shown in the picture have been sold, but you can order a pair like them that may have some minor differences since these are handmade. Under no circumstances are these to be considered for everyday use as they pages will show wear and tear more quickly. It is also a good idea to not let these get wet despite the water resistant varnish on them! Obviously paper and water tend to be two items to keep separate. GothamCityCharms accepts custom orders! If you have a comic book character you love that they don't happen to have in stock, message them!
A pair of these flats will set you back $65. They also only ship within the United States and that will tack on an extra $6. These shoes are very cute and would add personal flair to an outfit worn to an event!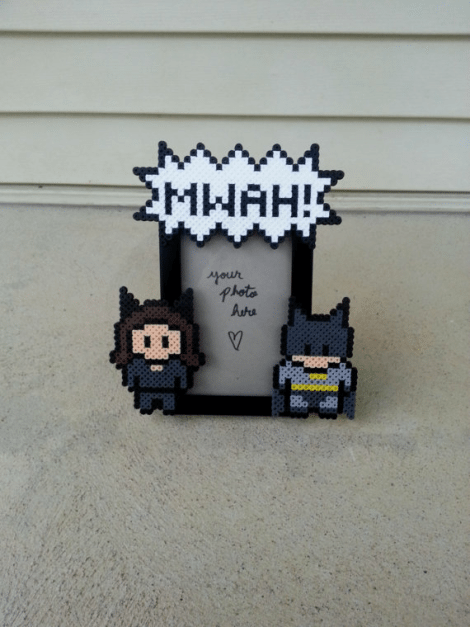 A picture frame decorated in perlers! Perlers are incredibly fun to work with, but it should be noted that sometimes (due to the item being handmade) they will be a tad more melted than usual or the colors may look a bit different than in the picture. Aside from that, this frame is fun and cute! The seller allows for some changes, in case you don't really like white surrounding the MWAH! or don't like MWAH! in black. All the stores for this post have offered custom orders and this one is no different! Request a custom order and get a cute perler frame for anyone in your life! I wonder if you could get Ash and Pikachu…
The frame itself is $15 and shipping in the United States is almost $7, while shipping to Canada is almost $12. I am enamored with the idea of getting my own custom order done! These would work well for best friends, couples, family. Hell, if your nickname happens to be Pokémon-esque get a frame for just you.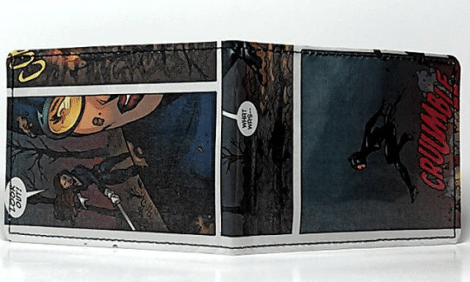 A duct tape Catwoman wallet it freaking awesome. The seller states that the pages are made from real comic book pages held together with duct tape and then it is all sewn together. The design featured here is the twelfth that DuctTuff created, meaning there are at least eleven others for you to go look at if this one doesn't do it for you. The store also offers a wide range of other characters, such as The Hulk, Nightwing, Batman, Supergirl, Harley Quinn, etc.. They have a fantastic selection! Pick up Catwoman for yourself and then get a friend their favorite character!
DuctTuff actually has really nice pricing for this piece, though it is only available in the United States. You can get your own comic book wallet for $14 and add an extra $4 for shipping! That is awesome!
See any awesome items you would buy! Tell us in the comments!