This post is an update on our original post, "How To Build Your Comic Con Team," and our SDCC Sundays 2014 post, "SDCC Sundays: Your Comic Con Team."
We're 58 days from San Diego Comic Con 2015 and – hopefully – you've got your plans more or less figured out by now. You may still be waiting for your crack at the Parking Lottery or to book your flight, but you've got tickets now and you know who's coming with you (and maybe even where you're staying)! In this edition of SDCC Sundays, we're going to take a look at the people going with you.
In the same way Pokemon masters rely on their team to defeat the Elite Four, so should you rely on your team to help you get the most out of your San Diego (or any) Comic Con experience.
First, make sure to communicate with your group about what your plans and goals are for SDCC. My first year at San Diego Comic Con, I quickly found out that I had a difficult time staying with the group in the Exhibit Hall. It amped up my anxiety to try to herd us all and I frequently split off to wander alone – sorry guys!
It's nice to know in advance that one person absolutely cannot miss the Game of Thrones panel, so their alarm will be blaring at 4 am for everyone, and someone else has to get to the signing, so they'll be… doing whatever you have to do to get autographs. We have a panels versus signings post coming in the next few weeks – keep an eye out for it!
We've put some thought into what makes the "perfect" convention team to navigate all of these different activities and interests over the five days of SDCC. Four people comfortably fit into one of the SDCC hotel rooms, so we've picked out four essential roles that should be filled in any group – more people means double the support, less people means having two or more "specialties" – but regardless of group size, here are the roles that we think would be most helpful to figure out pre-con.
The Navigator
This is not my role. Personally, I have zero sense of direction and my solo navigation of the Exhibit hall consisted of, "Funko is in that corner… I think… I see the Legendary sign over there… Where was the Fox booth?" If you aren't me and can actually stay with your group, having someone to easily and consistently navigate the Exhibit Hall will probably cut down on time spent needlessly wandering. Your time and feet will thank you later!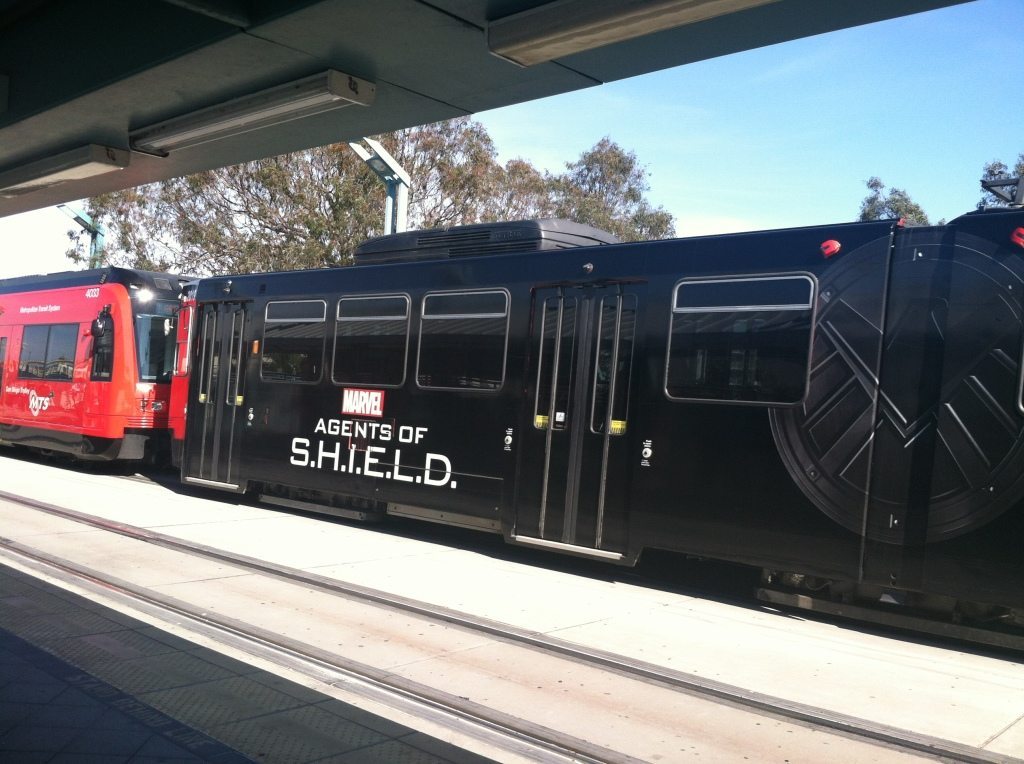 But the Exhibit Hall will probably not be the only responsibility of the Navigator, they should also be well-versed in figuring out public transportation if you're staying outside of immediate walking distance of the convention hall. That also helps if you are staying within walking distance, but want to pick up your badge on Wednesday night from the Town and Country hotel. More than likely, you'll be using public transportation at least once during SDCC. Don't you want to go to In N Out?
The Navigator should also be able to direct your group around the outside of the convention center, as so much happens in the Gaslamp area outside of SDCC. Having someone to point out where Nerd HQ is being held or where that great hole-in-the-wall restaurant that you all wanted to try can be found or offsite events like last year's Gotham zipline eliminate a lot of stress of not being a native San Diegan, as well as saving time and distance – both things you'll need to make the most of SDCC!
The Technophile
Twitter, twitter, twitter is all I have to say about SDCC, even if the connection can be dodgy at times (thanks to so many of us being on our phones at once)! Find the most technologically savvy of your group, make sure they have an external battery for their phone, and let them get all of the tweets text messaged to them – or have them help you set this up for yourself if there are particular Twitter handles you want to follow throughout the con! If you're after as much swag as possible, this might be the most crucial member of your team, as they can get the notification and you can all go rushing to the loot.
It's always good to set up Twitter notifications for things you really can't miss. In years past, @thenerdmachine has tweeted out panel tickets going on sale during San Diego Comic Con. @Legendary always tweets out when they're giving away the cool swag. Other giveaways going on in the Gaslamp rely heavily on Twitter – did you manage to snag a Jurassic World poster last year?
Text JURASSIC to 834567 & find out how to get this #JurassicWorld art by @MarkEnglert at #SDCC! #JurassicCountdown pic.twitter.com/c7U3safEPZ

— #JurassicWorld (@JurassicPark) July 21, 2014
I also have @GeekyHooker tweets coming to me because I so desperately want one of her critters (in 2013, I was so close to Chewie!). Outside the con, the giveaways have really started to pick up. From single blogger efforts like the Geeky Hooker to movies like Sharknado 2 giving out foam chainsaws, if you really want to maximize your swag, get technical.
Last year, I tweeted about the Hall H line (follow them on Twitter too!) for Game of Thrones and after the convention, someone from HBO actually got in touch with me and sent me one of their exclusives from the convention. It was a pretty cool bonus for simply waking up, lamenting my lack of dedication, and making a snarky tweet.
Went to the @GameOfThrones pop up shop at #SDCC and none of these we're left, but HBO sent me one anyway! Thanks! pic.twitter.com/OICoccJ3zC

— Kylee (@kyleewho) July 30, 2014
If there's a favorite show or actor that you like, it doesn't hurt to follow them on Twitter and have their tweets sent to you during SDCC – you could score some sweet swag or a nice shout-out that way. At least one person in your group should be a master of technology, but it doesn't hurt if you're all well-versed in the teachings of Twitter.
The Communicator
I'm an introvert by nature and I like to observe and figure things out on my own – this mindset does not work for conventions, especially if you're on the hunt for that one piece of swag that you have to have.
In 2013, my group wandered near the Dracula set up for fifteen minutes, passing multiple people with those cardboard chairs, trying to scope out where they came from before we finally stopped to ask someone. It turns out they'd probably stopped giving them away just on the other side of where we'd been wandering.
If you want it, ask (nicely) about it. If you're like me, and you don't really want to ask about it yourself, having someone in your group who has no problem asking people where they found this or that is going to save you a lot of time and arguing.
Likewise, if you run into one of your celebrity idols and are too stunned to politely say hello, maybe someone else in your group isn't as shy. We like to stick with a friendly, "I love your work!" if we run across anyone at an inopportune time to stop them, but if you catch someone with a minute or two to chat it's nice not to have a horrifyingly awkward silence to regret for many years. Bridging that gap with conversation and having a moment with your favorite celebrity is definitely the better option!
The Patient One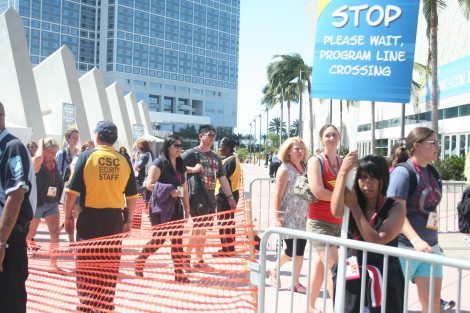 There's going to be a lot of waiting around at SDCC – everyone's going to end up needing to draw on their patience at some point – but deciding on someone in your group to be designated the 'patient one' (for lack of a better term) at certain points might shortcut some of the processes.
As long as your group is observing line-etiquette (if there's ten of you, seriously, please don't just have one person in line – at least half of you should be there waiting), the patient one can hold down the Hall H spot or the Starbucks line at breakfast time. Even just sitting down and being the designated bag-watcher can be extremely helpful from time to time. This may be the least fun "role" your team has to fill, so make sure to tag-team and swap out on this one, no one wants to waste their entire con being the patient one while the rest run all over the convention floor.
If nothing else, be sure to discuss budgets, sleeping situations, and goals for the overall experience when picking your team for any con. Know your strengths, your weaknesses, and your tolerance level for these people you're with before embarking on a sleepless five day manic mission of con-going. And don't be a Debbie Downer! So you didn't get that one piece of swag that you absolutely couldn't live without – 500 other people missed out too – don't spoil your con because of it! Relax, have fun and make the most of your time together!