Synopsis of 2×20: As tensions rise between S.H.I.E.L.D. and the Inhumans, Skye finds her torn between the groups; Coulson reveals a secret.
Rating: ★★★☆☆
So that's Theta Protocol.
After assuming it was merely calling in the Avengers, or perhaps *Spoiler* building the new Avengers base, it seems that the true purpose of the Theta Protocol was always to rebuild the helicarrier that saved all of the people on Sokovia at the end of Age of Ultron.
It was a nice throwback to hear about the team one year ago, back when Trip was alive, when Jemma was still at Hydra, when Skye was training with May, and when Fitz was still adjusting to the damage done by Ward. Plus an awesome chance to get to see fan favorite Patton Oswald on screen again as Sam Koenig (and Billy too!) sleeping in Star Wars bedsheets and armed with a lanyard for every level of SHIELD.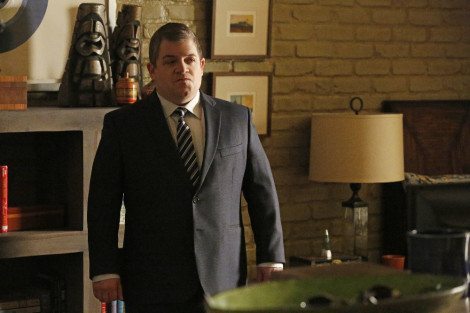 It seems earning Fury's trust and Theta Protocol has earned some begrudging respect from Gonzalez and his supporters as Coulson suggests that he return to his role as Director of SHIELD but with a board to answer to, mainly Gonzalez, May, Weaver, and the rest of "Real SHIELD".
As great as it is to see Coulson back in the driver's seat, he's got a hand tied behind his back as he has to deal with the immediate threat of the Inhumans. This comes in direct conflict with May as well as Skye. It seems that the Skye that desperately wanted to belong now has too many places that she could belong, and when given the choice it's hard for her to choose between her surrogate family and her biological one.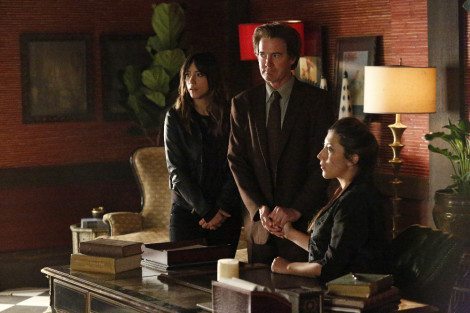 After revealing the true events of Bahrain to Coulson and insulting May in the process, Skye calls out the Inhumans by name and seems to be conflicted on whether or not she can trust SHIELD with them. SHIELD's method of indexing remains the main threat that the Inhumans have to face. Not only is Jiaying already strained by the events of the last episode, but after Cal vehemently displays a fear and disgust towards the Index it seems to worry her even more.
Multiple kudos, by the way, to Kyle McLaughlin's Cal and Dichen Lachman's Jiaying for doing such a great job this episode. I had a few issues with characterization, but Cal and Jiaying were so spot on and had great chemistry in their scenes together. Cal, in particular, gives some good insight into Raina. While we find out that Raina has been telling the truth with her visions, it's hard not to agree with Cal on some level that her resourcefulness turns to manipulation and he warns Jiaying against that.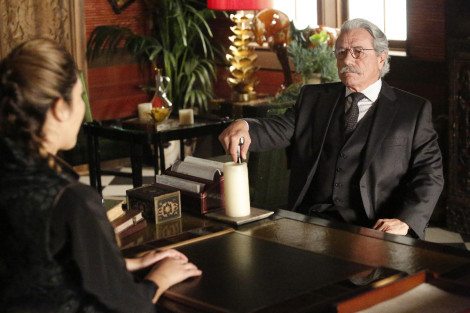 His warnings about the Indexing is shown to be very true when Gonzalez turns up at Afterlife and not only compares the loss of a limb to literally having your organs put into jars and have the life sucked out of you, but he also tells Jiaying he wants to understand her people and put them down if they cause him trouble. I'm not sure if Gonzalez took a diplomacy course at the Academy, but if he did, you're doing it wrong.
Unfortunately he won't be back to do anything, since his unintentional threat makes it clear to Jiaying that she needs to face SHIELD head on. Taking a terrigen crystal that has been melted down into a singular form, she smashes it and it sends out the mist that achieves the same effect we've seen previously when humans are exposed to the mist and another one bites the dust.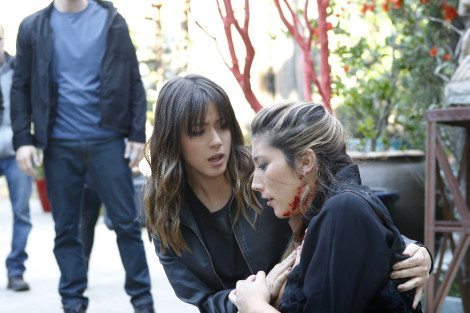 Well, it seems Raina is right. The war between SHIELD and Inhumans really does start with Jiaying. After emptying two rounds into her shoulder, she stumbles out of her office and declares war on SHIELD after being "attacked". No word on if Raina saw the truth of the situation or not, since her visions seem to be unclear even to her sometimes. They don't go into detail on what Gonzalez is hiding in the ship, and all we see is that it is some sort of Kree weapon that can kill all of the Inhumans. This makes SHIELD into the biggest threat to their survival at the moment.
The only person who doesn't seem to be waist deep in this war is Mac. Unable to trust Coulson and his fascination with alien technology and culture, he leaves his notice and packs his bags. It might be the smartest thing to do right now, given that everyone seems one move away from either being killed by a terrigen crystal or Cal hulking out. Even Bobbi can't seem to convince him to stay, though she seems to question her own choices in the episode.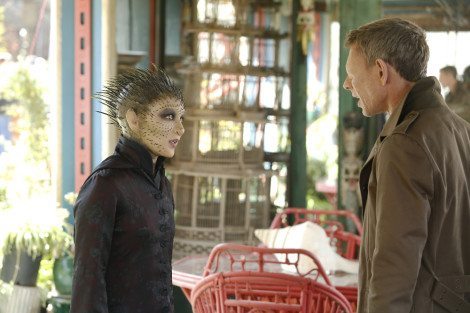 Caught between Coulson and Gonzalez, we've seen Bobbi take a very neutral side in the internal fight within SHIELD. She's been a loyal ally to them, and the show leaves her fate in the vengeful hands of Kara and Ward. In case you missed the reason why Kara pulled a May face to trick Bobbi into a quinjet with her, you might remember a few episodes ago when she confided in Ward and told him that Bakshi found her at her safe house and was the one who prepped her for the brainwashing process with Whitehall.
You might also remember a time when Bobbi interrogated Bakshi and he told her that she has done things within Hydra that wouldn't sound too pretty to her friends at SHIELD. I will surmise that in order to gain loyalties with Hydra while undercover, Bobbi sold out Kara and her safe house and played a direct role in Kara's brainwashing. It seems that Bobbi is at the mercy of Kara and Ward, and who knows if she'll make it out alive?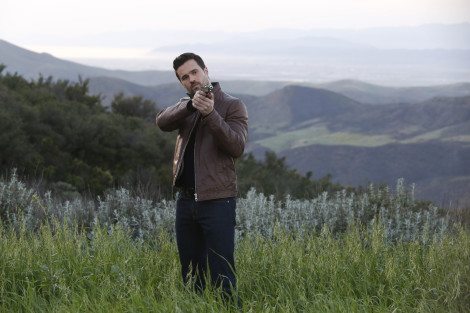 Honestly, who knows if anyone is making it out alive? Next week is the two-hour season finale, and it boasts big changes and undoubtedly a few deaths to add to the toll. Congratulations to Marvel's Agents of S.H.I.E.L.D. as well as Marvel's Agent Carter for getting renewed, we'll be happy to see both shows return after their hiatus with more episodes and excitement!