At this point in time, we should all be pretty familiar with TEDtalks. For those few of you who have been living under a rock, TEDtalks took the world by storm a few years back. They brought together some of the greatest minds in the world and gave them a small window of time to talk about something important. Engineers, psychologists, police officers, those who study physics, and everyday people who saw a need and filled it all come together to give an audience a little peek into their worlds. Northwest Comic Fest founder and all around neat dude, Casey Ocupe, took the spirit of TEDtalks and applied them to the geek world in his Northwest Comic Talks event.
I had the pleasure of sitting in the audience and getting to brush elbows with local talent. Local comedian Dan Kinnison was the master of ceremonies for the evening and brought humor into every introduction. Local creators from all sorts of mediums then took the stage to talk for ten minutes about their selected interest. Chuck Magee shared about what it was like being an independent movie maker. Nathan Quarry, a skilled MMA fighter, discussed his Zombie Cagefighter comic project and what it was like going from mixed martial arts to comic books.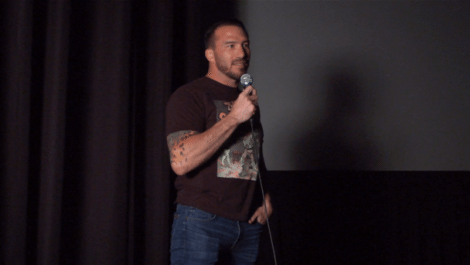 Timothy McHatton, an extremely talented cosplay designer in the area, got up and shared some of his skill. He brought progress pictures from some of the cosplay costumes he's put together and showed just how easy it is for people to jump into the cosplay world. Tyler Chin-Tanner of A Wave Blue World was also on the scene and shared a lot of interesting facts about the process of becoming a comic book publisher. There was another comic book publisher, Adam Watson, who shared about DarkSlinger Comics and his own struggle to succeed. Then a couple representatives from the Portland Superhero Coalition got up and shared about the work they do in the community.
Finally, the evening was rounded outwith Mark Shapiro of Laika studios who shared some amazing behind the scenes footage of the creation of The Boxtrolls and ParaNorman. Casey Ocupe concluded with an inspiring speech of his own about getting out there and doing whatever it is people love to do.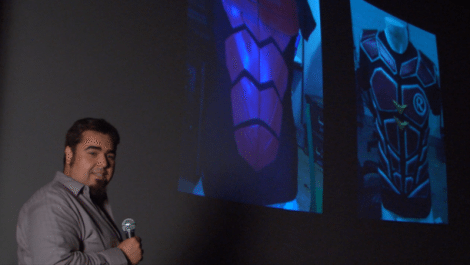 Perhaps the most inspiring thing about it was the constant encouragement from each speaker to go and do. Each and every one of them stood up in front of an audience and gave testament to the power of jumping in with both feet and going after your dreams. They were candid about their failures and honest about the hard work that goes into producing their various projects. However, even with those things in mind they pushed creators in the audience to get out and create. Holding to the spirit of TEDtalks, each speaker stepped off the stage and left me with something to consider.
I was honestly sad at how few people came and joined the audience. The turnout was so low for an event that ended up being one of the best I've been to in a while. It was reminiscent of the Nerd Machine's Conversations for a Cause which take place at San Diego Comic Con every year. After the talks were done and over with, I had the chance to introduce myself to some amazing people and make great connections I wouldn't have otherwise been able to make. Northwest Comic Talks gave me a fantastic opportunity to listen to some talented people and learn from them, and I was grateful I dragged myself out on a Thursday night to check it out.
Most of all, Northwest Comic Talks was just enough to get me riled up and excited for Northwest Comic Fest happening this August at the Salem Convention Center. If Casey was able to pull this off, I cannot wait to see what the Comic Fest will bring.