We're 66 days out from San Diego Comic Con 2015! Sixty six days. That's it – it feels too soon and not soon enough. Are you ready? We're certainly not, but we've put together a series of SDCC Sunday articles leading up to the big event to help you get prepared.
While other sites are extolling the importance of building up exercise and endurance in the weeks to come (it's good advice – break in those comfy shoes now!), we're going to show you… those other sites.
News is going to start pouring out of San Diego over the next two months and, while we're here to provide you with the very best coverage we can, we know that there's a lot to cover. We want to share with you some of our favorite sites and resources to help you keep as up to date and prepared as possible.
Friends Of CCI
Most active in the months leading up to SDCC, this forum is frequented by tons of friendly, knowledgeable con veterans. It's too late to get into a ticket buying group or easily participate in their hotel swapping endeavors, but if you've got a burning con question that hasn't yet been answered on the forum, chances are someone here can answer it for you.
Many of us Nerdophiles bloggers are on the site, where they're usually at the forefront of breaking news thanks to forum members sharing the wealth of knowledge. The best part is, even though SDCC is 'the big one,' they've got coverage of other cons throughout the year and if you stick around after everyone takes a collective moment to breathe (because we don't really ever stop planning for SDCC, we just start over right?), the community is great.
Highlights of the forum include discussions for all the big portions of SDCC: Badges, Hotels, Programming, Off-Site Events, and Exclusives – along with everything in between.
Unofficial SDCC Blog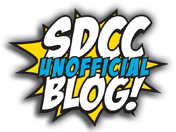 Slightly less interactive than a forum (but there's still the ability to comment on articles!), the Unofficial SDCC Blog puts out solid, timely content about San Diego Comic Con throughout the year. They also cover Wondercon – SDCC's younger sister – extensively, as well as a few other conventions in passing.
There is an entire section of Guides to help answer any questions you might have about the convention, as well as a number of excellent videos for those of you who are more visual learners. One of my favorite things from the Unofficial SDCC Blog is the (almost hidden) Setting Your SDCC Budget post, complete with a googledocs spreadsheet to keep you from breaking the bank.
With these resources and more, it's no surprise that the Unofficial SDCC Blog is one of the best resources you can peruse to get yourself ready for the convention.
Crazy 4 Comic Con
Tony Kim is actually crazy for comic con. A one-man wealth of information, his website covers almost anything you
could wonder about SDCC. This year, he's even partnered with another company to turn his yearly tips into videos – with his first one posting just this past week. Much like we're doing, he's planning to release weekly tips in the time leading up to the convention to help make your SDCC the best one yet!
He also collects 'first time' posts from his followers, which map out the good, the bad, and the confusion we were all feeling at our first San Diego Comic Con. It's a nice walk down memory lane and it's even better knowing you weren't the only one completely lost at your first con. Seriously, the floor alone is intimidating.
With all the different projects he's juggling, Tony is always busy and always on top of the latest news out of comic con. Check out his site for convention coverage, as well as the most recent news out of nerddom.
Outside Comic Con
If you didn't manage to snag all days for San Diego Comic Con – or maybe even any – this is the site for you. Even if you did manage to get all the days you wanted, this site can still give you an idea of what is going on outside of the con. Just be careful, as sometimes the events can be outside of the direct vicinity. Make sure to check where the event is happening and have a plan to get there.
Already, they've listed a few of the things announced that span the Tuesday before the convention to Saturday. The list is organized well and conveniently lists the time, location, and a small description of the event, should it interest you. The website looks plain, but it's all any good convention-goer really needs to know put into one place and it's very easy to navigate.
It's still early enough that many events are still being finalized, but expect the list to expand as we get closer to July.
Tickets are now on sale for w00tstock 7.0 with @paulandstorm @wilw @donttrythis & special guests! http://t.co/c4xW41U9Rq

— Outside Comic-Con (@OutsideComicCon) April 22, 2015
Toucan Blog
We can't mention all of our favorite unofficial resources without giving a nod to San Diego Comic Con's own Toucan Blog! All of the important SDCC announcements and information that Comic Con International releases is nestled in between fun how-to-draw posts and editorial content.
While not expansive and effusive as some of the other sites already mentioned, it is the final and official word on all things San Diego Comic Con. It's also the best place to see if your favorite comics creator is going to be attending, as they slowly announce guests and collect the list all in one place here.
If you're not already familiar with the Toucan Blog, there's no better time than now to check it out!

Other Site Coverage
In the days leading up to the convention, and throughout the event, a few of our favorite websites amp up their coverage on Twitter and on their respective sites. We love the coverage put out by these sites and rely on it throughout the con. Check them out and put them on your radar come July:
When Nerds Attack: Website | Twitter
The Nerdy Girlie: Website | Twitter
An Englishman in San Diego: Website | Twitter
Let us know in the comments which SDCC sites are your favorite and which bloggers you rely on to get you through San Diego Comic Con (relatively) sane!