Every first Saturday in May, there's an amazing thing that happens: Free Comic Book Day. It is a day in which comic book stores all over the country get special issues of popular comics to give away completely free of charge. Often this event pulls people in by the droves and if everything works out, they walk out of the store with more than a few free comics. We as a staff covered it last year, and this year I revisited my favorite Salem, Oregon comic book spot called Tony's Kingdom of Comics.
When I arrived, there was a line out the door that both startled and pleased me. Last year I remember coming around the same time and just walking in. So while there had been crowds, there hadn't been anything quite like there was today. It was really a testament to just how big comic books are becoming, and it was refreshing to see people come out to support a local shop. There was a mixed crowd and the event was family friendly, made obvious by the droves of children in attendance waiting anxiously in line to get into the shop.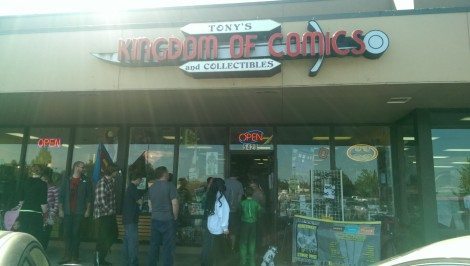 I ended up toward the back of the line but was delighted to only wait probably fifteen to twenty minutes to get in. Thankfully it wasn't a dull wait, considering how many things were going on outside. Not only did the Portland Superhero Coalition show up in costume, but there were a lot of other local cosplayers posing for pictures and making children smile. There was also a beautiful German Shepherd with a Batman cape, so I was thoroughly entertained.
Once I got inside, the place was packed, but still well organized. To the right were tables set up with comic book artists and writers signing autographs and selling some of their comics. To the left, all along the checkout counter, were the comics I'd been seeking. Associate Editor Kylee Sills hadn't been able to snag the comic she wanted today, so I was on the lookout for that as well as something for myself. I eventually settled on Marvel Avengers Secret Wars for me and the new Darkhorse Fight Club comic for Kylee. I also picked up the first issue of Zombie Cage Fighter, written by a local MMA fighter I had the chance to hear give a talk last week.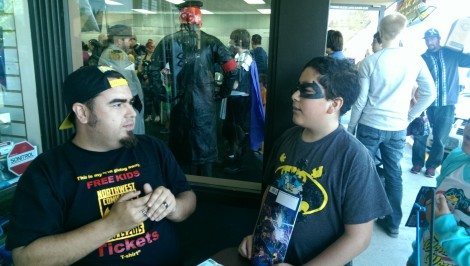 With comics in hand I stepped outside and hung out for a while with Casey Ocupe, the guy heading up Salem's new convention Northwest Comic Fest. He was handing out free Sunday tickets for kids in attendance at Free Comic Book Day and also was selling his trademark leather masks. The best part? $5 of every mask sold went straight to charity, as he partnered with Tony, the owner of Tony's Kingdom, to do a food drive for the Keizer Community Food Bank. Anyone who donated canned food for the food drive was able to grab another free comic as well as pose with superheros and characters from Star Wars.
All in all, Free Comic Book Day at Tony's Kingdom of Comics reminded me of why the comic book community is so much fun. From the curiosity of all the children there, to the adults shelling out money to support a local business and by extension a local charity, there was a sense of cohesiveness. It was similar to the feeling I get whenever I step foot into a convention center for a con. In a lot of ways, Free Comic Book Day was like a miniature convention where everyone got to enjoy what they love without worrying about seeming too "geeky" or "nerdy."
Everyone was welcome, and I think they came away with some really great comics.