Oddly Normal: Book 1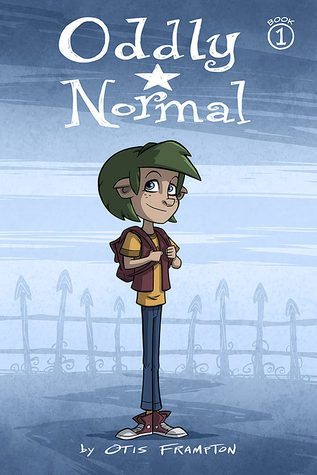 Author: Otis Frampton
Artist: Otis Frampton
Release Date: March 24, 2015
Publisher: Image Comics
Source: NetGalley DRC
Genre(s): Fantasy, Children
Rating: ★★★★☆
Review Spoilers:  Low
GoodReads | Amazon
What an adorable all ages book.
At first glance, Oddly Normal admittedly doesn't look like other Image books. It's cutesy looking and clearly aimed a younger age group. No, it's not Saga. It's not Ghosted or Nailbiter or Spread or The Walking Dead.
But please do not discount this book simply because of that. It's quirky and fun and imaginative. Oddly Normal (whose name is anything but normal) is a young half witch who has spent her whole life in the real world. But after her parents and home disappear on her birthday (talk about awful birthday presents) she finds herself in her mother's native land of fictional characters and storybook characters where magic is ever present and the unimaginable is everywhere.
Oddly struggles to adapt and figure out what happened to her parents and the book really raises a lot more questions than it gives answers. Unfortunately, few of those answers get addressed in full which almost makes me want to recommend holding off on reading this book until there is a second volume available.
But then you would be missing out on all the adorableness to be had! Definitely worth a read now. I highly recommend it.
A REVIEW COPY OF THIS BOOK WAS PROVIDED BY THE AUTHOR VIA NETGALLEY IN EXCHANGE FOR A FAIR AND HONEST REVIEW.