We're trying out a new format for our Nerds Read pull list post this week. So, please, once you've read through our reviews pop down to the comments and let us know what you think. Hopefully this way you all can get to know our staff members better and get a read on who likes which books. That way it's easier to engage us all on cmic books.
There weren't nearly as many releases this week that we follow as there were last week but we've still got some great books for you. Marvel continues to nail it with Thor #7 and Ms. Marvel #14 and BOOM! Studios as a pair of great books this week in the form of Lumberjanes #14 (a staff favorite series) and Capture Creatures #3. We've got all of that and more below!
Sam's Reads
Capture Creatures #3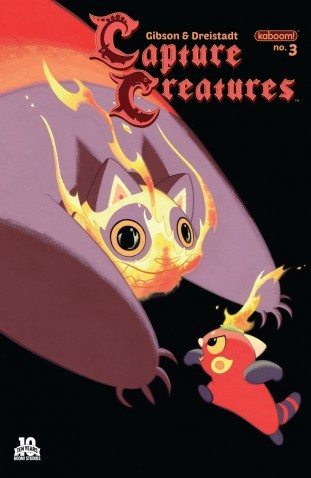 Authors: Frank Gibson & Becky Dreistadt
Artist: Becky Dreistadt
Publisher: KaBOOM!
Source: BOOM! Studios
★★★★☆
The adorableness continues this month starting off with a Capture Creatures card featuring Furnice – the final evolution of Bon Bon Fire. The story picks up after the mysterious masked woman rescues Ranger Teddy and the kids. She's not much of a fan of the rangers but agrees to help them find their way to the ranger station while she deals with the other masked figure on the island. With Bon Bon Fire and Axipoodle along for ride everyone tries to make it through a cave system but it's not that easy. And when they make it through to the ranger station at the end? Yeah, they think Teddy came to rescue them!
I'm still loving this series. It's like Pokemon mixed with the style and humor of Lumberjanes. It's adorable. Teddy and Axipoodle are kind of becoming my favorite thing in the whole series. Poor Teddy. He just wants a friend.
Giant Days #2 of 6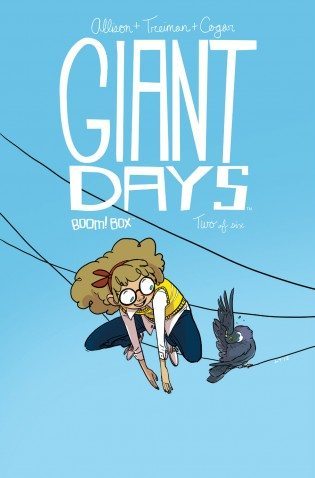 Author: John Allison
Artist: Lissa Treiman
Publisher: BOOM! Box
Source: BOOM! Studios
★★☆☆☆
It's the start of term and the girls are all worried about contracting some sort of cold or flu from the influx of students. Which, you know, is exactly what happens. They lose it, give in to cravings, hallucinate, and other outrageous things but that's about it.
Honestly, I'm not really sure what this series is trying to be or where it's intending on going. It's quirky, sure. But beyond that there isn't really a whole lot that makes me want to keep coming back. The only real on-going storyline is Susan's unexplained beef with her ex-boyfriend (who looks like he's thirty) and it's really not that interesting.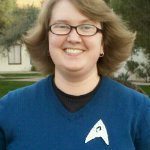 Sam Wildman is a co-founder and co-editor at Nerdophiles. She wishes she lived in the world of Capture Creatures so she could have a red panda cat that creates fire. How awesome is that!? @samaside


Kylee's Reads
Ei8ht #3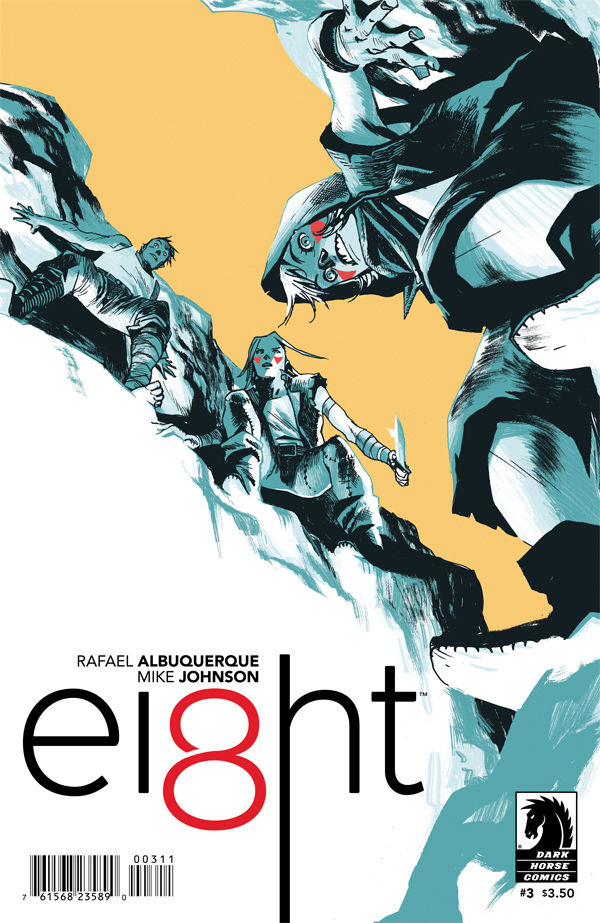 Authors: Rafael Albuquerque & Mike Johnson
Artist: Rafael Albuquerque
Publisher: Dark Horse Comics
Source: Dark Horse Comics
★★★☆☆
From the past, Dr. Hamm gives us a little bit more insight into The Meld and Collins continues to be extremely unimpressed with the past and the mission she was involuntarily volunteered for.
In The Meld, we find out the Tyrant's plan for Joshua – to capture him and unleash the Spear and the Scourge on the rest of the rebels – so that they can harness the power of his ship. Hari eavesdrops on this conversation and returns to warn the rest of the rebels, allowing them time to pack up camp and move. Nila, however, after learning of Johua's eight, or infinity symbol as she's choosing to interpret it, isn't ready to give up so easily.
With some of Joshua's memories returning and Nila's headstrong ways, the plan doesn't exactly go off without a hitch. Ei8ht #3 brings us to a surprisingly quick confrontation and continues to move easily and fluidly through time thanks to the gorgeous coloring.
Resurrectionists #6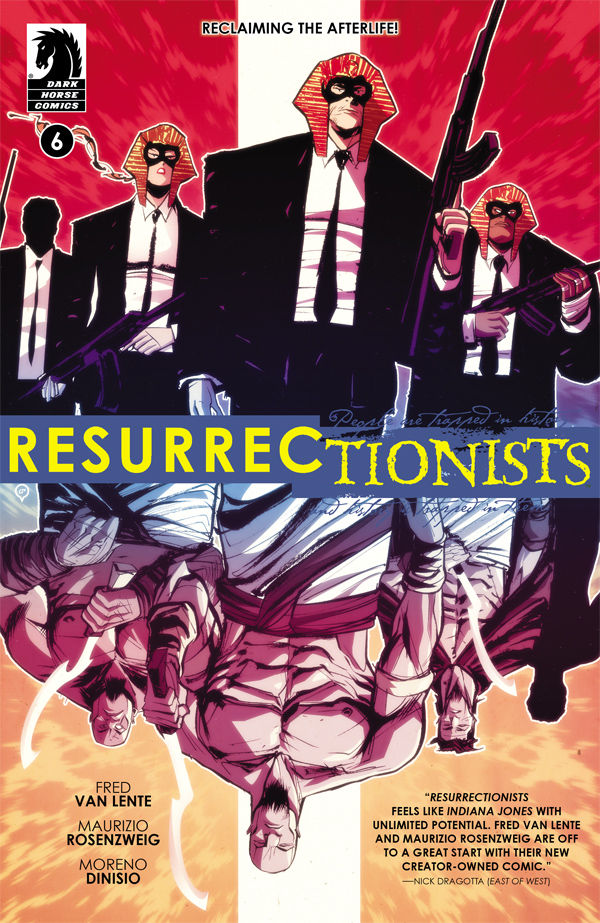 Author: Fred Van Lente
Artists: Maurizio Rosenzweig & Moreno Dinisio
Publisher: Dark Horse Comics (Digital)
Source: Dark Horse Comics
★★☆☆☆
We get a glimpse of what Adele's role on the team was in a look at ancient Egyptian times – she's the Heart, doomed to betray the team over and over again in every incarnation it seems. Known as Sabu, she took them before Pharaoh Herihor in a trap that she herself was caught in. Captured and cornered, they were quickly turned into mummies; their souls owned by Herihor and their will his.
In their present resurrection, they're again betrayed by Adele, who tipped off Lennox, and forced into a gunfight that costs them one of their own. But Quinn is awake now and prepared to help the team with their mission: to break into Lennox's real tomb somewhere in Norway and reclaim their souls. With impossible odds stacked against them, the Resurrectionists are going to have their work cut out for them.


Kylee Sills is an associate editor at Nerdophiles. She's been reading entirely too much time travel fiction and has actually lost track of time. What day is it?! @kyleewho


Ashley's Reads
Thor #7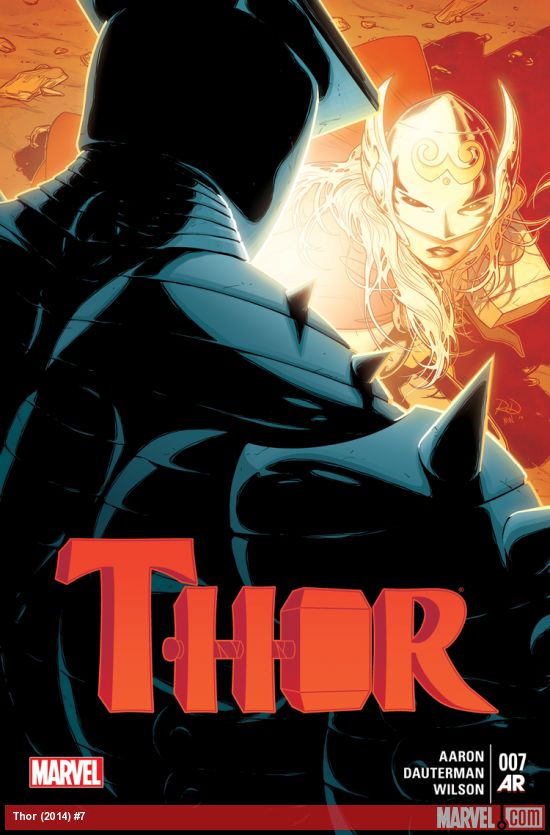 Writer: Jason Aaron
Artists: Russell Dauterman and Matthew Wilson
Publisher: Marvel Comics
Source: Bought and Owned
★★★★☆
As the Destroyer fights the new Thor on Roxxon Island at Odin's command, we get a glimpse of who the new Thor might be. Malkeith and Agger attack Alfheim and Odinson bands together with Frigga to stop Odin's plots against Thor.
This was a solid issue. If I wasn't already certain Matt Wilson is the best colorist in the industry right now with his work on The Wicked + The Divine, his work with Dauterman on this issue during the opening flashback and the fight with the Destroyer would have solidified that for me. I worry that Aaron might be giving the game away with the flashbacks on the identity of Thor, but I trust him either way. What really sold the issue for me was the cliffhanger at the end. I've had dreams like that splash page.
Ms. Marvel #14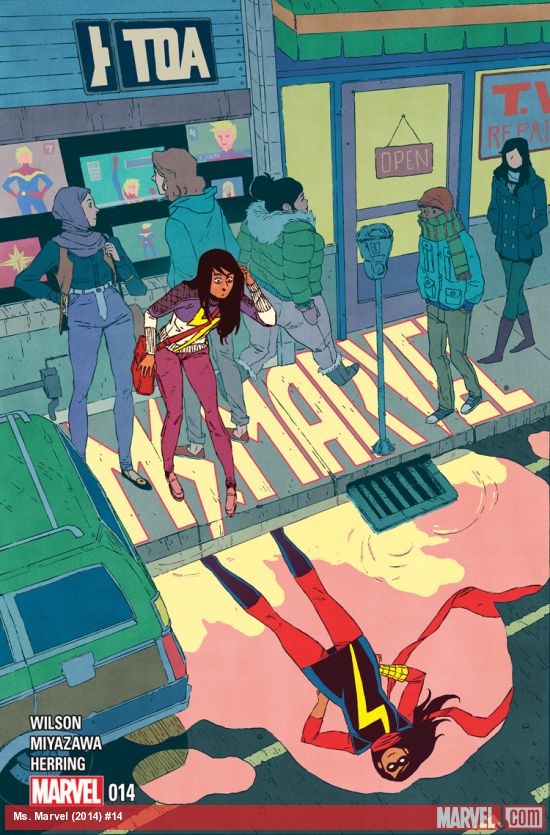 Writer: G. Willow Wilson
Artists: Takeshi Miyazawa and Ian Herring
Publisher: Marvel Comics
Source: Bought and Owned
★★★★★
In the second part of this three issue arc titled 'Crushed,' Kamala gets closer to her new crush Kamran after he reveals his Inhuman secret. However, Kamran might not be all he seems. Meanwhile, Bruno has teenage angst about his crush on Kamala after Aamir lays some harsh truths on him.
I don't understand how consistently good this comic is. Even with all the bizarre stuff that happens to Kamala, she's still easily the most relatable character in the Marvel Universe. The art from Miyazawa and Herring is fantastic and plays up the cheerfulness of this arc super well.
Lumberjanes #13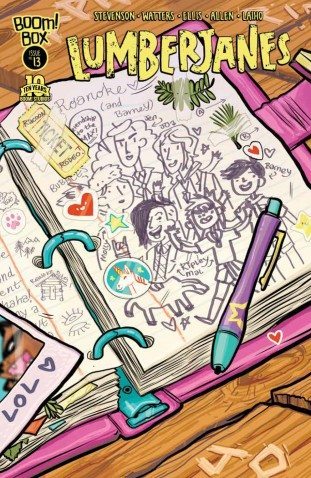 Writers: Noelle Stevenson and Shannon Watters
Artists: Brooke Allen and Maarta Laiho
Publisher: BOOM! Studios
Source: Bought and Owned
★★★★★
Flashing back to the beginning of the summer, we see the arrival of our heroines for their first day at camp as well as hints of the weirdness that was on the horizon.
Reading this issue, I felt like this is what the first issue would have been if the team had known it was going to be an ongoing from the beginning. Still, it was super adorable and it was great to see what kind of families all the girls come from as well as how the ones who didn't know each other from before camp instantly bonded to each other. Friendship to the Max!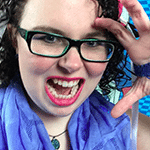 Ashley Leckwold is a blogger and has been with Nedophiles since 2013. If this blogging thing doesn't work out she's planning on applying to be a Lumberjanes camp counselor. @misskittyf