Seconds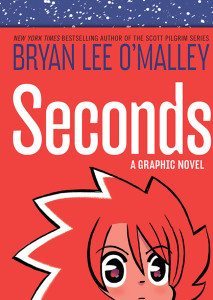 Author: Bryan Lee O'Malley
Artist: O'Malley and Jason Fischer
Colorist: Nathan Fairbairn
Release Date: July 15, 2014
Publisher: Ballantine Books
Source: Bought and Owned
Genre(s): Fantasy
Rating: ★★★★★
Review Spoilers:  Mild
GoodReads | Amazon
What would you do if you had the chance to correct your mistakes by eating a magic mushroom before you went to sleep every night? What if you found those mushrooms under the boards of your house? Would you abuse the privilege?
This is the exact situation that happens in Seconds, the latest graphic novel from Scott Pilgrim creator Bryan Lee O'Malley. The book is focused around Katie, a 29 year old executive chef of a restaurant called Seconds who's looking to open a second restaurant that is continually delayed by construction issues. This is pretty much hell on Earth for Katie, who is ready to move on from Seconds. Combined with an ill-advised fling with her head chef, her ex wandering back into her life, and one of her waitresses getting terribly burned, Katie is looking for a fresh start. This seems to come in the form of a mysterious figure offering her a mushroom and a notebook to write her mistake in. Write the mistake, eat the mushroom, go to sleep, and begin anew. Simple enough, but the headstrong and impatient Katie doesn't want things to be good. She wants them to be perfect.
As you can imagine, this doesn't go well.
Seconds feels like the completion of a cycle O'Malley started with Lost at Sea back in 2003. Where Lost at Sea was about the grey space between teenager and adult and the Scott Pilgrim series was about growing up into a relationship, Seconds is about learning patience and compromise as you leave your 20s. It reads like a dark fairy tale, with heavy themes of house spirits and time displacement running through the work and getting more twisted as the story goes on. However, at it's core, the story is rife with magical realism, with Katie being a modern woman who gets into this predicament because she doesn't know how to adult.
This book is breathtaking, both in story and in art. O'Malley's art is the best it's ever been, with help from drawing assistant Jason Fischer and colors by Nathan Fairbairn. I've always been a fan of O'Malley's character design and the way he plays with space, but it gets turned up to 11 here with the location of the restaurant Seconds and Katie's being characters as much as the main characters themselves. Not to mention the way the characters dress probably outdoes the fashion from Scott Pilgrim.
The resolution of the book can feel kind of confusing, but that just plays perfectly into the overall tone the book is going for that I can't feel too upset about it. If anything, it just gives me an excuse to read this glorious book again.
Final Thoughts: A book about second chances and learning how to adult, Seconds is a beautiful modern fairy tale that might just be Bryan Lee O'Malley's best work to date.