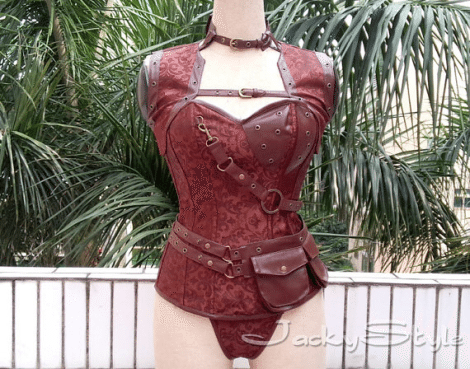 This corset looks fantastic and I admire the faux leather touches through out the piece, particularly the bottom pockets and the belt across the upper chest and neck. This is definitely something that will up the sexyness of your steampunk look! JackyStyle also offers many other corset styles and options, so if this doesn't quite do it for you, you have plenty of options (check out the black version of this corset)!
The price for this corset isn't too bad when viewed in comparison with others on Etsy, with many competitors selling theirs for $80 – $100. For almost less than half of that you can pick this one up at roundabout $50. Shipping to the United States is $10, and $12 for anywhere else.  I would watch out for sizing, there are a few complaints of sizes running too small, but that is mentioned in very few reviews. Most of the others are all five stars, so I would say order a few!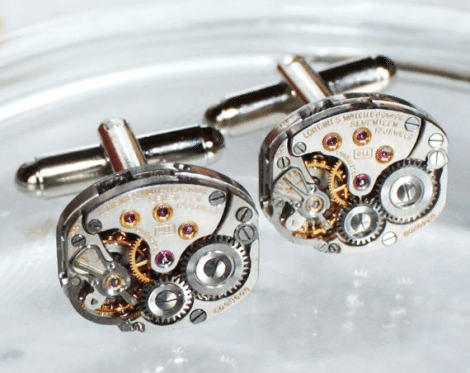 These cufflinks are unique and really stand out! The store boasts a pretty large selection of steampunk cuff links (here), with forty different designs available. The intricate metal design truly stands out on these and is overall spectacular. As small and understated as cuff links tend to be, I really think these can and would stand out. If you're in need of cuff links or just looking for a nice gift, these are a great choice!
This particular pair is $85, which is right about the middle price range for cuff links from this seller. Shipping appears to be free anywhere in the world, which is nice. With 312 reviews and an overall 5 star rating, this is another on of those purchases that doesn't seem too risky.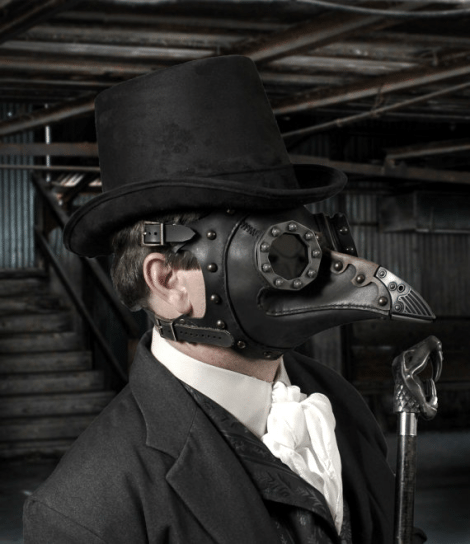 I'll be honest, I find this mask to be properly creepy. Seriously creepy. LOOK AT THAT BEAK. In no way would I be okay with this coming at me in the middle of the night. This store seems to specialize in intricate face masks, and has a unique selection of 39 different plague style masks. The one featured here is definitely one of my favorite styles, especially if the point is to look scary. They do offer different types of masks over all if you happen to be looking for something a bit different, but with a steampunk look.
This particular mask will set you back $475, and anywhere from $28 – $60 for shipping depending on where you happen to be located in the world. That seems a bit steep to me, but they do have 5 stars across the board and the reviews really make it sound as if the items sold here are fantastic.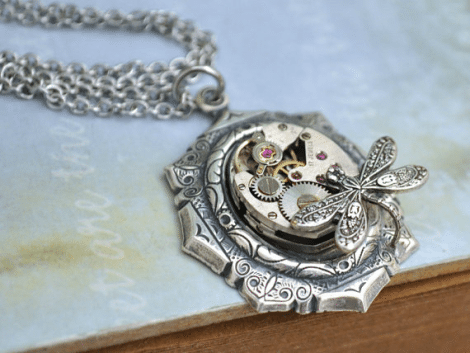 Steampunk items with watch movements inside are really interesting and give a unique look to something that may other wise just look bland. Items like these always remind me of the Clockwork series by Cassandra Clare (which I really did enjoy reading, so check it out!). The pendant is an an average size at 30mm, so if you are looking for something over sized, this isn't it. The store does offer many, many other necklaces though, so feel free to check out others of this style from them that may be bigger.
This will come to you with an 18 inch chain and the pendant itself looks really nice. For just under $38 this is not bad for a handmade item that requires a bit of soldering. Shipping is about $4 in America, and $10 to the U.K., Australia, Canada, Greece, and New Zealand.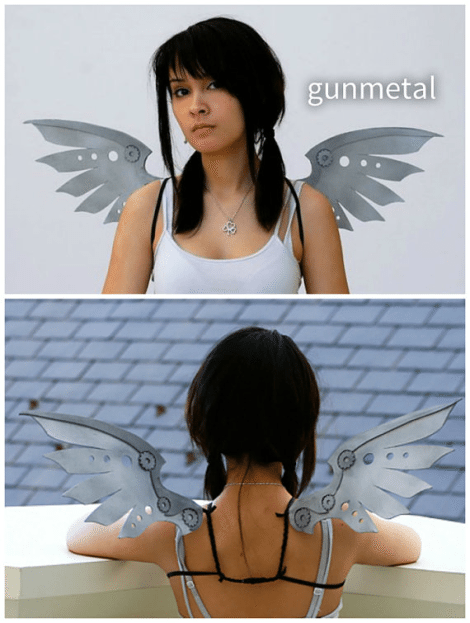 These are freaking fantastic! I want to order one of every color just to show them off. These are essentially steampunk wings made of industrial foam. They are described by the store as lightweight and flexible which sounds worrisome for crowded spaces, but the store states that they are sturdy enough to withstand hitting people, places, and things. If you are looking for something to set you apart at a cosplay or steampunk convention, these are a great way to go! They come in a few colors, such as sand, gunmetal, gold, black, and red. They also offer highlighting in different colors for the tops or tips.
This piece is actually cheaper than I expected and I like that. You can order these for about $30. Expect to tack on an extra $9 – $17 for shipping, depending on your location in the world.
Do you have any favorite steampunk themed items from Etsy? Tell us in the comments!