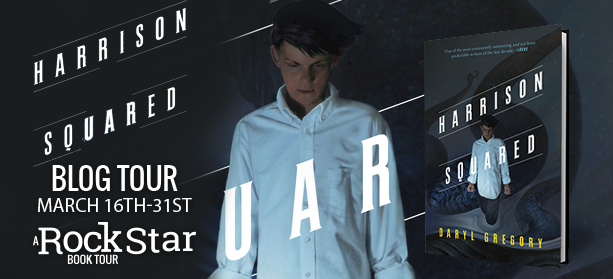 Harrison Squared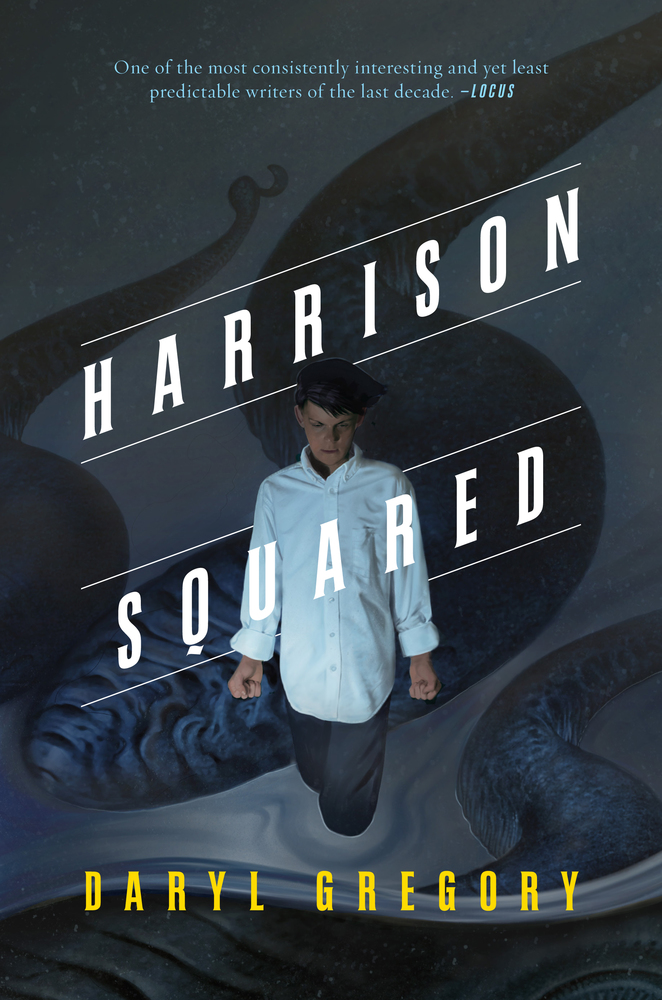 Author: Daryl Gregory
Release Date: March 24, 2015
Publisher: Tor Books
Source: Rockstar Book Tours, Tor Books, NetGalley DRC
Genre(s): YA Horror
Rating: ★★★★☆
Review Spoilers:  Mild
GoodReads | Amazon | BN
We're the second stop on Rockstar Book Tours' Harrison Squared and I'm really pretty thrilled to share this one with you guys. There is a giveaway widget further on and you need to enter.
And here's the reason I say that.
There are very few authors whose style alone can win me over and Daryl Gregory proved that he was one of those rare few within mere pages. This is a man who has a way with words and I instantly fell in love with his descriptions of people, places, things, and events. If I had known how much I liked his work I would have tracked down something else by him (probably Raising Stony Mayhall, to be honest) years ago.
As it is, Harrison Squared is my first Daryl Gregory book and I'll admit it wasn't Gregory's writing or rave reviews for his past work that got me interested in the book initially. It was this synopsis:
From award winning author Daryl Gregory comes a thrilling and colorful Lovecraftian adventure of a teenage boy searching for his mother, and the macabre creatures he encounters.
Harrison Harrison—H2 to his mom—is a lonely teenager who's been terrified of the water ever since he was a toddler in California, when a huge sea creature capsized their boat, and his father vanished. One of the "sensitives" who are attuned to the supernatural world, Harrison and his mother have just moved to the worst possible place for a boy like him: Dunnsmouth, a Lovecraftian town perched on rocks above the Atlantic, where strange things go on by night, monsters lurk under the waves, and creepy teachers run the local high school. 
On Harrison's first day at school, his mother, a marine biologist, disappears at sea. Harrison must attempt to solve the mystery of her accident, which puts him in conflict with a strange church, a knife­wielding killer, and the Deep Ones, fish­-human hybrids that live in the bay. It will take all his resources—and an unusual host of allies—to defeat the danger and find his mother.
Basically, they had me at "Lovecraftian."
Now, you don't necessarily need to be that familiar with Lovecraftian lore to appreciate Harrison Squared. It certainly helps but Gregory's Dunnsmouth and the story he shares will more than help you understand just what it means.
Take for instance, the school Harrison attends. Creepy and unnatural, the courses don't make sense and the students are eerily obedient. Instead of home economics, they make nets. Biology is supplemented by cryptozoology and made science. And the principal leads the student body in strange religious rituals every morning. Yeah, talk about creepy. Everything in Dunnsmouth is creepy and no one seems capable of being straightforward about anything. It sets about an amazingly uncomfortable atmosphere that I really just loved.
I also loved Harrison. Actually, that's not fair. I loved all of the characters. Lydia, Harrison's aunt Selena, the creepy teachers, and every other secondary and tertiary character was just so great. But the book is told from Harrison's point of view and so most of my love goes to him. Despite suffering an early tragedy as a child he's grown into quite a capable young man and his narration feels very real. This is how I suspect a boy his age who has gone through such adversity would react to the insane things going on in Dunnsmouth and I just absolutely love that.
I also really appreciated that Harrison is a disabled protagonist. As someone with a disability, it's rare that I can really feel like I relate to a character as much as I do Harrison.And I loved how central his amputated leg was to the story. Though our disabilities are very different and Harrison's life is clearly far more complicated due to this whole supernatural thing, there were just so many things that resonated with me. There's a point where he's asked to swim in gym and for him it's always just been something he's skipped without need for explanation. That scene alone brought back so many memories.
Seriously, this was just the perfect book for me.
The plot, the characters, the writing, and the general atmosphere all came together perfectly. I feel like I've been waiting so long for a book as unique and riveting as this one and now that I've finally found it couldn't be happier.
Fantastically written and ultimately extremely satisfying in a way that so many of my young adult-geared reads as of late have not been, Harrison Squared may be my first must read book of the year. Granted, it's certainly geared towards folks who would appreciate the genre. But if you're a fan of Lovecraftian horror and love modern takes on the classic elements, you'll definitely love this book.
Enter the Giveaway
So, now that you've heard what I had, it's time to check out the book for yourself. Rockstar Book Tours is giving away fifteen copies of Harrison Squared and one of them could be yours. All you need to do is enter!
About the Author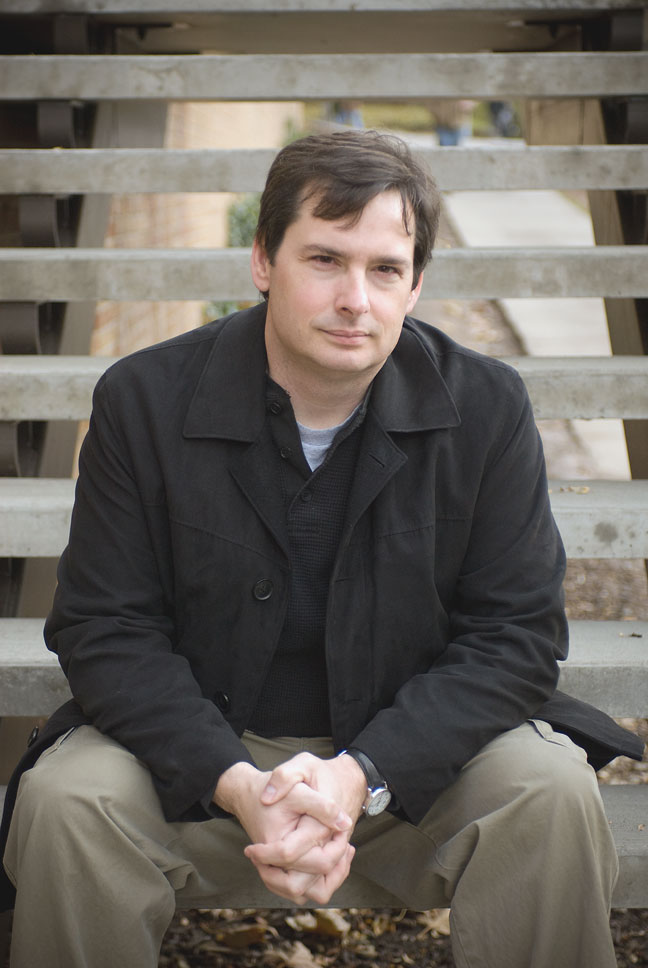 Daryl Gregory is an award-winning writer of genre-mixing novels, stories, and comics. His most recent work is the novel is Afterparty (Tor, April 2014) and the novella We Are All Completely Fine (Tachyon, August 2014). His first novel, Pandemonium, won the Crawford Award and was nominated for a World Fantasy Award. His other novels include the Philip K. Dick award finalist The Devil's Alphabet and Raising Stony Mayhall, which was named one of the best books of the year by Library Journal.
Many of his short stories are collected in Unpossible and Other Stories, which was named one of the best books of 2011 by Publishers Weekly. His comics work includes the Planet of the Apes series, and Dracula: The Company of Monsters series (co-written with Kurt Busiek). He lives in State College, PA, where he writes programming code in the morning, prose in the afternoons, and comics at night.
Connect with him on Twitter, Facebook, Goodreads, his blog, or his website.
Or check see where he'll be next on Rockstar's Harrison Squared book tour by checking out the full tour schedule. Daryl Gregory will be doing interviews and guest post along the way and you don't want to miss them!