[youtube=http://www.youtube.com/watch?v=YRYdXpxG-rc]
The Clone Wars:
The Lost Missions
Release Date: November 11, 2014
Cast: Tom Kane, Dee Bradley Baker, Matt Lanter, James Arnold Taylor, Ashley Eckstein
Director: Dave Filoni
Studio: Lucasfilm, Lucasfilm Animation, Lucasfilm Animation Singapore
Distributor: Trifecta Entertainment and Media, Disney-ABC Domestic Television, Netflix
Genre(s): Science Fiction, Media Tie-In
Extra Feature Rating:  ★★★★☆
Season Rating: ★★★☆☆
Review Spoilers: Mild
Amazon | IMDB | Wikipedia
I have a confession to make here guys: I didn't watch The Clone Wars as it aired on television. I watched the original shorts from way back in 2003 and I watched a few episodes here and there, but I struggled to get into it. I watched the movie without the context of the show and that probably was a big part of it.
Recently, I started giving it a go again.
Once it was on Netflix I watched through the first two seasons and liked it well enough, but I was distracted. I watched other things. When I got this blu-ray copy of season six in the mail I was actually really anxious about doing a review. I hadn't watched all of the first five seasons!
So I did what any reasonable person in my situation would do: I marathoned through all of Star Wars: The Clone Wars over the past week. All of it. Crazy? Maybe. But I did it. And I am so glad that I did. The thing about Star Wars: The Clone Wars is that it is perhaps one of the absolute best tie-in television series every created. It does things with the Clone Wars that I only wished the movies had and it tells some incredible stories in it's multi-episode arcs and powerful one shot episodes.
After watching through the first five seasons, I wondered how exactly the final season would compare to what was such an amazing series. I was riding a high of Star Wars nostalgia and so I was wondering how things were going to finally end while wishing they weren't going to end at all. Originally posted up on Netflix last year, the final season of The Clone Wars was something of a gift to fans who had the show torn away from them after the fifth season ended a bit unexpectedly without any real, proper wrap up. And now I was desperate for some kind of resolution.
Unfortunately, we don't get as much of a resolution as I would have liked. The fates of certain characters – namely former lead character Ahsoka Tano – remain unknown. But the season does give us some pretty great stories.
The first one was my favorite and it's easily the most memorable. It features a clone trooper whose internal programming goes haywire and who starts whacking Jedi early. The story follows a friend of his – another clone trooper – who is determined to figure out what happened. It's incredibly depressing in the end and it's difficult to watch the Jedi make all the wrong mistakes in ignoring things that could have saved them from the inevitable Order 66 purge.
The other three arcs are a bit hit or miss. One involves Baron Clovis in a series of episodes that put together a political thriller where Padme is in danger and Anakin gets super jealous. Another involves Mace Windu and Jar Jar Binks of all people teaming up to assist one of Jar Jar's senate friends. And the last arc of the series is a great story about a rogue Master Yoda – it just feels like it forces an unfulfilling sense of closure on everything.
I know I'm super late to the party but I really wish they had kept this series going for at least a full sixth season. The regular viewers deserved more. I can kind of accept it since I knew what was coming. I knew the show was cancelled too early.
Whether or not you pick up this season on blu-ray or catch it on Netflix, you really ought to watch through these episodes. They may not be the ending you deserve but they're still fun. And if you do pick up the blu-ray release you'll get some pretty cool extras.
Clone Wars Declassified
This is a really neat featurette about the people behind The Clone Wars. The folks who produced the series did so entirely in-house and they really became sort of like a family. They had their own staff holidays and traditions and were incredibly close. It was a team effort from the start as they tried to sort out how exactly to create a series like this from scratch. It's a little bittersweet hearing them talk so highly of the experience and knowing that it all had to come to an end. But the joy they get from talking about spending time in the Lucas Film archives among the cache of Star Wars memorabilia to bringing their families together for Phouconica really makes it a kind of adorable look at the behind the scenes of this awesome series.
The Unaired Utapau Arc
If you're still jonesing for more Clone Wars even after watching then you'll enjoy the Utapau arc, which is included in it's unfinished state. It's a little weird, I'll admit. The animation is unclean and blocky. The CGI slides along instead of moving with any sort of purposeful movement. But they did their best to finish what they could. Matt Lanter, James Arnold Taylor, Tom Kane, and the rest reprise their roles for the arc and so it feels like a full story even if it needs some pretty significant polishing.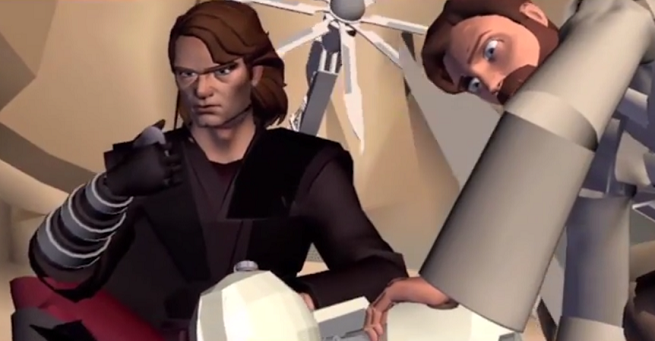 After a Jedi knight's body is found on the planet of Utapau, Anakin and Obi-Wan go to the planet to try and figure out what he was even doing there and what happened. The planet is divided by different societies and it's clear there are some sort of underhanded dealings with the separatists involved. It's a pretty solid story all in all and if it had been finished it would have been a great addition to the season. One of the most crucial parts involves Anakin and Obi-Wan discussing Asohka and Anakin's difficulty accepting what happened with her. It's not closure for the character but she's mentioned and the effect the end of the fourth season had on everyone involved is broached in a way it wasn't in any of the other arcs.
It's about as much closure as I suppose we'll ever get. And it's worth checking out the blu-ray release on it's own.
I really liked the Lost Missions and I think you guys will, too. This series really should have gotten a full final season if nothing else. But hey. We'll just have to take what we can get!
Time to start watching Star Wars: Rebels, I guess.
A REVIEW COPY OF STAR WARS: THE CLONE WARS – THE LOST MISSIONS ON BLU-RAY WAS PROVIDED FOR THE PURPOSE OF THIS REVIEW. NERDOPHILES WAS NOT COMPENSATED FOR THE REVIEW AND THE OPINIONS HERE ARE OURS AND OURS ALONE.