Synopsis of 2×11: Coulson's team must deal with the consequences of their war with Hydra as shocking revelations threaten to tear them apart, and Hydra makes a dangerous move that may involve a traitor in S.H.I.E.L.D.'s midst.
Rating: ★★★★★
Will I ever give this show anything less than five stars?
While not nearly as intense as the mid-season finale, Marvel's Agents of S.H.I.E.L.D. returned tonight with just as much pomp and circumstance, laying down the grounds for the backend of the season.
Despite BJ Britt's absence, Trip is still very much haunting the remaining agents of SHIELD, as each member has to come to grips with the reality of his death. It seems out of all of them Mac and Simmons seem to be suffering the worst, bar Skye who feels the full weight of guilt for his death. While Simmons collects samples and searches the alien city for a way to collapse the chamber, protecting anyone from ever going down there, Mac has recovered from the possession that he fell under when he first fell into the underground city.
It feels like with the loss of one of their best, the team is as much a fractured house as when SHIELD first fell. They're frayed at the ends and facing enemies that they don't even know, while trying to take out the ones they do know. Coulson knows they have a small window, with Whitehall's "death" (comic book rules, we don't see his burnt corpse, he's not dead) Hydra is momentarily weak, and they take this moment to execute a plan of prisoner exchange with their one ace up their sleeve, Bakshi.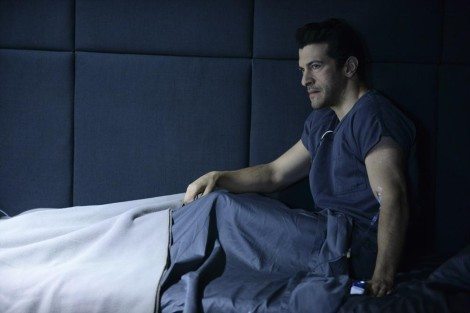 Although it's a worthy plan to strike at Hydra while its down, Coulson blames Hydra for the death of Trip. It's made very clear that not everyone agrees with this sentiment as Mac argues that Trip wouldn't be dead if Coulson hadn't collapsed the chamber, if they hadn't even gone after the alien symbols. He makes some fair points; Coulson, while a strong leader, has shown that he often lets his emotions rule over him.
While this may be a good thing, it exhibits compassion and empathy on his part, it is also something that clouds his judgement. No one is saying they shouldn't have gone back for Skye, but Mac hammers in the fact that Trip traded his life for Skye's. Obviously this isn't true, whether or not he went into the chamber, Skye would have come out alive, but I suspect this seed has been planted and will grow, spreading doubt against Skye, especially once her abilities are revealed to everyone.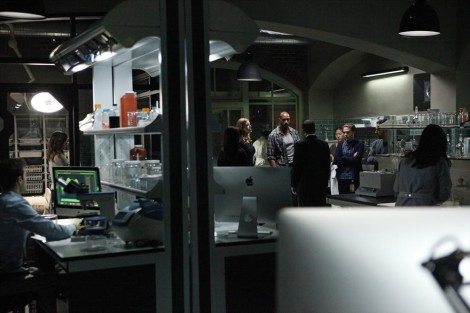 For his part, it seems that everyone is running on fumes after the loss of Trip and Mac apologizes to Couslon for his outburst later on. It's made clear that they are all very much in the middle of the grieving process. Which is why I am hoping that Simmons will see the light instead of going full anti-superpowers (not going to bode will for Sif's return next episode), because while being angry is reasonable Simmons takes it to a whole new level.
It's not hard to fathom, since she was the closest to Trip along with Skye. But her reaction to the inhumans, comparing them to a plague, one that needs eradicating, is worrying to say the least. It is enough to make Coulson and May react to the fact that the kind Jemma Simmons would suggest killing Raina instead of bringing her in. I remain apprehensive about judging her too harshly, if Mac's outburst is any sort of indication, this could just be her form of grieving.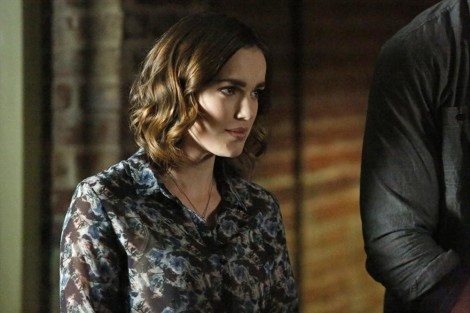 Or at least I hope so, since it's going to be hard for Skye to control her quakes given how fraught her emotions are these days.
Thankfully Fitz has taken some massive strides in healing both mentally and physically from near-death at the hands of Ward, and when he realizes that Skye is inhuman (hey, he even coined the term!) he runs to help her. In fact, he is the only one who is able to relate to Mac losing control of his body, and is there for Skye in a way that no one seems to be at the moment.
Even with all of Coulson's love for Skye, I don't think he is going to be the same kind of support that Fitz is going to be with Skye. He knows what it's like to be treated differently, to have people walk on eggshells around you, to doubt you at every turn, he went through that himself. He is the support system that Skye needs, because he's been similarly baptized by fire. Comforting her by telling her, "You're just different now, and there's nothing wrong with that."
Since the beginning of the season, the show has been weaving in threads of the Inhumans storyline, since "What They Become" this has exploded into its own defined storyline; re-introducing Gordon (the eyeless man from the end of the midseason finale) in this episode through a flashback that gifts us Dichen Lachman again as Jiaying, Skye's mother, and eventually in present day with Raina. The Tomorrow People's Luke Mitchell has also signed on as a guest star inhuman named Lincoln that they'll be introducing soon to help Skye understand her transformation.
But what about the inhuman who has been searching to find out what she would become all season? Raina has made a full physical transformation that turns her into something otherworldly. Repulsed by her own appearance and terrified at its permanence, she turns to Doctor Cal, Skye's dad, for guidance. We've always known him to be a sinister character, but the show has played him as a broken man, a father desperate to get his daughter back, violent but misunderstood.
This episode scrubs away any remnant of sympathy I might have had for him. Raina has been by his side since day one, and despite the pain and isolation she feels in her transformation, he can only express glee at the fact that Skye took in the terrigen mists as well. When Raina asks him for help, telling him she can't live like this, he tells her if she can't live like that she shouldn't.
Ruth Negga does a brilliant job through the prosthetics that truly breaks our hearts, as she walks into the road prepared to commit suicide. Like many of the characters in the show that have relied heavily on a mentor, her severance from Cal breaks her down completely. It seems she's ready to meet her end when she is surrounded by armed guards ready to take her in, when Gordon drops in.
The scene, paralleled both with Gordon's own childhood and Skye's scene with Fitz serves to remind us that they are all walking a similar path. Despite being optically challenged, Gordon teleports in, slick as ever, and rescues Raina, telling her, "It's ok, beautiful. I'll show you the way." He is going to be a guide for her, just as Jiaying was a guide for him.
While inhumans dominate one side of the episode, SHIELD dominates the other. Or rather it's SHIELD gaining the upper hand, finally. We so rarely see SHIELD take the upper hand in the battle against Hydra. When you're up against a company where the ends justifies the means and everyone is forced to comply, you have to become them in order to beat them. Fortunately, they haven't had to sink to those lows due to some quick thinking.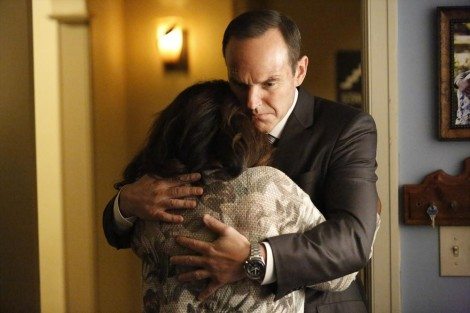 In a large scheme to lure Bakshi back to his Hydra leaders, we watch as Hydra bites its own heads off, leaving us with only Bakshi, who is handed off to Talbot. This storyline offers us a bit of lightheartedness. From Coulson's overly dramatic acting to Hunter's horrible American accent, it feels like a much needed win for the team to start recuperating.
More specifically it's a win that Coulson has sorely needed, as May states, "For Coulson, Trip was the embodiment of the principles he wants SHIELD to be built upon: compassion, loyalty, heart; and that is SHIELD's strength. Trip's death reminded Coulson that Hydra doesn't have that, and that is their weakness."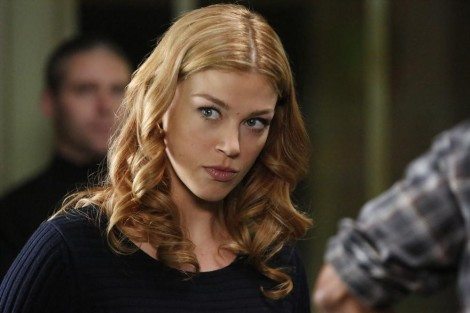 Meanwhile, sneaking into the final few minutes of the episode is Mac and Bobbi's secret. Mac discovers the location of Fury's Toolbox, containing all the dark secrets of SHIELD, within Coulson's office as well as some blueprints. Although I doubt that Bobbi and Mac are working with Hydra, their secrecy should raise some flags. Then again, May was a spy for Fury last season, so it's very possible the writers are trying to throw us for a loop.
With Skye out of quarantine, due to some quick thinking on Fitz's part, it seems on the surface that SHIELD is on the mend. Hydra is gone (for the most part), Ward and Whitehall are presumed dead, Cal and Raina are on the run; it all means that Trip didn't die for nothing. It's going to be interesting to see the team react as Skye's abilities are revealed and we learn that not only is Ward alive but Cal is coming back full force with some of his friends from SHIELD's index and Raina has teamed up with Gordon.