[youtube=https://www.youtube.com/watch?v=M0-nnk_lG0g&w]
Loot Crate vs. Nerd Block – February 2015
Loot Crate and Nerd Block are two very big subscription box companies. They both have a large fan base and they both consistently give out awesome product in their boxes. Loot Crate costs $13.37 a month plus shipping which comes out to be around $20 a month. Meanwhile, Nerd Block costs $20 a month but, since it ships from Canada, costs close to $30 after shipping. Regardless of which one you get, each box's content always adds up to be more than what you initially paid for. Another perk is that you get to collect nerdy t-shirts. Loot Crate will have a few t-shirts throughout the year in their boxes, while Nerd Block has a shirt in every box (this could be the reason for the more expensive price).
Without further adieu, let's check out our February haul!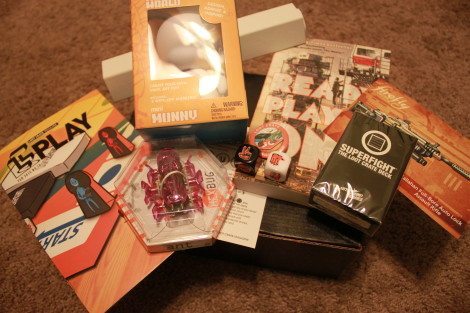 This month's theme for Loot Crate is "Play." I'm really digging Loot Crate's boxes, they're just as interesting as the items themselves. This time around LC created a whole board game out of their boxing. It's the Crate Simulator and in order to win you have to collect all five items. You use the figurines in the back of the magazine as your pieces and the rock, paper, scissors dice to go. It looks pretty interesting and will be fun to try out with friends. The other cool thing out of the box is the DIY Munny. It's this figurine that you can draw on; my artistic skills suck so I'll have to commission an artist friend to snazz it up. After drawing, you can cozy up and read a New York Times Bestseller: Ready Player One by Ernest Cline. One critic called it "Willy Wonka meets The Matrix." That sounds very interesting and I now have reading material for my flight. There is also a deck of cards for the Superfight game. I'm not sure how it works but it's apparently very popular and addicting. There's also a Hex bug in the box (a little robotic creature that jitters and vibrates). Second to last thing out of the box was a Waka-Waka Poster by Manny Peters. It featured Pacman and an exploded graphic of a game cartridge. Last thing was a promo code for an exclusive ship for the the new Firefly Online game.
Retail Value: ~$75.00
Loot Crate Cost: $19.99
Rating: ★★★☆☆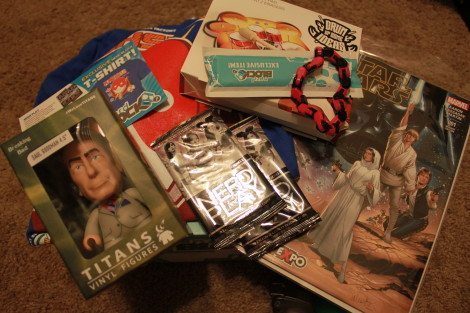 This month's theme for Nerd Block is "Exclusives." It's nice that Nerd Block started doing themes… it feels much more uniform now instead of a mish-mosh of items. So first up is the t-shirt: a blue Flashsicle. It has gumball eyeballs and that creamy, icy ice cream on a wooden stick. It's pretty cute. Next I got two packets of the Nerd Play trading cards. All the best cosplayers in the world got together and Nerd Block made trading cards, there are 144 in all. Third I got the drum notepad, complete with two drumsticks (pencils with erasers) that can be used to play with. Fourth out of the box was some Cliccors, these twisty, clicky snake things that you can mold into different shapes. Fifth exclusive was a Star Wars comic. Last was a Titan Vinyl of Saul Goodman from Breaking Bad and now Better Call Saul. He looks pretty spiffy in his suits.
Retail Value: ~$80.00
Nerd Block Cost: $29.49
Rating: ★★★☆☆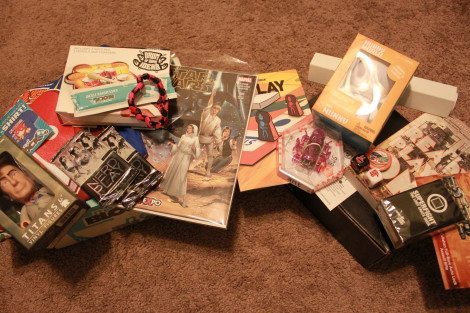 The Winner? It's a tie… both boxes didn't really wow me. I enjoyed some items out of each box and will use the drum notepad and read the book. Other than that… I'll see what they have next month.
But hey! Don't just take my word for it.
Try both out, see which one you like. You won't be disappointed either way! (Or if you are you'll know which one was disappointing.)