Synopsis for 2×10: Finn, desperate to find his mother, traps Marcel's vampires and Jackson's werewolves together within Klaus' compound. Rebekah discovers a startling secret about the Witches' Asylum she remains trapped within and Jackson takes a step forward with his relationship with Hayley. Meanwhile, Klaus discovers the extent of Kol's betrayal and Elijah continues to battle his inner demons.
Rating: ★★★★☆
With Rebekah still absent, Hayley is solely caring for Hope now, with a little help from Elijah. After last episode's steamy turn of events, the tension between Hayley and Elijah is at an all time high. Still, Hayley has other duties and problems of her own to deal with, so Klaus takes it upon himself to finally bring Cami into the secret fold. Klaus eagerly introduces Cami to Hope and while initially shocked, Cami is eventually more than eager to help and delightfully takes a liking to little Hope. Who wouldn't like Hope? Klaus is determined to make the city safe for Hope and he must begin this daunting task by dealing with his brother, Finn, first, now that his mother is no longer a problem.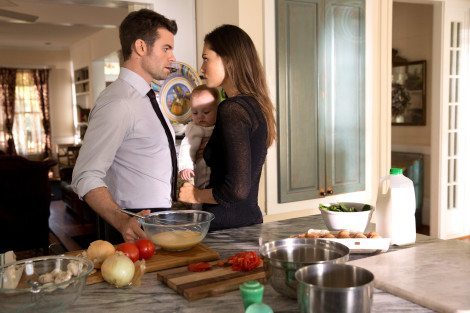 Klaus asks Cami to stay with Hope and Elijah at the country house while he and Hayley head back to the city to wrap up their problems. Klaus is also still under the assumption that Rebekah has woken up in the body of the woman that Kol had been told to prepare for her. He's in for a surprise when he finds out that she is actually trapped in a hellhole of a mental asylum of witches.
Back in New Orleans, Hayley returns to see Jackson. After her little soirée with Elijah, she certainly seems a bit more reluctant to marry Jackson. Hayley arranges a little peace gathering of sorts, bringing together the most influential werewolves and vampires in the hopes that they can talk and come to an agreement on peaceful terms.
Back in her trapped body, Rebekah meets one of the original harvest girls, Cassie, who is also trapped within the house and she claims that once you are trapped inside the house, you can never leave (alive at least). Hopefully Rebekah will be the first to change that. Rebekah eventually learns more about the purpose of the home and how, after Klaus locked the original witches within the house long ago, the witches' coven found a use for the house and continued to lock their rebellious disillusioned members within the house. Now it's become a full-blown mental asylum for witches, which is run by witches referred to as the Kindred. These Kindred force the witch patients to take pills that jack up their concentration and prevent them from using magic to escape.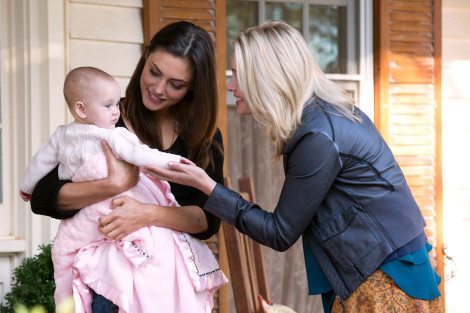 Klaus pays Kol a visit at the compound but their conversation is rudely interrupted by Finn, who demands to know where Esther is. Klaus arrogantly boasts to Finn that he will never find her, but Finn plans to act on that threat. Down in the courtyard of the compound, Marcel and his vampires are willing to side with the werewolves against the witches. As Finn angrily leaves Kol and Klaus, he of course crashes the vampire and wolves' meeting. Still a witch, Finn creates a spell, trapping all of the supernatural species temporarily within the compound. Klaus demands that Kol fix the spell as he is a witch but Kol claims he will need Davina's help in order to do so.
Elijah insistently tries calling the woman whose body Rebekah should have woken up in, but he grows more agitated and nervous as he continues to have no success in reaching her. Eventually Elijah finally receives a call back from her and they learn that she is in fact not Rebekah. Que the surprise.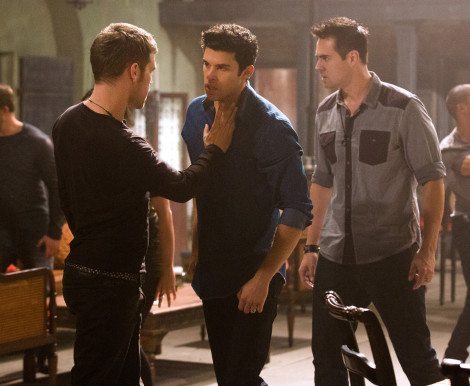 Klaus presses Hayley about her time with Elijah and is happy the two have finally dropped the pretenses between them. Klaus knows Hayley feels guilty about not telling Jackson about her relationship with Elijah. After talking with Klaus, Hayley seeks out Jackson, wanting to be honest with him from here on out. She reveals her intimate relationship with Elijah and when asked if she is in love with Elijah, her silence is proof enough.
After Kol and Davina fail to break the ward trapping them inside, Davina believes Finn must be channeling a dark object of some sorts in order to create the strong ward. We see that Finn is actually channeling his father, Mikael's body, somehow as he lies unconscious within a spell. As time ticks by, Finn continues to draw on Mikael and somehow magically causes the vampires to grow increasingly hungry for blood. It's only a matter of time until one of the new vampires gives into the raw hunger Finn has created, shattering the fragile relationship between the two species.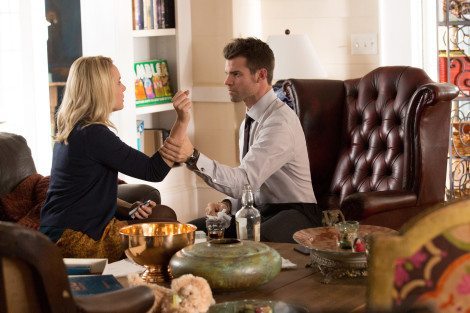 Davina and Kol claim they may be able to case a disruption spell that would suppress all magical spells and objects within the compound for a brief period of time and allow them to escape. However, the spell would also null the vampire's rings, but Marcel does not think they have time to wait until nightfall.
At the asylum, Rebekah, still in her new body, attempts to communicate with the outside world with Cassie's help. While she believes the attempt was largely unsuccessful, she soon begins seeing the ghost of a young woman who leads her upstairs to the attic. She discovers the physical body of the ghost she followed locked in an archaic glass coffin.
Having been given Esther's location by Klaus in an attempt to get Finn to break the ward trapping them, Finn finally finds Esther and discovers the extent of Klaus' actions. It seems as though Esther could not resist the temptation for blood and ultimately gave in and turned. Finn is enraged, believing that after all her claims of purifying her family, rather than standing with her principles, she caved to her darkest temptations. Finn believes she would have wanted her to end what they started and he seemingly kills her and later lays her prone body next to Mikael's.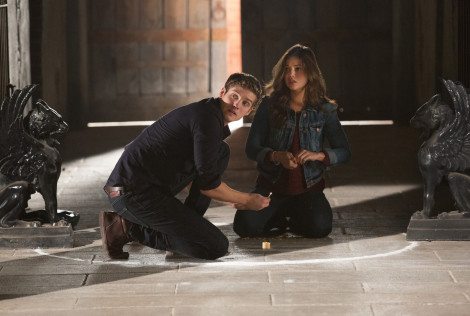 Back in New Orleans, things begin to get worse as the young vampires can no longer resist their growing bloodlust. Davina and Kol desperately begin weaving the disruption spell. When finished, the wolves are able to escape but Klaus throws Kol back into the compound, preventing him from escaping with the others. Finn's barrier springs back up and Kol is trapped once more with the hungry vampires. Klaus demands to know where Rebekah is as he is aware that Kol lied to him. Kol claims she is safe and insists it was nothing but a prank but Klaus still refuses to help him.
Out in the bayou, the wolves regroup and Jackson genuinely proposes to Hayley, complete with a diamond ring. He finally admits his true feelings for her and appreciates her honesty before, as he has also been less than honest. Jackson truly believes marrying Hayley will rightfully fix things and unify their pack. Hayley happily agrees, although Elijah is no doubt still lingering in her mind.
Back at the witches' asylum, Rebekah is restrained for disobeying orders and refusing to take her pills. As she begins to loose consciousness, the spirit and body of the young woman whose body she found earlier, tries to contact her once again through word tiles on the floor and reveals that her name is Freya. Gasp. It looks like the Mikaelson's will get another reunion this season, this time with their older sister, Freya, whom they believed was dead.