Even though the holidays have come and gone, that's no reason to not decorate your shelves with this twist on the traditional ornament! It's super easy, and takes about half an hour to do, including drying time. So go grab an old book that needs a new life, and get to crafting!
Need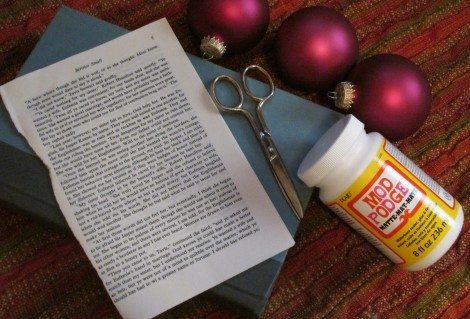 Pages from a book
Glue (Elmers, Modgepodge)
Scissors
Cheap Globe Ornament (Check your local craft and department stores for sales)
Ribbon
Steps 
Cut strips of lines from the pages of the book chosen. Make sure that the strips are long enough to go from the top of the globe to the very bottom. If you make the strips a little long, the bottom will take on a more pointed shape when you get to steps 2 and 3. 
After cutting a bunch of strips, remove the top gold piece from the globe and put it aside. Now it's time to put those paper mache skills to work. With a brush, finger, or extra paper, slather some glue on the globe. One strip at a time, lay them on top of the glue so the strips run vertical. Continue this all over the globe.
Once you have finished covering the globe once, go back over any black spots with extra strips. This would be the place to put certain lines from the book that you like, as this is the most visible layer. Let it all dry. Pro tip- stick a pen or pencil in the top, stick it in the flat side of a box and let it dry upside down. Or speed things up with a hair dryer set on cool!
As a final layer, take some clear glue (Modgepodge is the best for this) and make a thin coat all over the globe. Once it is dry again, pop on the top, thread a ribbon through the top, and hang it on a tree! There you have it! Easy to make decorations for your shelf, tree, or anywhere else you want to hang them! Make a few in advance for an easy personalized gift for your bookish friends! Show us what you made below!