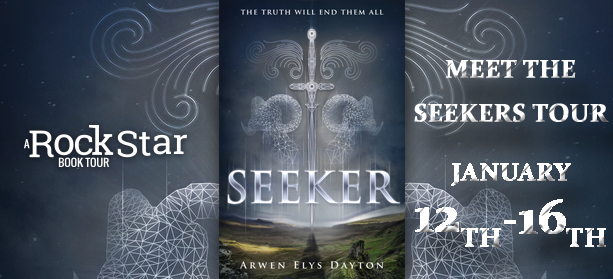 Seeker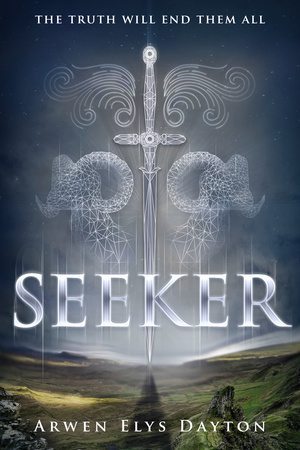 Author: Arwen Elys Dayton
Series: Seeker #1
Release Date: February 10, 2015
Format: Hardcover, eBook, Audio Book
Publisher: Delacorte Books for Young Readers
Genre(s): YA Fantasy
GoodReads | Amazon | BN
All right, Nerds! We've got a great opportunity for you guys here. Rockstar Book Tours is offering up an ARC copy and an awesome series of first look character profiles from Arwen Elys Dayton's upcoming YA fantasy epic, Seeker.
This one's been on my radar for a while because, duh, young adult high fantasy? I'm totally in.
And you can be, too!
Enter the giveaway above to win your very own advanced copy of Seeker and be among one of the first to get your hands on this book. Then, read on to learn more about the book and Shinobu MacBain, a close confidant of main character Quin Kincaid and a force to be reckoned with in his own right!


About the Book
Their Legacy is…A calling. An Honor. A lie.
The night Quin Kincaid takes her Oath, she will become what she has trained to be her entire life. She will become a Seeker. This is her legacy, and it is an honor.
As a Seeker, Quin will fight beside her two closest companions, Shinobu and John, to protect the weak and the wronged. Together they will stand for light in a shadowy world.
And she'll be with the boy she loves—who is also her best friend.
But the night Quin takes her Oath, everything changes.
Being a Seeker is not what she thought. Her family is not what she thought. Even the boy she loves is not who she thought.
And now it's too late to walk away.
Reviews
"Fans of Veronica Roth's Divergent, Marie Lu's Legend, and Suzanne Collins's The Hunger Games series: your next obsession has arrived." —School Library Journal
"[A] powerful beginning to a complex family saga . . . Dayton excels at creating memorable characters." —Publishers Weekly
"A tightly woven, action-packed story of survival and adventure, Seeker is perfect for fans of Game of Thrones." —Tahereh Mafi, author of the New York Times bestselling Shatter Me series
"Secrets, danger, and romance meet in this unforgettable epic fantasy." —Kami Garcia, #1 New York Times bestselling coauthor of Beautiful Creatures and author of Unbreakable


Character Profile:
Shinobu MacBain
"Nothing was what we thought. I only stayed for you." —Shinobu
At fifteen, of Scottish and Japanese descent, with red hair and already six feet tall, Shinobu is used to people staring at him. But Quin doesn't stare. Since childhood, she has been his training partner, distant cousin, and closest friend. The two of them have together undergone the often brutal conditioning to become Seekers.
Shinobu is the best fighter among the apprentices on the estate—so good he's teased that he loves fighting nearly as much as he loves girls. (There are lots of girls in Shinobu's life—but only one he desperately wants to notice him.) The fighting skills, at least, should be useful when he becomes a Seeker.
Shinobu's father, Alistair, used to tell him stories of Seekers who toppled tyrant kings, freed prisoners who were unjustly held, and who did all manner of good things in the world. Like Quin, Shinobu has no reason to doubt that he's about to take his oath and begin the life he's been imagining since he was a child. But what if that future doesn't actually exist?
In truth, nothing is what it seemed, and very different plans wait for him.
"Do you recognize this place, Son?"
Shinobu surveyed the house, smiled. "A girl I know lives here." He turned to his father, surprised. "How did you know?"
"I know a few things," Alistair said. "Is she your girlfriend?"
Shinobu noticed a figure moving in an upstairs bedroom. It was the girl in question. Alice. He could see the top of her head near the window.
"Not sure," he said, and shrugged. "She seems to like me. She let me kiss her."
"Did she? Was it nice?"
"It was." Shinobu smiled again. As if there could be any question that kissing girls was nice.
"Look around the town a moment, Son. Please. Look at the houses, the people, the life they have. Once you become a Seeker, once you take your oath, you won't see the world in the same way."
Meet Maud tomorrow at Two Chicks on Books!
And meet more characters every day this week IceyBooks, Fire and Ice, Two Chicks on Books, and A Book and a Latte.


About the Author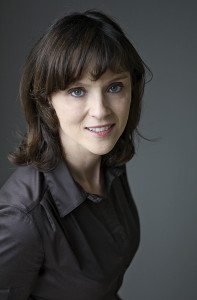 Arwen Elys Dayton spends months doing research for her stories. Her explorations have taken her around the world to places like the Great Pyramid (which she explored by a single fading flashlight when researching Resurrection), Hong Kong and its many islands, and lots of ruined castles in Scotland. She enjoys creating complete worlds inhabited by characters who charm, frustrate or inspire.
Arwen lives with her husband and their three children on the West Coast of the United States. You can follow her @arwenelysdayton on Twitter and Instagram. Follow the series on Twitter using the #SeekerSeries hashtag!