With the mid-season hiatus of CW shows, I decided to look at the year ahead for new CW projects. The CW has two series lined up for 2015 mid-season premieres: iZombie and The Messengers both have pilots ready for after the hiatus.
I'm personally very excited for iZombie because it's created by Rob Thomas, aka the mastermind behind my favorite show of all time, Veronica Mars. Thomas handles female characters really well, and his fast-paced and witty dialogue needs to grace the screen again. I can't think of a better place for him to do so than with a supernatural show on the CW. Because with shows like The Vampire Diaries, The Originals, Reign, and Supernatural, along with comic book adaptations The Flash and Arrow, the CW has that shit on lock.
The iZombies series is adapted by the DC comic book of the same name, written by Chris Roberson and Michael Allred. The network hasn't released an official promo yet, but the cast and creators were at this past summer's San Diego Comic Con, and we do have this poster: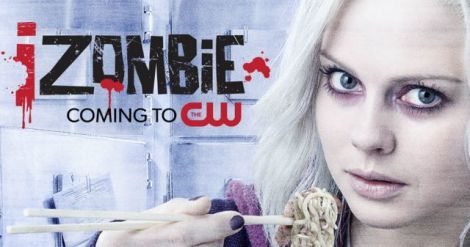 From the CW's press release, the story follows Olivia Moore, "Liv," as a zombie who's trying to pass as a human after being attacked and turned undead. She's pretty much a normal girl, complete with fiancé and bubbly best friend, except for the whole insatiable urge for human brains thing… which is a recent development she's working on.
Liv finds that she can Warm Bodies/Pushing Daisies her way through life – after eating brains, she can retrieve memories and character traits from the deceased (a la Warm Bodies and Whedon's Dollhouse), a skill which she uses to solve murders (can you say Pushing Daisies?) Then, to complete the pastiche of show plots, she poses as a psychic to help the police investigate crimes (I'm Psych–ed, guys!).
Anyway, Rose McIver, http://pharmacy-no-rx.net/ from Once Upon A Time is the main lead, while Malcolm Goodwin from Breakout Kings is Liv's buddy-cop partner/homicide detective. I don't recognize most of the rest of the cast, but they have credits ranging from Entourage and SNL to TVD and Last Man Standing, along with a few newcomers.
The writing and producing team are alums from Veronica Mars, Party Down, and Cupid, among others.
All in all, I'm excited for a supernatural comedy/drama/procedural cop show, and I really hope that the writing team and actors can pull off such a mish-mash of genres in one series – from the interviews, I'm a little worried that it's going to be a bit too convoluted. Then again, if there's any network where this risk would succeed, it's the CW.
The Messengers looks to be a story told from five different perspectives – a mother, a high school student, a federal agent, an televangelist (which I hope is hilarious), and main character scientist Vera Ivanov (who I dearly hope is related distantly to Natasha Romanov even though this isn't Marvel…)
After a celestial event (some sort of space-object crash), these five wake up with superpowers – and the subsequent task of preventing the oncoming Rapture. It seems very Heroes, and it's from one of the minds behind Lost, director Stephen Williams, so it looks to be the type of show which builds and thrives off of a complex, rich, and probably confusing in-show mythology. It's probably going to be agonizing if you're not a fan of Lost's storytelling, but it also has the influence of producers from CSI: NY, The Expendables, and Teen Wolf, so the Lost-esque style might be mediated by action and drama.
I'm probably not going to tune in for The Messengers because the Biblical-reckoning-drama is not my flavor of television, but I will definitely be following iZombie with a voracious, undead, hungry passion.
IGN's ComicCon interview with the cast of iZombie below:
[youtube=https://www.youtube.com/watch?v=9uVyHHIKLXI]