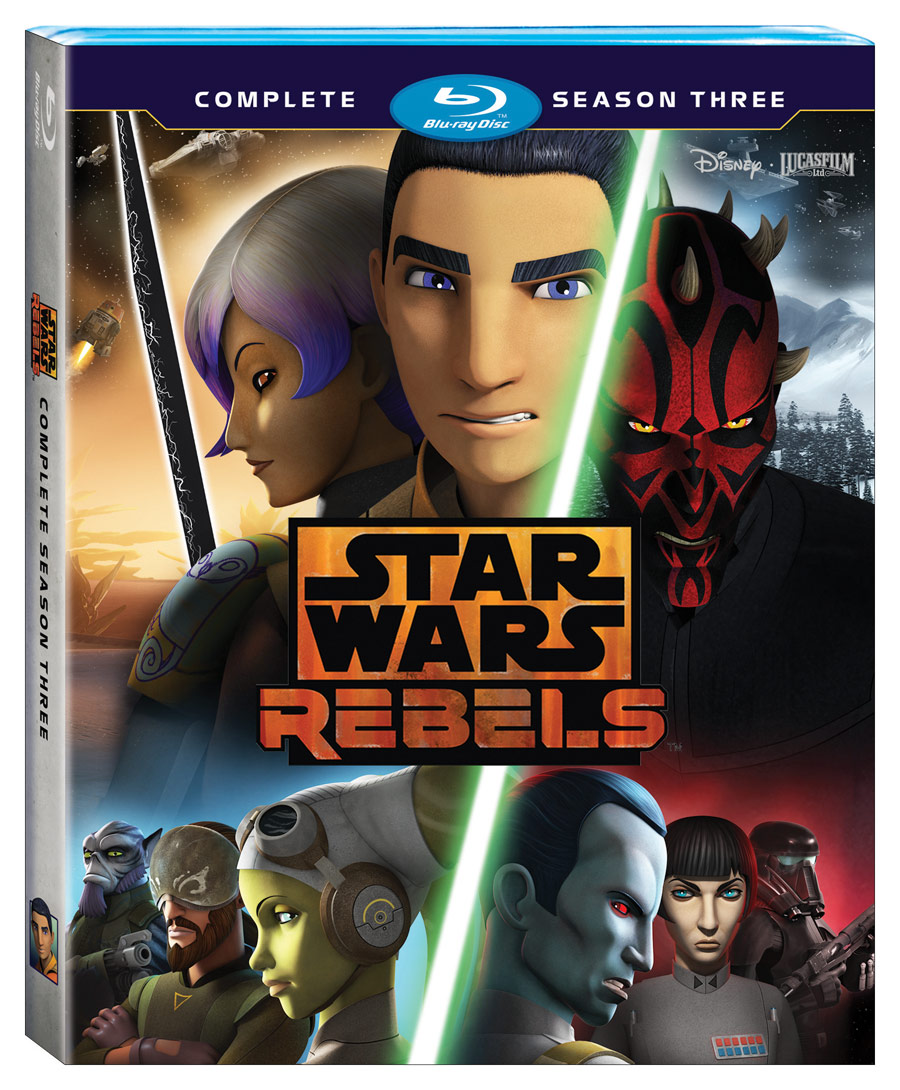 Release Date: August 29, 2017
Cast: Taylor Gray, Freddie Prinze Jr., Tiya Sircar, Vanessa Marshall, Steve Blum, Dee Bradley Baker, Lars Mikkelsen, David Oyelowo
Network: Disney XD
Genre(s): Sci-Fi, Animated
Extra Feature Rating: ★★★★☆
Rating: ★★★★☆
Review Spoilers: Moderate
Amazon | IMDB | Wikipedia | RT
After the announcement at Star Wars Celebration Orlando that the next season will be Star Wars Rebels' last, we've been hankering for a chance to go back and marathon through the rest of the series. Thankfully Season 3 is now out on blu-ray (complete with special features), so we can binge the series to our hearts' content.
If you haven't checked out this season yet, now is the perfect time. And if you have, it's just as good a time to revisit it.
In a lot of ways, this third season was a big step for the series.
It represented another step towards the show and the characters' integration in the larger Star Wars canon. Where the second season saw them beginning to operate in a larger universe alongside a growing Resistance movement, the third season took that all even further.
We saw our heroes working alongside characters who would become icons in their own right and influencing events that would have lasting effects on the series. We also saw the origins fan favorites like Wedge Antilles and the return to canon of the beloved extended universe character, Grand Admiral Thrawn.
While the fourth season doesn't yet have an official start date, we'll hopefully be hearing more about it soon. You can pick up the season on blu-ray or DVD beginning today and start planning your re-watch marathon!
Season Review
If I had to rank the seasons of Star Wars Rebels, I'm not sure I could. There are certain things about each one that I really enjoyed and each one has a unique feel to the story. This third season is no different.
We are introduced to characters that fans know and love. We see our heroes tested in ways they never have been. We see certain characters grow and evolve and begin to embrace their destinies. And we see an integration into the film series that I'm not sure I could have ever imagined.
That's not to say that this season is perfect. There are a number of filler episodes that I could have lived without and I've never been as intrigued by the Mandalore culture as many other Star Wars fans. But the stories that are told are meaningful and they're going to change the course of the series moving into the final season.
But before I get into things too much further, here is your SPOILER ALERT!
I'm going to try and keep the spoiler count low as I go through the rest of this review, but there are a few things that I want to talk about. From tie-ins to Rogue One to the return of Grand Admiral Thrawn, it's an incredible season to watch and re-watch.
As far as our main characters go, there is some really great development. While Zeb doesn't get a whole lot of attention, everyone else does. Kanan struggles to overcome his limitations after being blinded last season. Ezra is forced to face down Maul once again. We learn a bit more about Hera's past – and how she met Chopper! We also visit Sabine's family, learn more about their history, and spent a fair amount of time looking towards the future of Mandalore.
The show does a lot of great things with all of them and I have no complaints. Though, I still question the introduction of Bendu and his influence on Kanan because the character feels really out of place in the grander scheme of Star Wars canon.
Sabine's story arc in particular is great. She comes into her own and starts to embrace her future. I think that the Darksaber was introduced at the right time, potentially giving Sabine a way for her own story to continue well beyond the Rebels series. I also liked how skeptical she was of the whole idea of 'destiny' and any pre-determined way in which things are meant to go. I think it is very powerful, especially when Star Wars canon relies a lot on the idea of prophecy and a 'chosen one.'
But the Rebels character whose story arc I enjoyed the most season didn't follow one of our core characters. Instead, it followed Agent Kallus. The perpetual bad guy for two seasons, he had a really world shattering experience with Zeb back in Season 2, which leads him down a much different path. I don't want to spoil too much, but while this show may be primarily about Ezra and his growth throughout the seasons, it could equally be seen as the story of Kallus' transformation. Of all the characters I'm excited to see when the fourth season returns, he's at the top of the list.
Granted, at the very top of the list is Grand Admiral Thrawn.
While I'm hoping to see more of him in other Star Wars tie-in series, seeing Grand Admiral Thrawn on screen was a dream come true. I first read Timothy Zahn's Thrawn trilogy back when I was in the third grade and it introduced me to the wider extended universe, which I would continue to explore my whole life. He's such an incredible character and always has been. Thrawn was a different kind of villain that the one we had so often seen in the Star Wars universe and this animated version has been very true to the original character. He strikes some decisive blows to the Resistance and I can only wait to see wait what happens next season.
Now, one of the things I didn't like so much about Star Wars Rebels' third season was that it felt a lot more like a sequel to The Clone Wars than a continuation of the Rebels storyline at times. With Darth Vader and Ahsoka gone, the main focus this season tends to be on characters that are going to be more important and more prominent in the upcoming 'original trilogy' era. Wedge Antilles, Mon Mothma, Jan Dodonna, and more make appearances and there are several tie-ins to the Rogue One film that takes place in a similar time frame to the Rebels series.
But we do get a final resolution to Darth Maul's story this season which I think is great – especially for long time fans of The Clone Wars. I was never a fan of Maul in The Clone Wars so his inclusion in Rebels was probably my least favorite part of the series. That said, I think he gets a fitting end at the hands of long-time rival, Obi-Wan Kenobi. And we do revisit The Clone Wars more directly in a Rex-centric episode early on in the season. I think it finds a much better balance in handling those storylines than last season.
All in all, it's a pretty damn good season.
I think the best part of the season is how much it ties into the later films. Events that happen in Rebels help shape what's going on in Rogue One. And at the end, we see some direct tie-ins to the original trilogy. The Clone Wars never had that kind of integration. Whatever happened in that show stayed in that show for the most part. But Rebels is being created in tandem with the rest of this extended universe. They've done some amazing things – especially this season. And we can't wait to see what happens in the series' final season.
Special Features
Star Wars Rebels consistently has some of the best blu-ray releases of any series we cover. A big part of the reason they're so great is that each episode comes complete with it's own behind-the-scenes "Rebels Recon" featurette.
These videos are released on the official Star Wars YouTube account after each episode airs. They offer an inside look at the episodes and often include interviews with the showrunners, as well as fan questions.
But the Star Wars Rebels blu-ray releases also include a wide variety of other special features. And the third season is no different!
Each disc includes at least some special features. On the first one, you'll find the "Rebels Recon" videos for those episodes as well as a trailer for The Last Jedi, which will be released in theaters this December.
On the second disc, you'll find the "Rebels Recon" videos, as well as two audio commentaries on Sabine's Mandalore-centric episodes. And then, lastly, you'll find the bulk of the bonus featurettes on the third disc (along with those episodes' "Rebels Recon" entries, of course).
So let's talk about these featurettes.
A Rebel Alliance
At a little over six minutes long, "A Rebel Alliance" focuses a lot on the show's connection to Star Wars: Rogue One. The film intersects the Rebels timeline, with both of them focusing on the time period immediately leading up to A New Hope.
With that in mind, the folks behind Star Wars Rebels decided to make the most of those potential connections. They talked about how they decided which characters to focus on and how to use them, with a heavy emphasis on Mon Mothma's role in both the series and the film.
The relationship was reciprocal as there are a lot of tie-ins to Rebels in Rogue One. But just because certain characters and certain ships appear in Rogue One, that doesn't mean much. They intentionally left a lot ambiguous in case they wanted to depict similar scenes from Rogue One in Rebels' final season.
Return to Mandalore
Mandalore has always been a favorite of Star Wars fans thanks to a decades long love and appreciation of Boba Fett. Sabine's Mandalorian heritage has been a big part of her character, but we haven't had a real chance to explore it nearly as much as we do this season. Sabine's character arc makes some really incredible strides in the third season and it sets her up for her own journey towards a future beyond Rebels.
At about even minutes long, "Return to Mandalore" talks a lot about these episodes. But it also discusses the Legends origins of some of the Mandalorians and the Mandalorians in The Clone Wars. More importantly, they discuss why they chose to go back to Mandalore and what it all means for Sabine and Mandalore's future.
Thrawn: A Legend Returns
This is the featurette I know you were all hoping to see on this release and it's well worth the watch. It's great to see how much Thrawn meant not just to me as a reader but to the showrunners as well. A lot of them talk about having grown up with that character and those stories and how incredible it was to bring him into Rebels.
They discuss the history of Thrawn's character, perfecting the character design, and casting Thrawn among other things. We also get to see how Timothy Zahn was involved and a little hint at what's going to come in Season 4.
Apprentices to Outcasts: Kenobi and Maul
This is spoiler-y special feature and you can probably tell that from the title but I'll say 'spoiler alert' anyway. There's really no way to avoid them here. Clocking in around nine minutes long, this featurette is something of a reflection on the relationship between Maul and Kenobi from the first time they saw each other in The Phantom Menace through The Clone Wars to their final showdown in Rebels.
The showrunners discuss what drives their relationship, Maul's hatred, Kenobi's motivations as we near A New Hope, and what went into casting an older Kenobi for this show. There's also a really cool breakdown of the the final battle between the two, its design, and their animation choices. It's definitely worth watching.
The Original Rebel: Saw Gerrera Returns – Extended
By now you should know that Saw Gerrera's character wasn't created for Rogue One but, rather, he was pulled from the animated series The Clone Wars and adapted for the film. He also makes a return to the animated world in Star Wars Rebels this season with Forrest Whitaker voicing the character (which is pretty cool).
This featurette was released a while back but it's included on this blu-ray release with about a full minute of additional footage. The showrunners discuss Saw's character and Forrest Whitaker is on hand to add some additional insight. Plus there's possibly a scene from the next season at the end (at least I didn't recognize it from any of his previous appearances).
I'm telling you, Disney knows how to pack a lot of awesome special features into these Star Wars Rebels blu-ray releases. I'm always impressed – and I always watch them all!
Final Thoughts
If you're a Star Wars fan then you really need to check out not just this season but the series as a whole. I think most fans have already gotten over the fact this is an animated series and that the first season did, admittedly, cater to a younger demographic. Each season of Star Wars Rebels has become increasingly more entangled with the broader Star Wars narrative and the stakes keep getting higher and higher – though it admittedly keeps it's humor.
But if you're one of those fans who hasn't been able to bring themselves to watch it, then now is the time.
Because this is the season that re-introduces Grand Admiral Thrawn to the Star Wars canon and nothing will ever be the same once Thrawn is involved. This is the season that finally gives Maul a fitting ending to his tortured storyline. And it's the season that really starts to make the kind of connections to the main Star Wars story that make it a perfect supplement to the stories you already love.
I have been a fan of Star Wars Rebels since I first saw 'A Spark of Rebellion' so I can't recommend this series enough to Star Wars fans. But I'll do it again now. Because this third season really brings it all home. It also tees up a fourth season that's going to undoubtedly have some of the show's greatest – and probably most devastating – moments.
Catch up on Season 3 while you can and pick it up on blu-ray (or DVD) today. I'm sure we'll be getting a Season 4 release date soon!