You might have heard of Bee and Puppycat when it was an adorably quirky pilot, released last year to the adulation of many, many fans worldwide. The pilot has amassed over four million views and raised more than $800,000 on Kickstarter in order to allow CartoonHangover and Frederator Studios to produce a nine episode series based on the ten minute short, which is the creation of Natasha Allegri. Allegri worked on Adventure Time prior to pitching Bee and Puppycat, which kind of exploded into an internet phenomenon. As of November 6th, the first two episodes of the series have premiered on Youtube. Go watch it if you haven't, or better yet, read this essay on Bee and Puppycat from our very own Ashley Leckwold.
Watching the pilot and then jumping into the new series reveals a number of evolutions in style since its debut last year. The character who has undergone the biggest change is the titular Bee. Just take a look: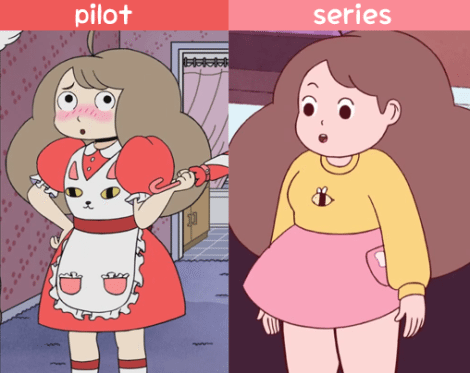 As you can see, Bee's got a considerably rounder silhouette compared to her pilot-self, which for some reason has gotten a few fans up in arms – just look at the Youtube comments. I'll admit it caught me off guard, but the new style is brighter and more charming. Especially the backgrounds, which have been given a hand drawn quality, complete with unfinished lines. They're also a lot more detailed and chocked full of goodies. Just check out Deckard's house in episode 1 – it's gorgeous.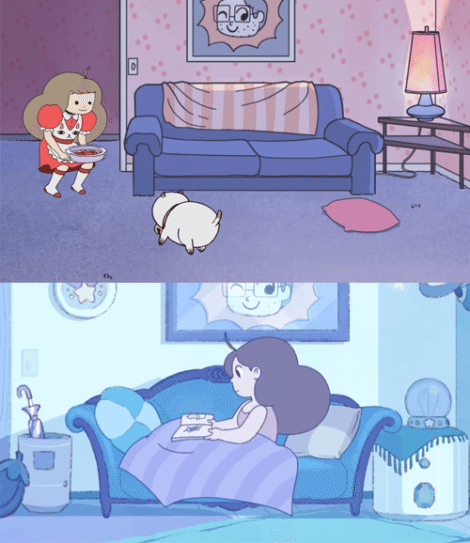 The series is animated more smoothly and looks more unified in its style than the pilot, making the show distinctive at first glance. Palettes have also been tweaked up and saturated, which makes a huge difference. Here's a comparison with similar color schemes: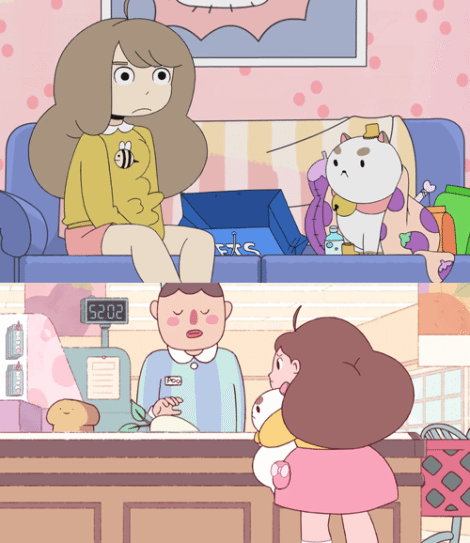 So yeah, you can see how the series was given a leg up in the aesthetics department and a lot more love for the "little things" which really help pull it together. In exchange, we got simplified character designs. Whether you think that's fair is up to you.
Now that it's a series, Bee and Puppycat has more room for character development, which undoubtedly will become important as it seems it will focus on Bee's maturation as a person. Allegri infuses all of her characters with cute quirks and personality, which is hard to do in only a handful of lines and a few minutes of animation time. The writing doesn't always succeed, but it's a bit early to make a real judgement on that.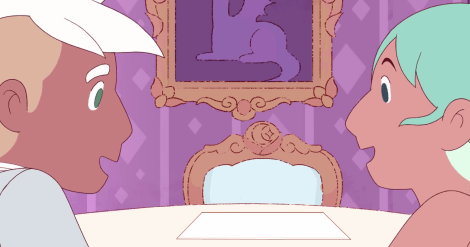 You may have your gripes with the new Bee and Puppycat, which is fine, but I've learned to look on the (Deckard-coloured) bright side, and I still find it as utterly charming and weird as I did a year ago. I'm glad that crowdfunding has given us as an audience new things to look forward too and that Bee and Puppycat has been able to continue. What are your thoughts on the series so far?
All screencaps were sourced from Bee and Puppycat, © Frederator Studios & Cartoonhangover