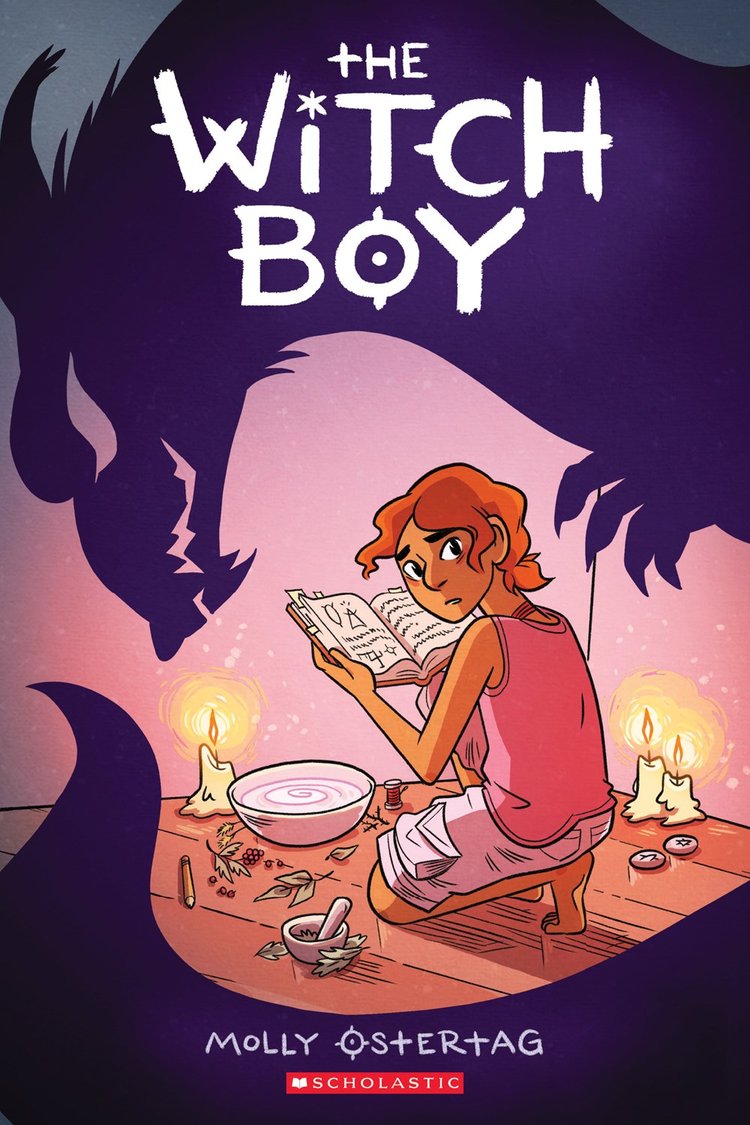 Title: The Witch Boy
Author: Molly Ostertag
Release Date: October 31, 2017
Publisher: Graphix (Scholastic)
Review Spoilers: Low
GoodReads | Amazon

I have been waiting all year to review Molly Ostertag's
The Witch Boy
and I am so excited to finally share it with our readers. It is hands down one of my favorite graphic novels of the year and I really can't praise it enough.
The Witch Boy
's endearing characters, captivating story, and timeless message make it a book that can't be missed — and you'll be drawn back to it time and time again!
The Witch Boy follows a boy named Aster who lives in a magical community hidden from the regular world. In his community girls are trained in all manners of magic while boys are left to their own devices, destined to become shapeshifters who use their abilities to keep dangerous demonic forces at bay. But Aster has no desire to be a shapeshifter and, in fact, his talents are far more inclined towards the forbidden, supposedly feminine magic he so desperately wants to learn.
The other boys in the community mock him, the girls don't take him seriously, and his family is determined that he embrace his future as a shapeshifter. Even when Aster's unique abilities may give him the opportunity to help save his community, the people closest to him fail to see his potential.
Over the course of the book, Aster has to learn to decide for himself just who he wants to be and what he wants out of life — even if that means bucking tradition and going against his community's wishes. He finds an ally in Charlie, an ordinary girl living in our ordinary world, who becomes not only fascinated with Aster's magic, but a great friend who encourages him to be himself.
As the story progresses we see Aster really struggling with his love for magic and that undeniable desire to fit in at home that we all feel from time to time. It's a very relatable story as most people have felt like they didn't belong at some point for some reason or another. But ultimately we see Aster grow into his own as he embraces a destiny of his own making and we see him make his own choices about how he uses his natural born talents.
The message in The Witch Boy has a profound effect on me every time I read it. Molly Ostertag uses magic and demons to frame a very familiar story about struggling to accept oneself and learning to follow your heart.
Everyone who reads Aster's story is going to see themselves in him one way or another. Whether it's in his family's disappointment that he can't seem to follow along with their expectations to his hesitation in embracing his talents because they'll set him apart, Aster is a character that speaks to the reader. He's the kind of character you want kids to see themselves in – especially kids who feel different – and The Witch Boy is the sort of story that you hope inspires every kid who reads it.
Really, I loved everything about this book.
I loved the characters and the world-building that went into creating Aster's little magical community. I found the characters compelling (especially Aster and Charlie) and all of the various interactions and relationships felt very natural. The story had great pacing and a fantastic climax with the ending not just satisfying but also quite moving. And, of course, I can't overstate how much I enjoy Molly Ostertag's artwork. I love her style and I love her character designs, which all went perfectly with this story.
Every single part of The Witch Boy just worked, which I think is one of the reasons I keep coming back to it and reading it over and over.
I really cannot recommend this book enough. The Witch Boy is such a perfect and empowering story – especially for young readers who need the encouragement to be who they are and embrace their unique talents. If you get the chance, you should absolutely check it out. And I promise – this won't be the last time you see us talking about The Witch Boy. Look for it on our Best of 2017 lists because that's how much I loved it!


We had a chance to talk with Molly Ostertag earlier this year at SDCC 2017. We talked primarily about her work with Sharon Shinn on Shattered Warrior but we got to very briefly talk about her work on The Witch Boy, too. You can read the full interview here!