Nerdophiles attended the first ever Five Points Fest! It was a "collision of toys, comics, and counterculture curated by Clutter Magazine and presented by Midtown Comics." That's straight from the website so you know it's legit! We had a great time, and we were able to snag short interviews from three of our favorite artists in attendance!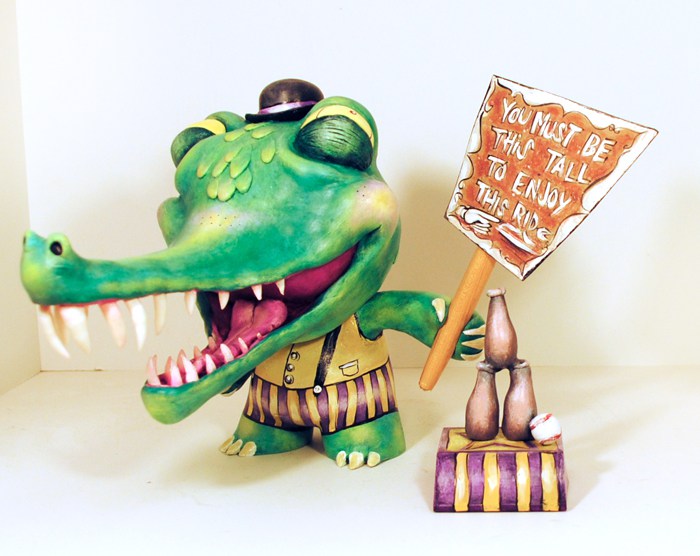 Name: Kasey Tararuj
How did you get started? I had a friend that introduced me to Kid Robot and custom toys. So I started making them and just kept going with it.
Which is your favorite? This guy here. He's an alligator. He's called Carni-gator. He's my favorite; he's got real alligator teeth.
What are they made of? Some of them are vinyl toys with Magic Sculpt on top, and others are original sculpts that are fully Magic Sculpt. And I also started using some resins.
How have you enjoyed Five Points Fest? It's good. I think it's very good.
Social Media
Instagram | Facebook | Tumblr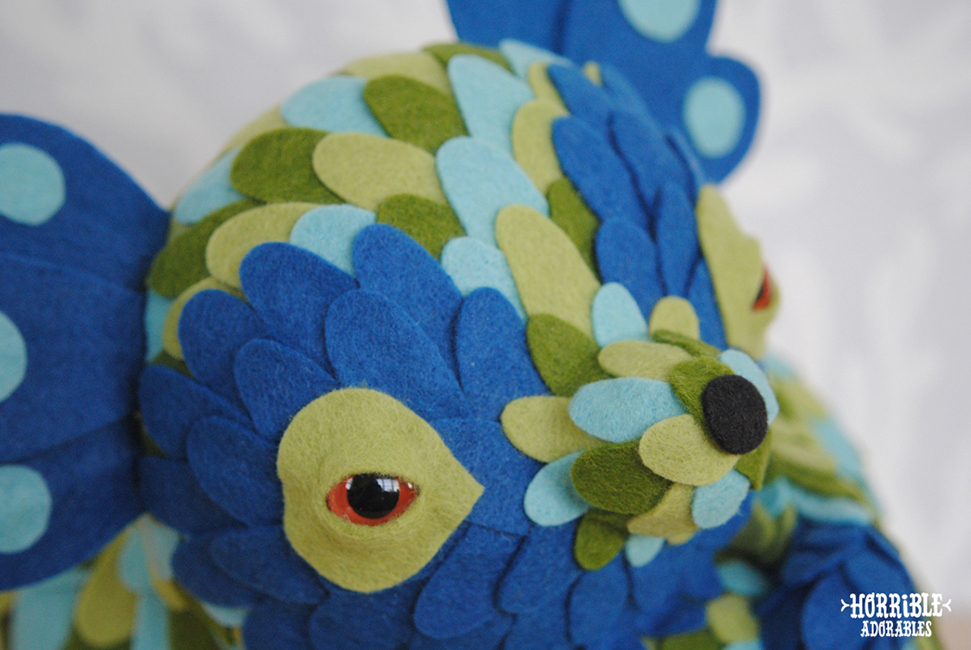 Names: Jordan Elise Perme and Christopher Lees
How did you get started?
Jordan: So the heads came first. We both actually went to art school together. I have a textiles degree so I came out making creatures because I love making silly creatures. And I guess we joined forces and have evolved them over time.
Christopher: They started off a lot creepier, and they've evolved to more cute. And then we just keep pushing the brand more. We came out with a book and then we were able to do the work with KidRobot to get the vinyls and now we've got the pins.
What's your favorite?
J: I'm a little split because I love the Haremus or the Foxolotol. I just think they're really charming.
How do you make them?
J: They all have a foam base underneath them, some are hand carved, some of them are actually cast. Which Chris does. He makes silicone molds and we'll make our own taxidermy forms. Punch out the scales, and they're layered pieces of felt on top.
C: Then we use for the same eyes used for taxidermy, that's still probably the part that's a little creepy besides being a mounted head. So when we buy them by the animal, so we'll buy goat eyes, or like leopard eyes.
J: It brings a lot of personality to them.
How are you finding Five Points?
J: It's super fun. I feel like all of our friends are here. It's such a great community to be in with the designer toy crowd.
C: We're really impressed with the turnout.
Social Media
Instagram | Facebook | Etsy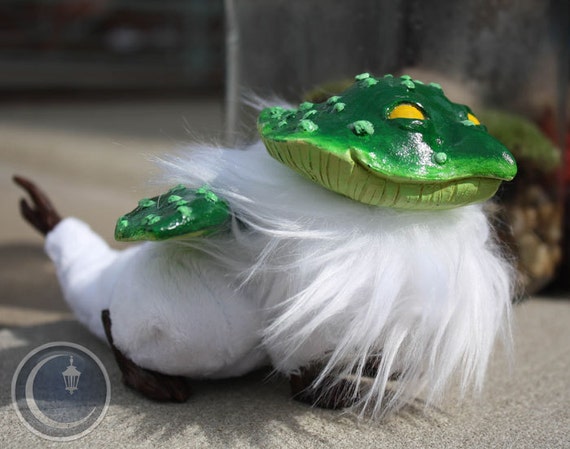 Name: Erin Rosenzweig
How did you get started? I started doing it as a hobby when I was doing ocean graphics. And then I made the owls for my mom for her birthday. Then a couple of my friends were like hey, there's this gamer convention in Jersey, you should come, they have an artist alley. It was like 5 tables in a hall in a hotel lobby. So I started doing stuff there and my prints weren't doing really well. So I decided to start selling my owls and pins, and it kind of spiraled out of control from there.
Which is your favorite? I mean, I love my shroomlings. I'm a sucker for nature and dragons. And they were the first that I came up with so they started the whole plant-dragon line. So as they were the first, they'll kind of have a special place in my heart forever. And then I guess the next would have to be the Mosslings because they kind of look like tiny rock hamsters.
What are they made of? Most of my stuff is made in resin; all of my sculptures are cast in plastic. There are some that have modifications that are made with poxy sculpt, that's used in taxidermy a lot. For the dolls I use faux fur, fleece, felt, and then I do the details hand-painted, and then the rest are all just polyurethane resin or poxy resin.
How are you enjoying Five Points Festival? I'm doing okay. It's not as busy as some of the other ones I've been to, but then again it's a first year con. There's a lot of foot traffic. I'm not sure the layout is as artist alley friendly as it could be. Aside of the layout, it's pretty good!
Social Media
Instagram | Facebook | Twitter | Etsy


These interviews have been edited for length and flow.