Originally a comic, Henshin Engine focuses on Yuki Shirokawa – a young and excitable game tester in Jipang, gifted with the fortitude to be a digital heroine in an 16-bit world – holy crap! (That's kinda like her catchphrase, get into it).
Now funded by fans via Kickstarter, Henshin Engine will also be a fully realized game, being released for TurboGrafx-CD console and MagicEngine. On behalf of Nerdophiles, I spoke with artist and game designer Sarumaru about his foray into game design, influences for the franchise, and future endeavors.


Firstly, could you briefly introduce yourself to our readers as both an artist and game designer!
Sarumaru: Sure! I'm Saru. I'm an artist that loves video games and anime and have been drawing for the majority of my life. I've worked on some other projects like Osu! (an online music game) and have done mascot designs for several things. Right now, I am working with a group of talented individuals on Henshin Engine: The Game.
Where did you draw influence from when deciding on the direction you wished to go in with Henshin Engine's comic and video game?
S: Growing up, I played a lot of video games and would often find myself drawing game characters on everything. Anime was also a big influence on my art style so in the early 90's, when I was introduced to the TurboGrafx-CD (PC Engine in Japan), this combined gaming with anime cut-scenes and it was then that I decided I wanted to someday make something similar. Henshin Engine combines all the things I love along with the bonus of finally being able to do something I have always wanted to do.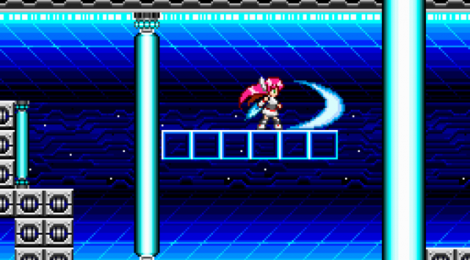 There are so many nods to not just gaming in general, but a lot of underappreciated consoles like the PC Engine. What made you want to bring these forgotten consoles back to light?
S: Well, the TurboGrafx-CD is the one video game console that's made the biggest impact to me as far as how I've perceived video games up until that point. The dawn of optical media as a gaming platform was upon us and it would introduce things like orchestral soundtracks coupled with stunning animated visuals, all things that were highly influential to me. Ever since the early 90's, I've dreamed of making a game with these types of aesthetics.
Are there any huge difficulties you've encountered in making your comic into a video game?
S: The biggest hurdle was finding a team of people to believe in the project. When I first started out, I sought after a few individuals with the programming talents to bring my ideas to light but was met with skepticism, criticism and flat-out unwillingness to help by certain individuals. It wasn't until I met Henshin Engine's current programmer, TheOldRover, that the game project finally got underway.
Has Henshin Engine been a rewarding experience so far, where you'd see yourself wanting to do similar things in the future?
S: Definitely. The reception of the comic and the anticipation that people have for the game has really put everything in perspective for me and how I want to proceed. There are ideas and concepts for the next studio project already in the works. So long as people continue to enjoy these types of games, we will continue to make them.
Along with Henshin Engine, you have a huge network of projects! What's the current state of Saru Studio and where would you like to see it headed in the future?
S: The current focus of Saru Studio has been working on the mixed-media project that is Henshin Engine, as well as working with another indie developer called Eponasoft that is run by the programmer of our current game. I am the character and pixel artist for their upcoming title, Lucretia – Demon Princess. It should be out shortly after Henshin Engine is released so keep an eye out for it! Other than that, we are in the planning stages for our next studio title. We hope to continue making games like Henshin Engine in the very near future.
Lastly, what are you currently nerding over?
S: I did pick up a Nintendo Switch that I've been playing on and off when I have time. Mostly just eShop games like Blaster Master Zero and classic stuff revisited. Other than that, I've been watching some old anime-faves like Berserk and the cyber-punk classic, Bubblegum Crisis.


As of now, Eponasoft and Sarumaru have now formed a merger, and going forward releases involving both parties with be seen on Saru Studio – a small start up media production team that consists of artists, musicians, writers and contributors to create unique projects.
It's extremely exciting to see the growth the Henshin Engine franchise has experienced in it's lifetime, and one can only hope that there will be even more opportunities for this sprite project in the future! You can currently preorder Henshin Engine, as well as purchase other incentives on BackerKit.
Please check out the demo trailer for Henshin Engine below, as well as the official Sarumaru Patreon, Henshin Engine Facebook, and Twitter accounts for up to date news!