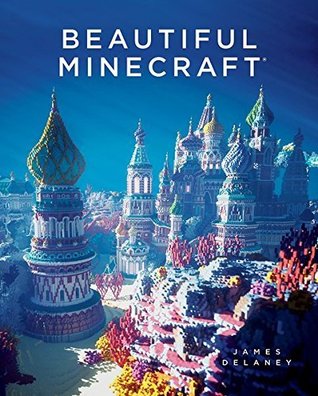 Author: James Delaney
Release Date: November 30, 2016
Publisher: No Starch Press
Genre(s): Arbook
Review Spoilers: N/A
GoodReads | Amazon

These days you'll be hard pressed to find someone who hasn't at least heard of
Minecraft
, even if you've never played it can be hard to escape the game's reach.
Minecraft
has become a huge part of our pop culture consciousness, but a lot of people don't fully understand it. They don't understand what the game is about or it's full potential.
To be fair, Beautiful Minecraft won't do much to help with the former.
When it comes to the latter, however, Beautiful Minecraft has a lot to offer. The whole reason James Delaney wanted to put together this book in the first place was to give readers a glimpse at the creative beauty that can come from building in Minecraft.
Delaney gathered dozens of builds of all kinds and broke them down by theme. There are nine thematic sections in the book including sculptures, landscapes, and fantasy worlds – just to name a few. Each build is accompanied by at least one image as well as the information regarding who built it, how long it took to build, how many people were involved, and how many blocks were used. One build took over a year for a single builder to create. Others took less than a week with teams working together to configure millions upon millions of blocks.
Admittedly, the introduction to the book points out that a lot of these creations aren't necessarily created in-game – at least not in the traditional sense. But it's hard not to appreciate what a dedicated individual – or group of individuals – can accomplish.
And regardless of how they were designed, there's no denying the fact that the builds highlighted in this book are impressive.
Some of my favorite builds included Blockworks' Tomorrowland and Deep Sea. The amount of detail that went into these unique, original worlds is absolutely mind-blowing. It's all stuff I know for certain I would never have the imagination nor patience to accomplish.
Interspersed throughout the book are various short essays not only written by Delaney but by some of the builders themselves. The builders reflect on how they became interested in the game, their early experiences with Minecraft, and what they love most about the game among other topics. I think that these little reflections are one of the best things in the book.
Not only does Delaney manage to show the beauty of Minecraft through the pictures he has chosen to include but he also really gets to showcase the creative minds and potential before the game by reaching out to these creators. It's a small addition to the book but it's notable and worthwhile.
If you're a Minecraft fan, you'll definitely want to check out this book!

A REVIEW COPY OF BEAUTIFUL MINECRAFT WAS PROVIDED BY THE PUBLISHER IN EXCHANGE FOR A FAIR AND HONEST REVIEW. THE REVIEW IS BASED ON THE HARDCOVER EDITION OF THIS NOVEL. NERDOPHILES WAS IN NO WAY COMPENSATED FOR THIS REVIEW. OUR OPINIONS ARE OURS AND OURS ALONE.