I am thrilled to be hosting a spot on the TWO FRIENDS, ONE DOG, AND A VERY UNUSUAL WEEK by Sarah L. Thomson & Vin Vogel Blog Tour hosted by Rockstar Book Tours. Check out my post and make sure to enter the giveaway!
About The Book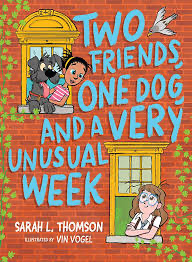 Title: TWO FRIENDS, ONE DOG, AND A VERY UNUSUAL WEEK
Author: Sarah L. Thomson & Vin Vogel (Illustrator)
Pub. Date: April 18, 2023
Publisher: Peachtree Publishing Company
Formats: Hardcover, eBook, Audiobook
Pages: 240
Find it: Goodreads, https://books2read.com/TWO-FRIENDS-ONE-DOG-AND-A-VERY-UNUSUAL-WEEK
Take Pippi Longstocking's joie de vivre, blend it with a 21st century urban setting, toss in a dog named Otto for good measure and what do you get? This joyfully carefree story about two unlikely friends.

It's a pair of silver sequined sneakers that unexpectedly flips Emily's comfortable, predictable world upside down. Or, more precisely, it's the girl wearing them.

The shoes belong to Rani, who moves into Emily's apartment building—and her life—with absolutely no one but her dog Otto. (Her research scientist mother is away in Patagonia.) And that's only the first rule that Emily watches Rani break without hesitation.

But it's not just that Rani breaks rules. Most of the time, she doesn't seem to know the rules exist. Why can't she bungee jump off their building? Or bring an ice cream truck to school?

For steady and orderly Emily, Rani's approach to life feels impossible . . . and more than a little irresistible. But is there a place for her in Rani's world? And should she find a way to make space for Rani in her own?

A Junior Library Guild Gold Standard Selection
About Sarah L. Thomson
Sarah L. Thomson has published more than thirty books for young readers, including prose and poetry, fiction and nonfiction, picture books and novels. Sarah worked as a children's book editor before becoming a full-time writer. She lives in Portland, Maine. Learn more about her work at sarahlthomson.com.
Website | Goodreads | Amazon | BookBub
About Vin Vogel
Vin Vogel is an award-winning Brazilian author-illustrator and the creator of A Home for Leo and the Yeti picture book series. He has illustrated over fifty books for young readers. After living in New York City, he returned to his hometown of Rio, where he lives with two cats and a dog. Visit him at vinvogel.com.
Website | Twitter | Facebook | Instagram | Goodreads | Amazon | BookBub
Giveaway
1 winner will receive a finished copy of TWO FRIENDS, ONE DOG, AND A VERY UNUSUAL WEEK, US Only.
Ends June 13th, midnight EST.
a Rafflecopter giveaway
Tour Schedule
Week One:
Week Two: