I am thrilled to be hosting a spot on the MINDSET by Zack Kaplan & John J. Pearson Blog Tour hosted by Rockstar Book Tours. Check out my post and make sure to enter the giveaway!
About The Book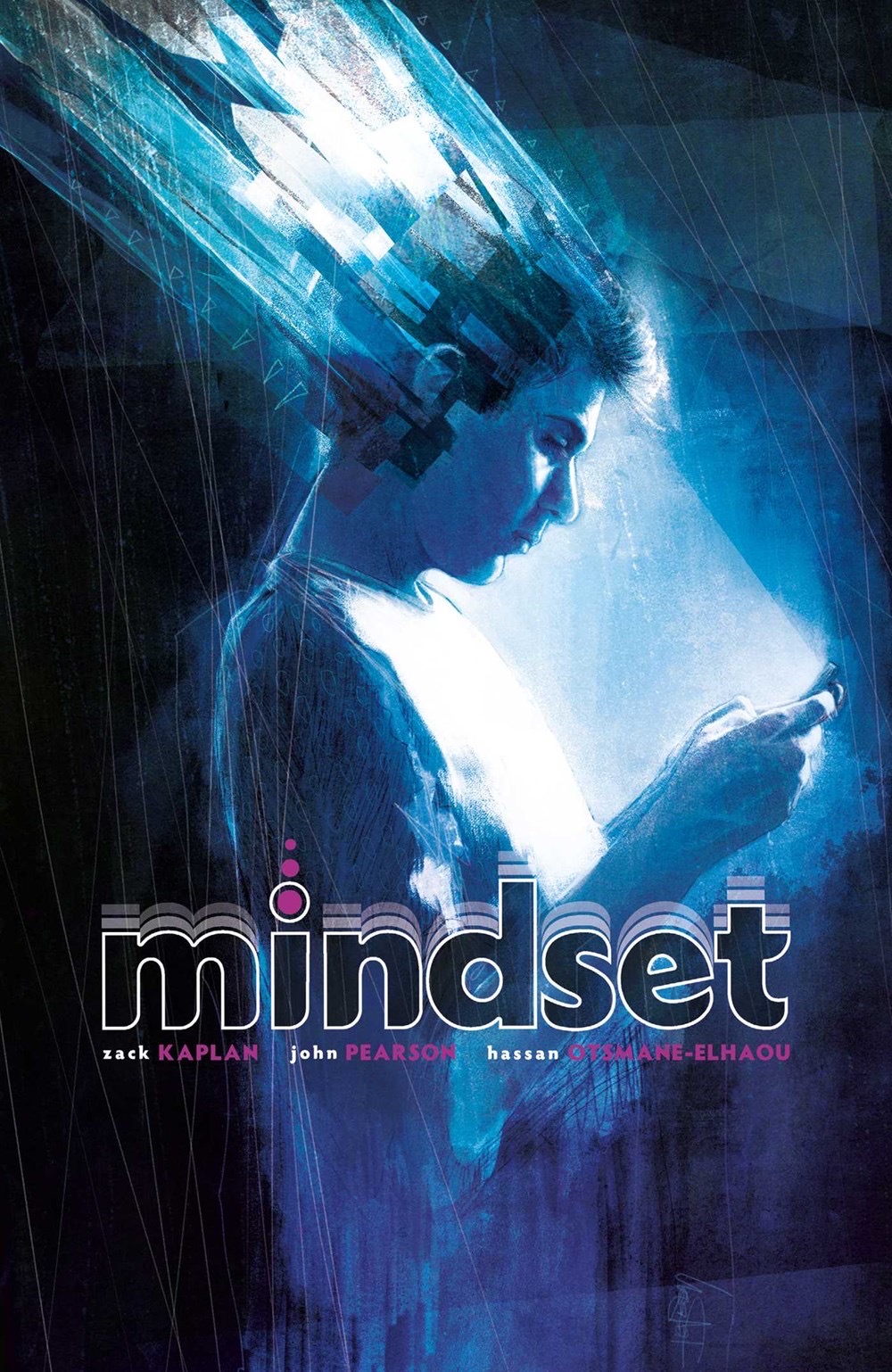 Title: MINDSET
Authors: Zack Kaplan & John J. Pearson (Illustrator)
Pub. Date: June 6, 2023
Publisher: Vault Comics
Formats: Hardcover, Paperback, eBook
Pages: 104
Find it: Goodreads, https://books2read.com/MINDSET-Kaplan
Black Mirror meets The Social Network in the mind-bending, sci-fi technothriller Mindset, where mind control is only an app away. For fans of Dave Eggers' The Circle and The Every.

The Cult of Control

When an introverted tech geek accidentally discovers mind control, he and his friends do something unexpected – they put the science into a meditation app to help users break their technology addiction. But as their Mindset app achieves a dangerous cult following, lies, conspiracies, and murder come to light. Are they helping people or controlling them?
Free your mind.
Who's in control?

Collects the entire, smash and super-hot, best-selling 6-issue series!

From in-demand writer Zack Kaplan (ECLIPSE, PORT OF EARTH, THE LOST CITY EXPLORERS, JOIN THE FUTURE, BREAK OUT, METAL SOCIETY, FOREVER FORWARD) and star artist John J. Pearson (2021 Eisner Award winner along with Anand RK for BLUE IN GREEN (Image Comics))

For fans of Black Mirror, Halt and Catch Fire, graphic novel The Department of Truth, and for fans of technothriller writers Dave Eggers (The Circle, The Every), Blake Crouch (Recursion), and Douglas E. Richards (The Enigma Cube), for readers interested in the CIA's two decade-long MK Ultra mind control experiments, and readers interested in the impact of tech on society.

"This twisty and cynical thriller cleverly situates itself at the intersection of heated debates about social media, tech giants, and social inequality." — Publishers Weekly

"What an AMAZING, disturbing first issue this was! Every godd*** book @thevaultcomics puts out is a must-read." – Patton Oswalt (actor, comedian, writer)

"Mind-blowing art. A chilling concept. The perfect technothriller…" – Cavan Scott (New York Times bestselling author: Star Wars: The High Republic)

"Mindset …is an uncompromising and engaging vision. A terrifying look in the dark mirror we all need. 10/10." — Comics Bookcase

"Fans of The Social Network and tales of corporate espionage will snap this up." — Publishers Weekly

"For my money, Mindset is one of the best books being published. 10/10" – Big Comic Page

"… a stunning combination of The Graduate and Leigh Whannell's Upgrade, blending the ethical implications of revolutionary technology with a murder mystery rooted in that same tech. – Comic Watch

"Mindset … is a form of brainwashing itself, drawing one in and leaving one with a desire for more. 10/10" – Comic Watch

"Mindset isn't your standard psychological thriller. In fact, it turns the entire genre on its head, introducing a wildly fresh take on mind control and the dangers of social media and influencer marketing. " – ComicBook.com

"Mindset … is a terrific science fiction tale, creepier because it hits so close to home." – Major Spoilers

"Mindset would've been on the list of best series of the year on the strength of its art and premise alone. The theme of cell phone and internet influence over our free will is incredibly important to our modern-day life. But, coupled with the thrilling story of big tech mystery and the multilayered exploration of existential themes, I would argue that Mindset is the very best comic series of the year." – AIPT

"Mindset is … an imaginative, unrestrained triumph." – CBR

"One of the most compelling and relevant books on the stands." – Comics Beat
About Zack Kaplan
Zack Kaplan is a break-out science fiction comic writer and creator of such comics and graphic novels as ECLIPSE, PORT OF EARTH, THE LOST CITY EXPLORERS, JOIN THE FUTURE, BREAK OUT, METAL SOCIETY, FOREVER FORWARD and MINDSET. He has worked with publishers such as Image/Top Cow, Dark Horse, Aftershock, Vault, Humanoids, Scout Comics and DC Comics. His first three series were all optioned for TV adaptation, with PORT OF EARTH currently being developed by Robert Kirkman's SkyboundEntertainment and Amazon TV Studios. Zack has taught screenwriting and storytelling at the International Academy of Film and TV, located in the Philippines. He currently lives in Los Angeles.
Website | Twitter | Facebook | Instagram | Goodreads | Amazon | BookBub
About John J. Pearson
John J. Pearson is an Eisner Award-winning artist and illustrator based in Leeds, UK.
John has built a reputation as an inimitable talent through his varied portfolio producing work for clients as diverse as Vault Comics, DC Comics, Image Comics, Z2 Comics, Heavy Metal Magazine, Netflix, WWE, Rue Morgue Magazine, The Ray Harryhausen Foundation, Burning Witches Records, and Arrow Video amongst many others. He is also an award-winning comic book artist, receiving the 2021 Eisner Award for Best Painter/Multimedia Artist (Interior Art) alongside collaborator Anand RK, for the work on Blue in Green (Image).
John fuses traditional drawing techniques, digital painting, and collage to produce highly-detailed and darkly compelling images across a range of printed media. Combining elements of photorealism, popular culture, abstraction, and psychedelia to create a unique style and versatility in approach that appeals to a wide spectrum of audiences.
John has exhibited in the UK and US, organized extensive art experiences across the country, and produced live murals at high profile events both independently and as part of Leeds-based art collectives.
Giveaway
2 winners will receive finished copies of MINDSET, US Only.
Ends June 20th, midnight EST.
a Rafflecopter giveaway
Tour Schedulep
Week One:
Week Two:
Week Three:
Week Four: