Who doesn't love when magic, romance, and high school drama collide!? Twelfth Grade Night is a fantastically fun graphic novel that kicks off a brand new series set at Arden High School in a world where magic and reality mix. Taking it's cue from Shakespeare's Twelfth Night (hence the title), the book follows Vi as she tackles public school without her twin brother and the shenanigans that follow as she finds her own way. I absolutely loved this story and all the characters. I am also a little bit obsessed with the illustrations. Also as someone who hasn't actually read Twelfth Night (I know, for shame!) I can say that it works regardless. It will probably mean a lot more if you have, though!
I am thrilled to be hosting a spot on the TWELFTH GRADE NIGHT by Molly Horton Booth, Stephanie Kate Strohm, & Jamie Green Blog Tour hosted by Rockstar Book Tours. Check out my post and make sure to enter the giveaway! 
About The Book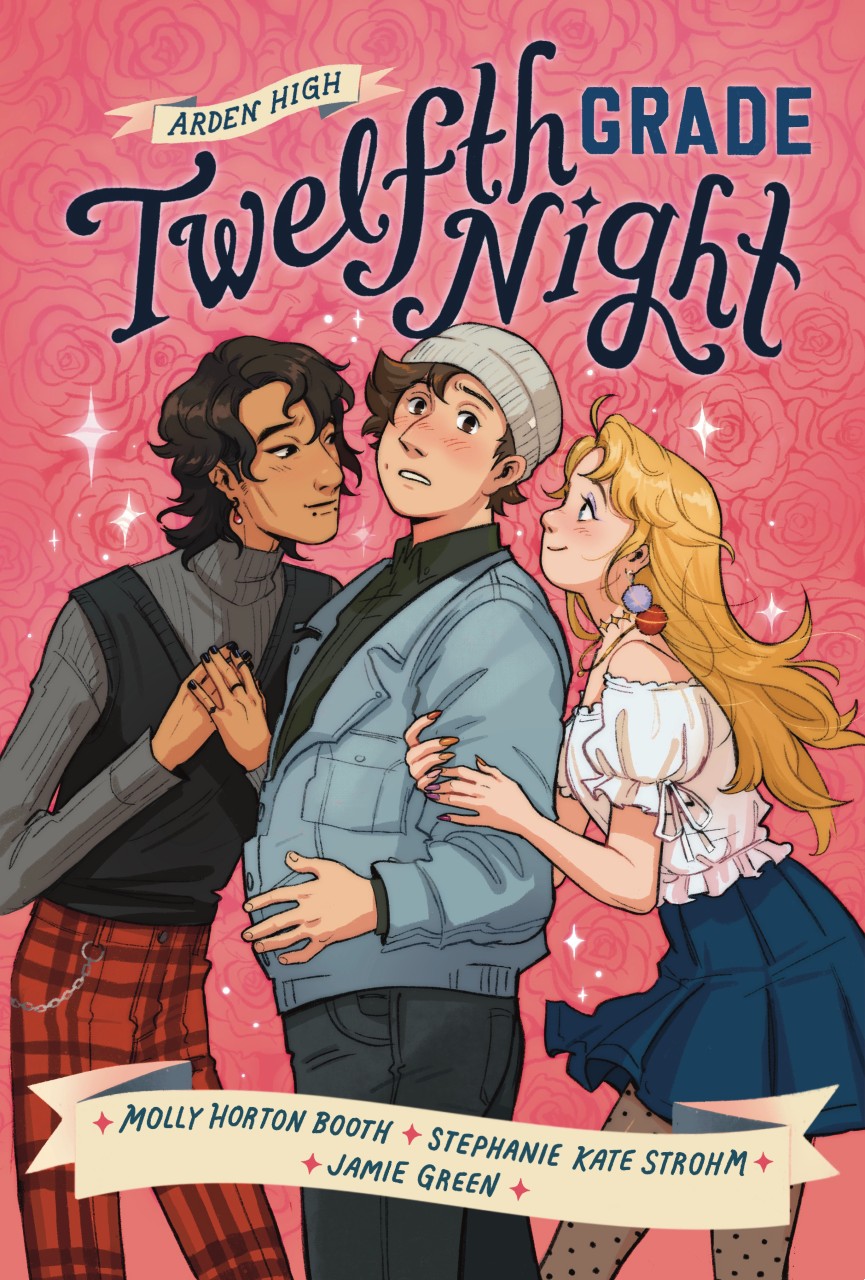 Title: TWELFTH GRADE NIGHT (Arden High #1)
Author: Molly Horton Booth, Stephanie Kate Strohm, & Jamie Green (Illustrator)
Pub. Date: October 11, 2022
Publisher: Disney-Hyperion
Formats: Hardcover, Paperback, eBook
Pages: 160
Find it: Goodreads, Amazon, B&N, iBooks, Kobo, TBD, Bookshop.org
"Magical and full of queer joy―this book is such a dream!"―Alice Oseman, New York Times best-selling author of Heartstopper
The course of true love never did run smooth . . . and neither does high school in this new graphic novel series for fans of Heartstopper and The Prince and the Dressmaker.
Vi came to Arden High for a fresh start and a chance to wear beanies and button-ups instead of uniform skirts. And though doing it without her twin feels like being split in half, Vi finds her stride when she stumbles (literally!) into broody and beautiful poet-slash-influencer, Orsino. Soon Vi gets roped into helping plan the school's Twelfth Grade Night dance, and she can't stop dreaming about slow dancing with Orsino under the fairy lights in the gym.
The problem? All Vi's new friends assume she's not even into guys. And before Vi can ask Orsino to the dance, he recruits Vi to help woo his crush, Olivia. Who has a crush of her own . . . on Vi.
Star-crossed love abounds in this hilarious and romantic story of self-discovery, mistaken identities, and the magic that happens when we open our hearts to something new.
About Molly Horton Booth
Molly Horton Booth (they/she) is a writer, editor, and author of Young Adult fiction. Their next book is the graphic novel TWELFTH GRADE NIGHT, coming October 11th, 2022, book 1 in the ARDEN HIGH series co-written by the amazing Stephanie Kate Strohm and illustrated by the incredible Jamie Green. Book 2 in the series, KING CHEER, will be published Fall 2023. Molly is currently a copywriter for Wayfair.com, where she describes bookcases in exquisite detail. 
Molly grew up homeschooled, earned their BA in English from Marlboro College, and earned their MA in English from UMass Boston. She lives in Baltimore, MD where she spends a lot of time with her partner, family, and friends, and the rest doting on her pets. ​​
Literary agent: Alexander Slater at Sanford J. Greenburger Associate.
Website | Twitter | Facebook | Instagram | TikTok | Tumblr | YouTube | Goodreads 
About Stephanie Kate Strohm
STEPHANIE KATE STROHM is the author of It's Not Me, It's You; The Date to Save; The Taming of the Drew; Prince in Disguise; Love a la Mode; That's Not What I Heard; Restless Hearts (Katy Keene #1) and Once Upon a Tide: A Mermaid's Tale. After graduating with a joint major in theater and history from Middlebury College, she acted her way around the country, performing in more than 25 states.
She currently lives in Los Angeles with her husband, her son, and a dog named Lorelei Lee.
Website | Twitter | Facebook | Instagram | TikTok | Pinterest | Goodreads | Bookbub
About Jamie Green
Jamie Green is a maker and professional curious person living in Greenville (funny, right?), South Carolina. They graduated in 2020 from Ringling College of Art and Design with a BFA in Illustration. In 2019, they was recognized by the Society of Illustrators as the Zankel Scholar. Much like her hobbies, their work can be described as the feeling of being bundled up around a campfire or hiking through the autumn woods. It is a goal of theirs to both intrigue and educate, combining nature and whimsy and creating a space for curiosity (as well as a bit of magic). Jamie strives to create picture books, illustrated educational books, magazine covers, interactive materials, and chapter book covers/interiors. 
Website | Twitter | Instagram | TikTok | YouTube | Goodreads  
Giveaway
1 winner will receive a finished copy of TWELFTH GRADE NIGHT, US Only.
Ends November 5th, midnight EST.
a Rafflecopter giveaway
Tour Schedule
Week One:
Week Two:
Week Three:
Week Four:
Week Five:
Week Six: