The highly anticipated premiere of the new Marvel studios series, Ms. Marvel is out now and Iman Vellani is already taking fans by storm with her endearing portrayal of Muslim superhero, "Kamala Khan/Ms. Marvel!" Nerdophiles had the pleasure of attending the Global Press Conference featuring Vellani alongside directing duo Adil El Arbi (director/executive producer) & Bilall Fallah (director/executive producer), Mohan Kapur ("Yusuf Khan"), Zenobia Shroff ("Muneeba Khan"), Sharmeen Obaid-Chinoy (director), Meera Menon (director), Kevin Feige (executive producer), Sana Amanat (executive producer), Rish Shah ("Kamran"), Matt Lintz ("Bruno"), Yasmeen Fletcher ("Nakia"), Saagar Shaikh ("Aamir Khan"), and Bisha K. Ali (head writer/executive producer).
Moderated by international news journalist Malika Bilal, check out all of our Ms. Marvel scoop!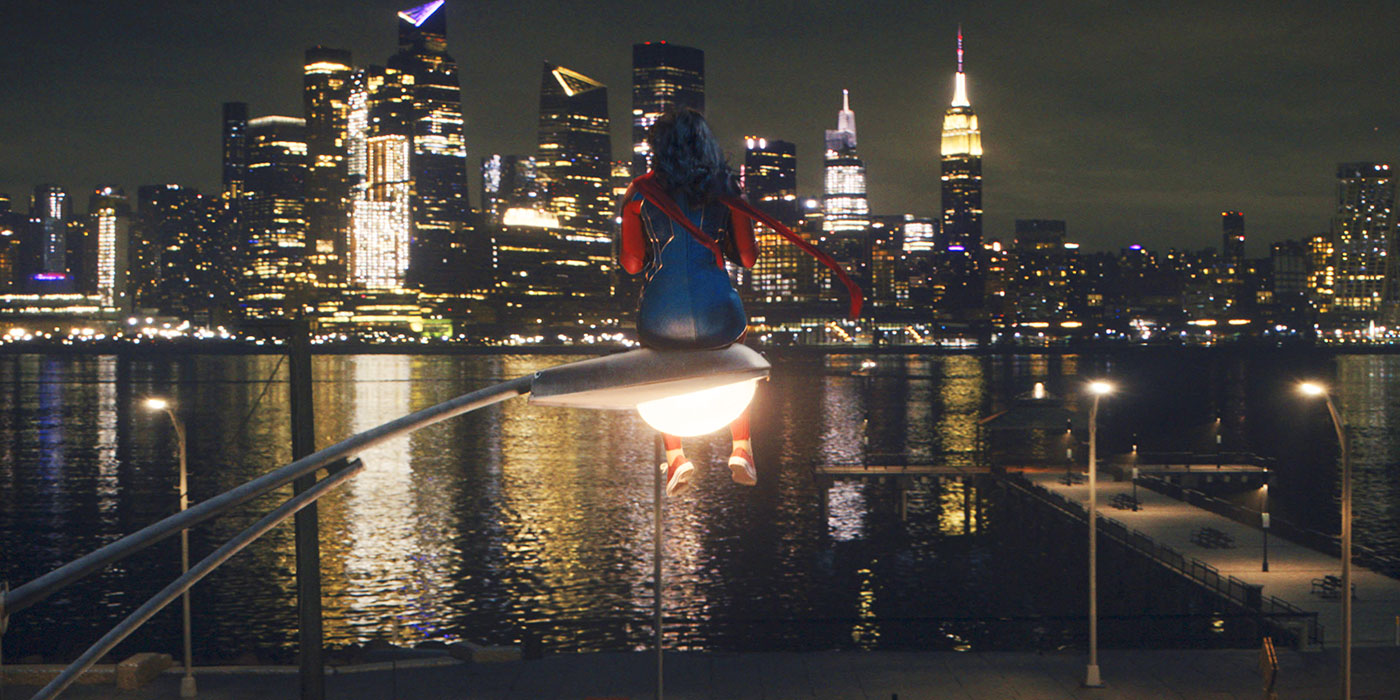 On why "Kamala" was the perfect first Muslim superhero character to bring into the MCU fold, Feige shared: "Why not, I say. I mean honestly working in Marvel is such a privilege because not only are the re-interpretations every few years of existing wonderful characters, but every once in a while, and it does seem like every decade or so, there's a new character that comes around that catches the audience's imagination. From the first few issues of the comic, people started asking us in environments like this when we were promoting other things, when is "Kamala Khan" coming? When is "Ms. Marvel" coming? So, it always seemed inevitable in a gray way that we would be able to do it. When Disney+ came around, it allowed us to do what we wanted to do which was tell her full story in six episodes and then have her then transition into a feature. I want people who've never even considered watching a Marvel Studios production before to be excited and watch this show and then go watch all the other ones." 
On the changes in the show from the comics, Ali told us: "She's live-action for one, and I think it was an incredible process that felt like such a gift because Sana was involved in this project from go. It felt like there were borderlines of how we could do this and stay true to the character that's in the comic books, that's on the pages, and still, add something new, add a freshness. We add vitality and a contemporary edge to what we're gonna see on screen."
Ali added: "Every single person involved in this project loves the comics deeply, personally, and from their full hearts. And I think we're all committed to that love, and it was a group decision talking through how Kamala is going to exist in the MCU. How's she's going to fit into this web of storytelling that Marvel Studios has done in live-action for the last decade, and putting all those pieces together while staying true to this beautiful incredible character that Sana and her team crafted over in their publishing side."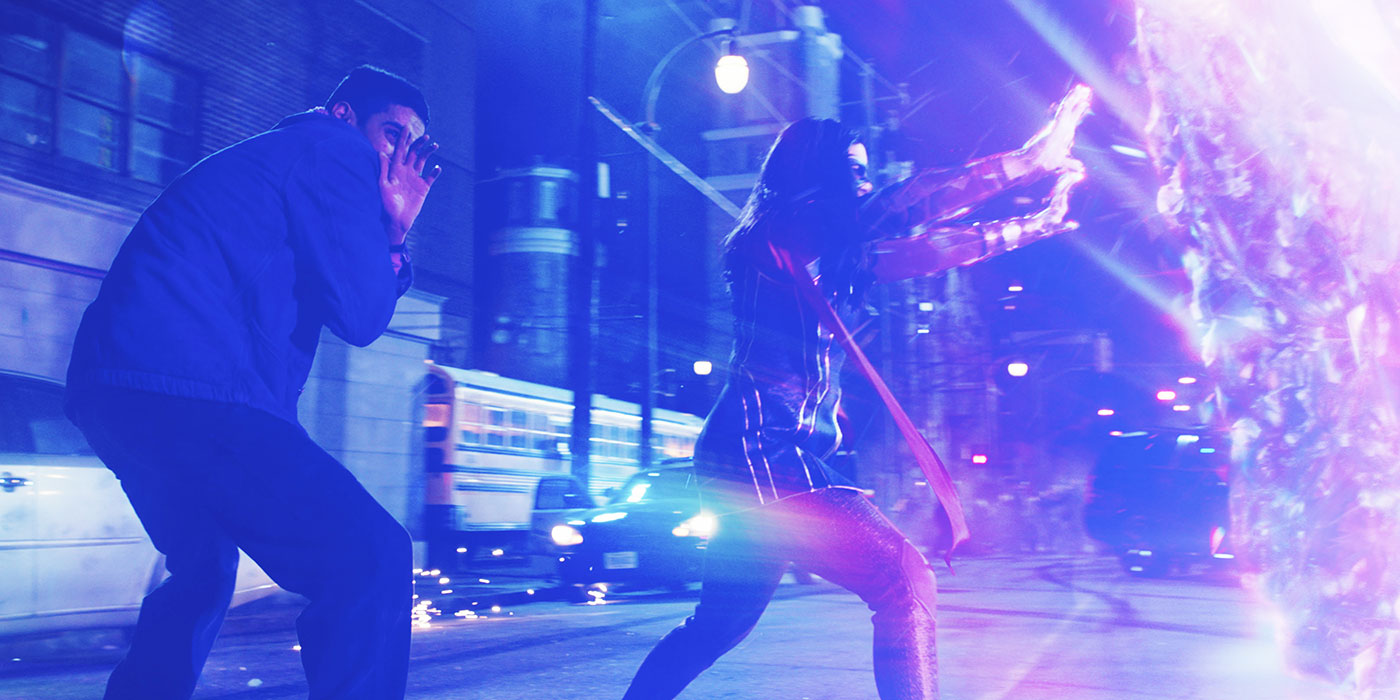 On what this series means for members of the South Asian community, members of the Muslim community, and members of communities that haven't traditionally seen themselves on screen, Kapur said: "It's a wonderful story of a community that's so ethnically diverse and culturally rich. And for me coming from that region, I think it's a fabulous opportunity because we certainly say this is the Marvel Universe telling a story about our milieu, and it's so beautifully and so subliminally translated over scenes."
Kapur added: "You know, a small scene like you go to the mosque, you put your shoes over there, you come back and the shoes are gone. That's a real thing, you know? The process of entering a mosque, the festivals, the wedding ceremonies, they're just so beautiful. This is us. This is us. The fact that Marvel could run this juggernaut, it's a big thing for the rest of the world and the other production houses. This is a story of one family, one girl. It's the story of a family in a land that's not their own, but they've called it their home. And that's beautiful.
On what makes Ms. Marvel special and Kamala stand out in the MCU, Vellani shared: "I think Ms. Marvel always understood fan culture on such a cellular level, and it just really uniquely elevated the storytelling. You know, she's a 16-year-old kid with super powers, fine, we've seen that before. But she's also a fan of every other hero within the MCU canon. And you know, that fascination and excitement are so shared with real-life Marvel fans, so that's why we relate to her. She reacts how we would when she gets powers, and I love that part of her, that's why I fell in love with her. Culture and religion were never the main things in her personality, it was just a natural part of her life, and that's how it was for me. Kamala/Ms. Marvel is an Avengers-loving, fanfic writing dork, who happens to be a Pakistani Muslim, and I think we balanced that quite well."
On how it feels now that the world is finally getting to see this thoughtful, beautiful, and dynamic body of work that they worked so hard on, Vellani added: "Pretty good. [LAUGHS] I don't know, I'm still processing. It's been a big part of my life before I even got cast, and so I'm just excited that people can finally, you know, see what I saw when I picked up those comics for the first time and fell in love with Kamala and her world. It's so colorful, and just the fandom of it all, it's truly a love letter to all the MCU fans, so I'm excited about their reaction."
 Ms. Marvel drops Wednesdays only on Disney+!