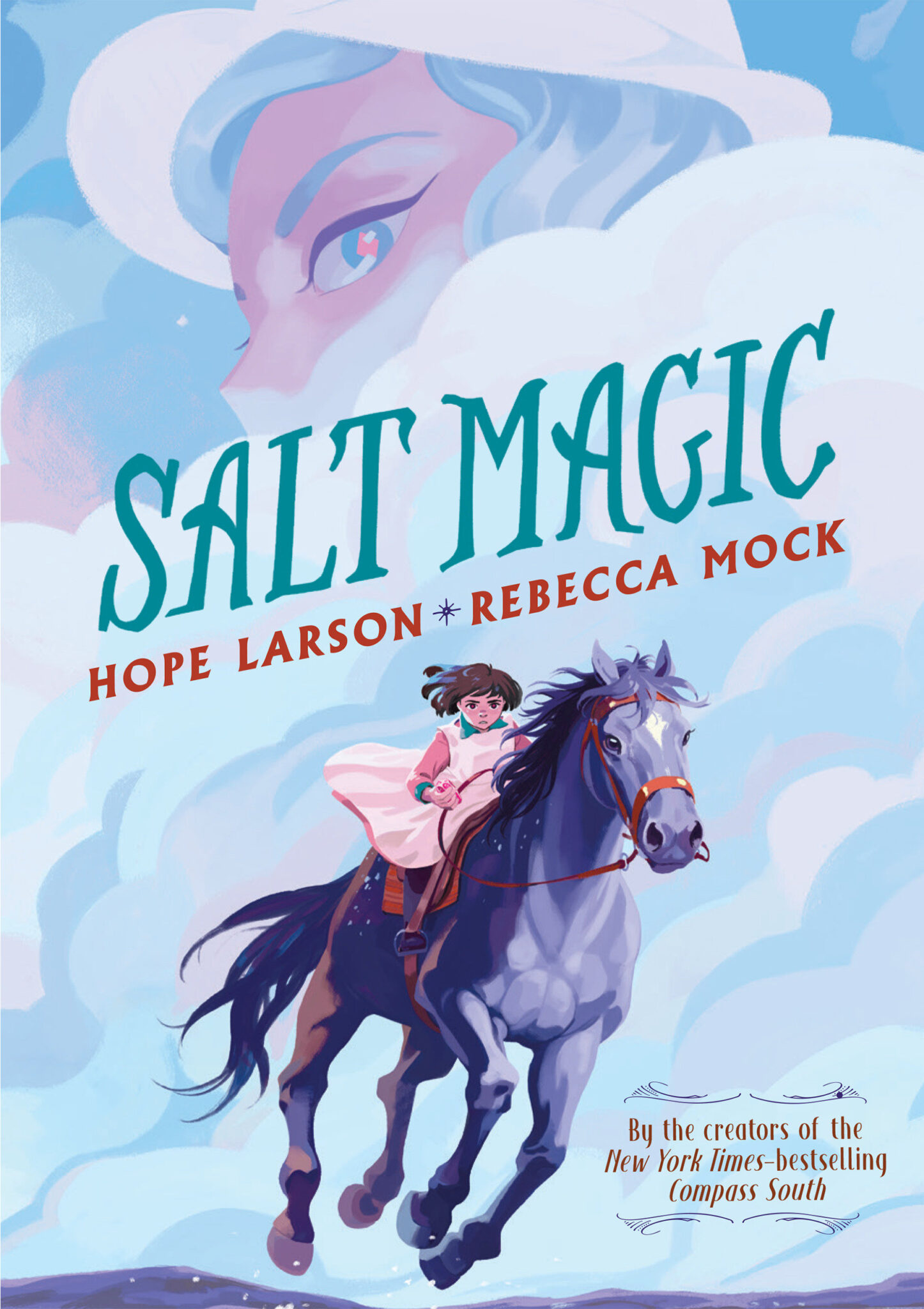 Author: Hope Larson, illustrated by Rebecca Mock
Pub. Date: October 12, 2021
Publisher: Margaret Ferguson Books
Pages: 240
Formats: Hardcover, Paperback, eBook
Find it: Goodreads, Amazon, Kindle, B&N, iBooks, Kobo, TBD, Bookshop.org
I absolutely love Hope Larson's work and really enjoyed Compass South so I was thrilled to see that she was collaborating with Rebecca Mock again for Salt Magic. Salt Magic a particularly thrilling modern fairy tale because there's not much like it out there.
Salt Magic is an almost Western-themed story set at the end of the First World War. There's magic and curses and witches — and still there's also love and family. Vonceil is a precocious young woman who finds herself facing strange forces that she could never have imagined after her brother runs afoul of a beautiful but dangerous witch. She curses their family farm and afflicts her brother leaving Vonceil to undertake a perilous journey to save the ones she loves. Vonceil finds herself tangled up with a wild cast of characters and strange magic – some of which will come at a cost.
It's a thrilling ride all the way through. Rebecca Mock's fabulous illustrations (that have almost a Miyazaki feel to them) bring readers right into this magical tale. Salt Magic is a fabulous graphic novel that will appeal to readers of all ages!
About the Book:
When a jealous witch curses her family's well, it's up to Vonceil to set things right in an epic journey that will leave her changed forever.

When Vonceil's older brother, Elber, comes home to their family's Oklahoma farm after serving on the front lines of World War I, things aren't what she expects. His experiences have changed him into a serious and responsible man who doesn't have time for Vonceil anymore. He even marries the girl he had left behind.

Then a mysterious and captivating woman shows up at the farm and confronts Elber for leaving her in France. When he refuses to leave his wife, she puts a curse on the family well, turning the entire town's water supply into saltwater. Who is this lady dressed all in white, what has she done to the farm, and what does Vonceil's old uncle Dell know about her?

To find out, Vonceil will have to strike out on her own and delve deep into the world of witchcraft, confronting dangerous relatives, shapeshifting animals, a capricious Sugar Witch, and the Lady in White herself–the foreboding Salt Witch. The journey will change Vonceil, but along the way she'll learn a lot about love and what it means to grow up.

Hope Larson is the author and illustrator of the Eisner Award nominated All Summer Long and the illustrator of the Eisner Award winning A Wrinkle in Time: The Graphic Novel. Salt Magic is an utterly unique graphic fairy tale complete with striking illustrations by Rebecca Mock. 
Praise For SALT MAGIC
"The best comics reading experience I've had in a long time." —Ben Hatke, author-illustrator of #1 New York Times Bestselling Zita the Spacegirl series
"Sumptuously detailed in all aspects, readers of all ages will be whisked away by this unique and modern fairy tale. Hope Larson and Rebecca Mock take a story filled with fantasy and imagination and ground it with great humanity and depth. A book to return to over and over again."—Jen Wang, author-illustrator of the Eisner award-winning The Prince and the Dressmaker
"The perfect alchemy of gorgeous illustration and richly imagined story." —Victoria Ying, author-illustrator of City of Secrets
"Salt Magic is an epic coming-of-age adventure. Rebecca's artwork is some of the most gorgeous cartooning I have ever seen, bringing Hope's incredible storytelling to vibrant life. With witches, magic, and cowboys, you've never read a Western like this before!" —Cathy G. Johnson, author-illustrator of The Breakaways
"This story by the previous collaborators (Compass South) unfolds skillfully, taking time to develop memorable heroine Vonceil and her quotidian world . . . before setting her on an adventure that echoes fantasy classics yet feels entirely distinct."—Publishers Weekly
"Unusual and excellent, containing wonder within."—Kirkus Reviews
Giveaway
3 winners will receive a finished copy of SALT MAGIC, US Only.
a Rafflecopter giveaway
About Hope Larson
Hope Larson has written and illustrated many graphic novels including All Summer Long, which was a Kirkus Reviews Best Book of 2018 and an Eisner Award nominee, as well as its recently published sequel, All Together Now. She adapted and illustrated A Wrinkle in Time: The Graphic Novel, which spent forty-four weeks on the New York Times graphic novel bestseller list and for which she won an Eisner Award. She is also the author of Compass South (A New York Times Bestseller), and its companion volume, Knife's Edge, both illustrated by Rebecca Mock. She lives in North Carolina.
Website | Twitter | Instagram | Goodreads | Amazon | BookBub
About Rebecca Mock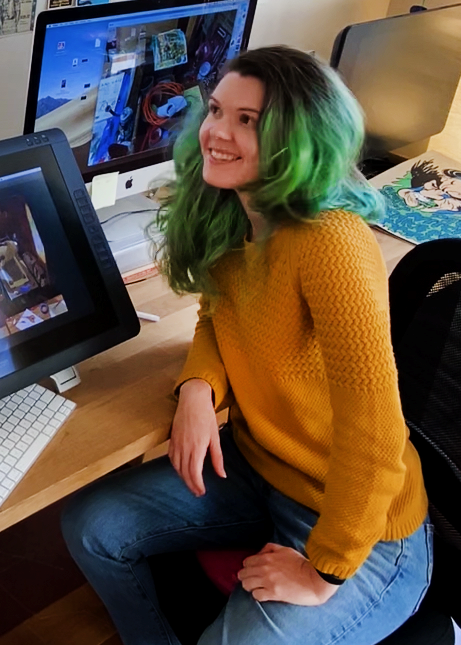 Rebecca Mock is an illustrator and comics artist. They illustrated the graphic novels Compass South and Knife's Edge, both written by Hope Larson. Their work has also appeared in various publications, including the New York Times and The New Yorker. They are the co-organizer of the Hana Doki Kira anthology. They live in Brooklyn, New York. Visit their website at https://rebeccamock.com
Website | Twitter | Instagram | Goodreads 
Tour Schedule
Week One:
Week Two: