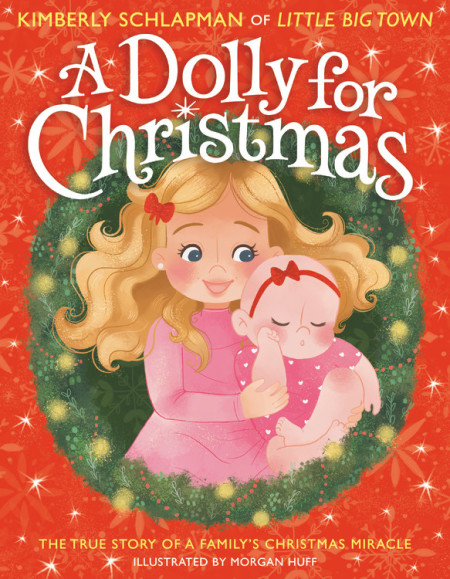 Title: A DOLLY FOR CHRISTMAS
Author: Kimberly Schlapman
Illustrator: Morgan Huff
Pub. Date: October 6, 2020
Publisher: Little, Brown Books for Young Readers
Formats: Hardcover, eBook
Pages: 40
Find it: Goodreads, Amazon, Kindle, B&N, iBooks, Kobo, TBD, Bookshop.org
It isn't even Halloween yet but that's not stopping us from getting into the Christmas spirit early with A Dolly for Christmas! Written by Kimberly Schlapman of the country music group Little Big Town and illustrated by Morgan Huff, A Dolly for Christmas is the autobiographical tale of Schlapman's two daughters and the 'Christmas mircale' that brought them together.
For those who don't know, Schlapman's youngest daughter Dolly (who the book is named for) was adopted. A Dolly for Christmas focuses on her oldest daughter's wish for a sibling and the hope they all held that someday that dream would come true despite the uncertainty and setbacks surrounding infertility and adoption. Morgan Huff's adorable illustrations are bright and cheerful, capturing both the spirit of the holidays as well as Daisy's hopeful wishes for a brother or sister.
A Dolly for Christmas is a cute book highlighting Daisy Pearl's love for her sister before she even met her and it would be a nice holiday book for other families who have come together through adoption. As an adoptive parent and foster parent, though, I will caution that it won't necessarily be appropriate for all adoptive families and situations.
Are you a Little Big Town Fan? Do you enjoy feel good Christmas stories? Just want to read A Dolly for Christmas for yourself?
Read on and enter the giveaway below!
Giveaway
3 winners will receive a finished copy of A DOLLY FOR CHRISTMAS, US Only.
a Rafflecopter giveaway
About the Book
From the founding member of Grammy Award-winning country music band Little Big Town, discover the heartwarming true story of a family's Christmas miracle. Cover includes sparkly Christmas glitter!
All Daisy wants for Christmas is a little brother or sister. Her parents have tried everything to make her dream come true, but nothing is working. So Daisy takes matters into her own hands, praying every day and writing a letter to Santa Claus about her one and only wish.
Daisy's parents are touched by her strong belief and grateful for her help, but as they explain, sometimes you have to wait. God will give you the perfect gift when the time is right.
In this heartwarming holiday tale, Kimberly Schlapman shares the true story of the Christmas when her family became whole.
About the Author
Kimberly Schlapman is a founding member of the Grammy Award-winning band Little Big Town. She is also the author of Oh Gussie!: Cooking and Visiting in Kimberly's Southern Kitchen, and hosted the cooking show Kimberly Simply Southern. A Dolly for Christmas is her debut children's book.
Website | Twitter | Facebook | Instagram | Goodreads
About the Illustator
Morgan Huff has been creating art ever since she could hold a pencil. She received a Bachelor of Fine Arts with a focus in illustration, and she finds inspiration in nature, animals, and the joy of simple yet beautiful moments. She invites you to find her online at morgansketch.com.
Website | Twitter | Facebook | Instagram | Goodreads
Tour Schedule