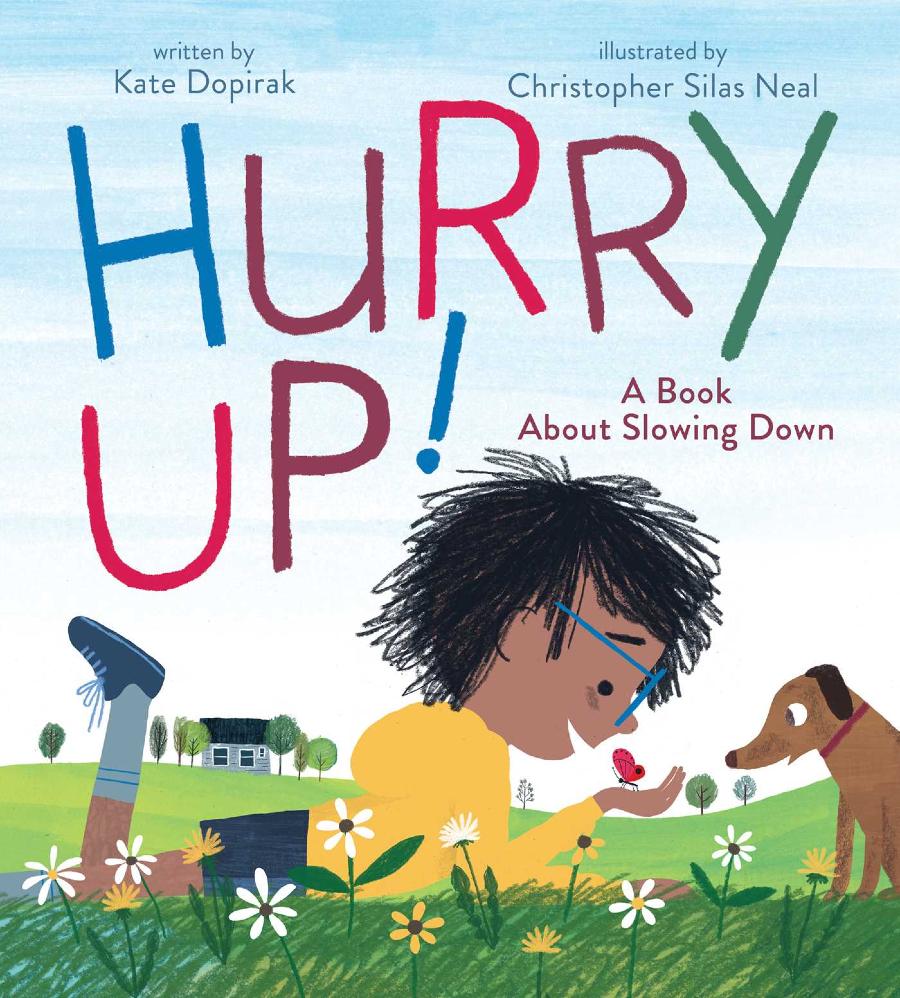 Title: Hurry Up!
Author: Kate Dopirak
Illustrator: Christopher Silas Neal
Release Date: May 19, 2020
Publisher: Beach Lane
Review Spoilers: Low
GoodReads | Amazon | BN
It seems like kids these days are constantly on the move. I know that during the school year my kids' schedules are packed with sports, scouts, clubs, more – plus school itself! There's not a lot of time for just hanging out and relaxing. But it's important for kids to know that sometimes they need to take a bit of a break from the hustle and bustle of life. Kate Dopirak's Hurry Up! shows young readers the benefit of just slowing down, taking a breath, and enjoying the moment.
Of course, as the title is Hurry Up! the book starts out hectic! We join a young boy as he's waking up for a busy day and follow along as he rushes here and there. He's rushing to class, rushing to the bus, rushing home… The words help emphasize the pace. They start out smaller but as the boy pushes himself with his need to hurry, rush, and win they get bigger and bigger until he needs to stop!
And from there the boy starts taking things slow.
Accompanied by his dog, the boy slows himself down and decides to live more in the moment. They play fetch, look at bugs, lay in the grass, and other fun, simple activities. At the end they look at the stars.
The boy goes from somewhat stressed and frazzled in the beginning – intent on rushing and winning – to much more happy and relaxed by the end. It's an important message that both young readers and their parents need to hear and see. So often we as parents think we need to push our kids to succeed and keep them constantly busy. But sometimes they need to break, too.
Illustrator Christopher Silas Neal did a great job of showing how the boy's demeanor changes as the book goes on. He really captures the way the boy seems so busy and rigid and rushed at the beginning and then he makes it clear how the boy relaxes as things slow down. You can see it on every page and the illustrations make the story's message so much easier to understand. He does a fantastic job with this story and I will always appreciate the choice to make the main character a child of color as children's books have a long way to go in making up for a past lack of representation.
Hurry Up! is a great book to read with kiddos especially those that may seem stressed or overwhelmed by their day to day schedules and expectations. Kate Dopirak's message is clear and needed – it's okay to take a break and to take things at your own pace. It's a powerful final story that we're grateful Dopirak was able to tell. (To learn more about her legacy: Remembering Kate Dopirak)