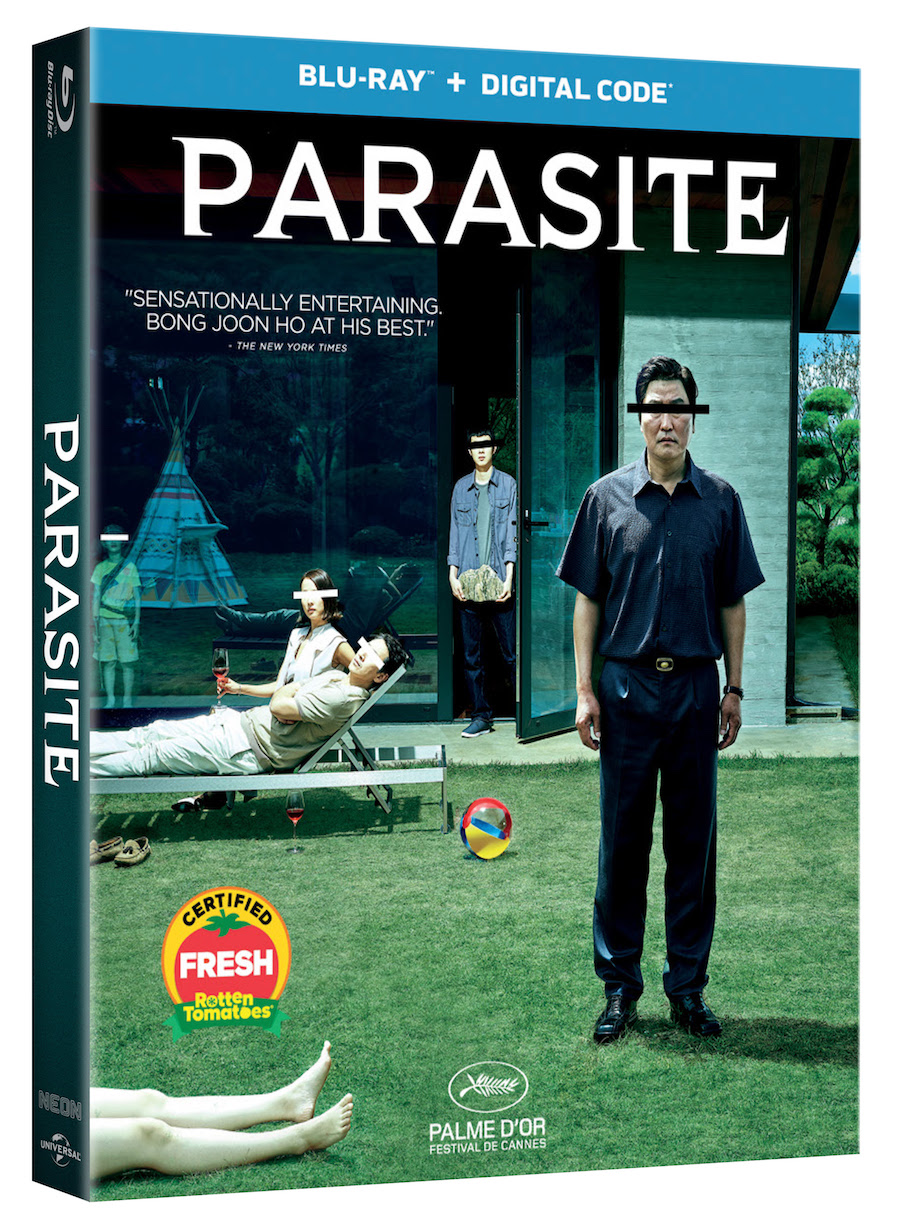 Release Date: January 28, 2020
Cast: Song Kang Ho, Lee Sun Kyun, Cho Yeo Jeong, Choi Woo Shik, Park So Dam, Lee Jung Eun, Chang Hyae Jin
Studio: Universal Pictures Home Entertainment
Extra Feature Rating: ★★★☆☆
Rating:★★★★★
Review Spoilers: Low
Amazon | IMDB | Wikipedia | RT
I wasn't the world's biggest Snowpiercer fan, so I cam into Bong Joon Ho's latest film with some trepidation… which was completely unfounded by the end of Parasite. Trust me, go into this one knowing as little as possible and enjoy the ride – and the biting social commentary that has won Parasite the Palme d'Or at Cannes in 2019, a Golden Globe for Best Foreign Language Film in 2019, and a SAG Award for Outstanding Performance by a Cast in a Motion Picture in 2019. Parasite is also up for six Academy Awards, including Best Picture, Best Director, and Best Foreign Language Film.
But what makes this film so incredibly good?
The Kim family, father Ki-taek, mother Chung-sook, son Ki-woo, and daughter Ki-jeong, is struggling to make ends meet with odd jobs and are living in a destitute apartment. When Ki-Woo's friend, Min-hyuk, visits the family, he brings two things with him: a scholar's rock, meant to bring the family wealth, and a job for Ki-Woo. He is leaving the country to study abroad and he wants Ki-Woo to take over a tutoring job for the daughter of a wealthy family while he is away.
Ki-Woo impresses the matriarch of the Park family and is hired to tutor at their beautiful home. As he leaves, Mrs. Park mentions needing an art therapist for her son. As it happens, Ki-Woo thinks he knows just the person for the job: his sister, though they pretend to be completely unrelated. So follows Ki-taek as Mr. Park's driver and Chung-sook as the new housekeeper, all pretending to be completely unrelated as they take payment from the Parks.
As the Kims get acclimated with their newfound windfall, it's just as quickly threatened. What follows is a genre-bending thriller that gets unflinchingly dark and forces the audience to question whose side they are on. When I thought I'd figured out all the players in Parasite, the game was changed. 
The exploration of class disparities and aspirational wealth in Parasite make it a fascinating look at South Korea through the film lens. The use of stairs to symbolize the ascending and descending of the Kim family and the use of the scholar's rock are particularly masterful and mesmerizing. This is a movie just one of many that are worth getting over the 1-inch barrier of subtitles.
Special Features
I wanted more from the special features – or should I say feature. Perhaps an added Q&A with the cast or a discussion with the crew talking about how some of the masterful frames were set up and shot would have filled out the Blu Ray. As it is, the Q&A with Bong Joon Ho is nothing to scoff at and is filled with wonderfully deep questions and answers about the film. If you want to explore the themes immediately after viewing, this is the next step for viewers to enrich their experience.
Final Thoughts
I didn't really know what I was getting into with Parasite and I'm glad to have experienced it blindly. The title reflects a mutually beneficial parasitic relationship between the Parks and the Kims, which is explored in a deeply personal way in the film. I'm not sure I would go so far as to call it a dark comedy, but there are hilarious bits and deeply affecting, horrifying glimpses at human beings and society. Pick up the Blu Ray today and join me in rooting for the Best Director 2020 win to go to the man who once said, "The Oscars are not an international film festival. They're very local."