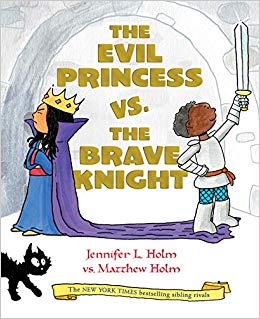 Title: THE EVIL PRINCESS VS THE BRAVE KNIGHT
Author: Jennifer L. Holm,  Matthew Holm (Illustrations)
Pub. Date: August 6, 2019
Publisher: Random House Books for Young Readers
Formats: Hardcover, eBook
Pages: 40
Find it:Goodreads, Amazon, Kindle, B&N, iBooks, Kobo, TBD
Classic sibling rivalry is alive and well in my household. After reading this brand-new picture book with my youngest I can very easily identify which of them is my own Evil Princess and which is the Brave Knight. Of course, any family with more than one kid will probably find a lot to relate to in this one. There's probably even a lot of ours who even have the well-mannered, overly tolerate cat that joins in on the shenanigans!
The Evil Princess vs. the Brave Knight puts a fantasy spin on the usual, day-to-day bickering, competitive siblings. Their 'Magic Mirror' (aka parental figure) desperately wants peace and calm but the two kids – especially the Evil Princess – seem dead set on getting one over on one another. Even when they try to get along things don't seem to work out for long.
There's not much of a moral to this story other than to accept the inevitability of sibling rivalry. Because while the Evil Princess and the Brave Knight eventually try to play nice and join in an epic quest together, at the end of the day the Evil Princess is still going to be evil. Which means, of course, she's still going to tease and trick her brother and basically do what siblings do.
For every parent tired of telling their kids to PLEASE JUST GET ALONG, this hilarious and imaginative new picture book–from the beloved creators of Babymouse–is here to help. Sort of.

Meet the Evil Princess and the Brave Knight. She casts terrible spells, while he fights dragons. He rescues cats in distress, while she makes mischief. No wonder there isn't much peace in this kingdom! But is the Evil Princess really so evil? And is the Brave Knight truly as chivalrous as he seems? Children and parents will laugh at seeing familiar family dynamics play out in this charming and imaginative new story.
It's a fun little book and a quick read. The illustrations are adorable and I love the character designs. In particular, as the owner of a couple manky cats, I love the manky cat. The Holms do a great job of overlaying a castle/fantasy setting with enough hints at the real world to make the story easily relatable.
Giveaway
Want to read The Evil Princess vs. The Brave Knight with your own princess and knight? You're in luck because Rockstar Book Tours is doing a giveaway where three lucky winners will get a copy of their very own. (US only – sorry!)
a Rafflecopter giveaway
About the Authors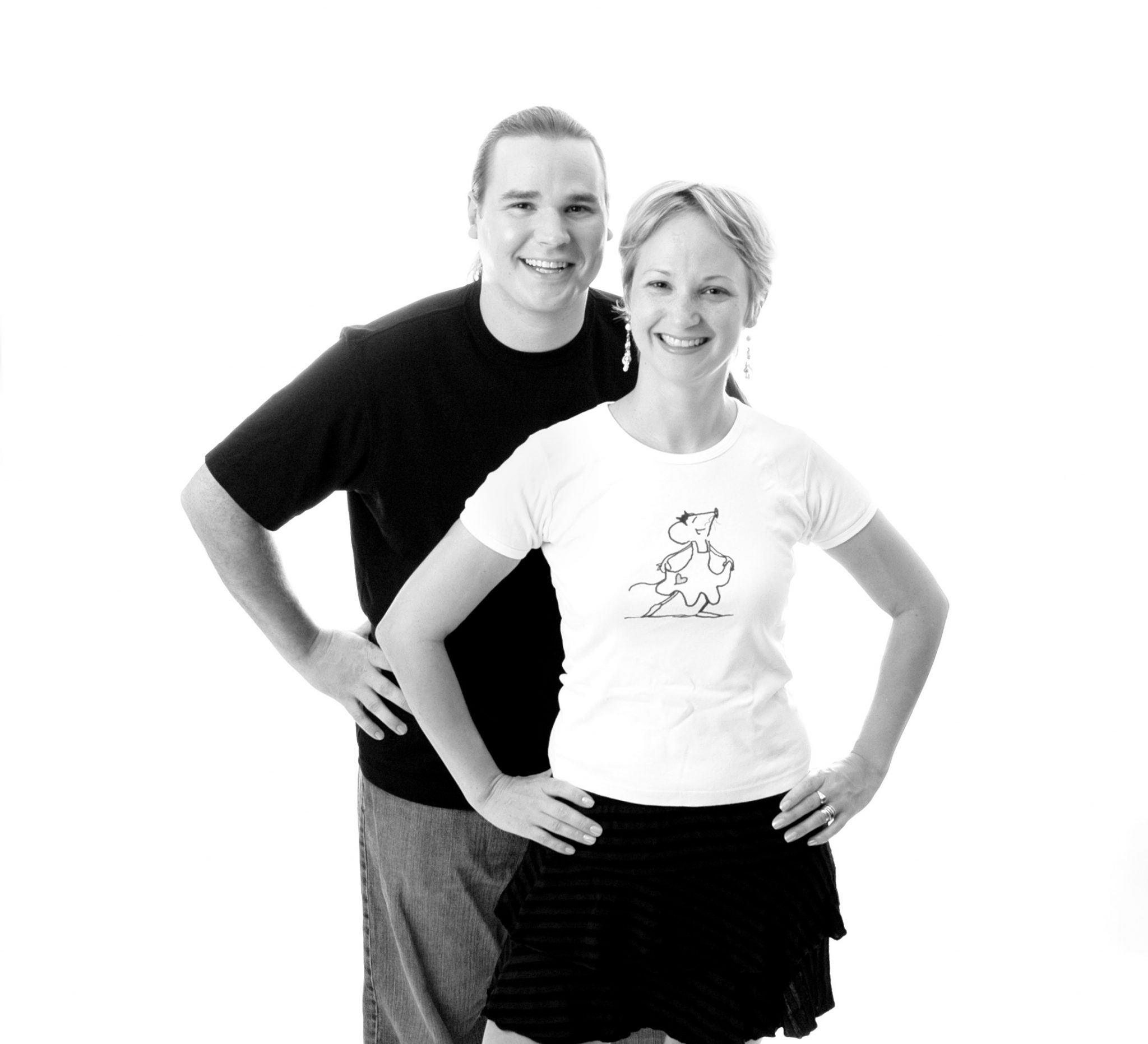 Jennifer L. Holm is a NEW YORK TIMES bestselling children's author and the recipient of three Newbery Honors for her novels OUR ONLY MAY AMELIA, PENNY FROM HEAVEN, and TURTLE IN PARADISE. Jennifer collaborates with her brother, Matthew Holm, on two graphic novel series — the Eisner Award-winning Babymouse series and the bestselling Squish series. Her new novel is THE FOURTEENTH GOLDFISH. She lives in California with her husband and two children.
Website | Twitter | Facebook |  Goodreads
MATTHEW HOLM is the New York Times bestselling author and illustrator of more than 40 books for children. He is the co-creator (with his sister, Jennifer) of a number of graphic novels, including the BABYMOUSE and SQUISH series from Random House Children's Books and SUNNY SIDE UP from Scholastic Graphix. He also co-wrote and illustrated the middle-grade novel MARVIN AND THE MOTHS with Jonathan Follett. He currently lives with his wife in New York's Hudson Valley.