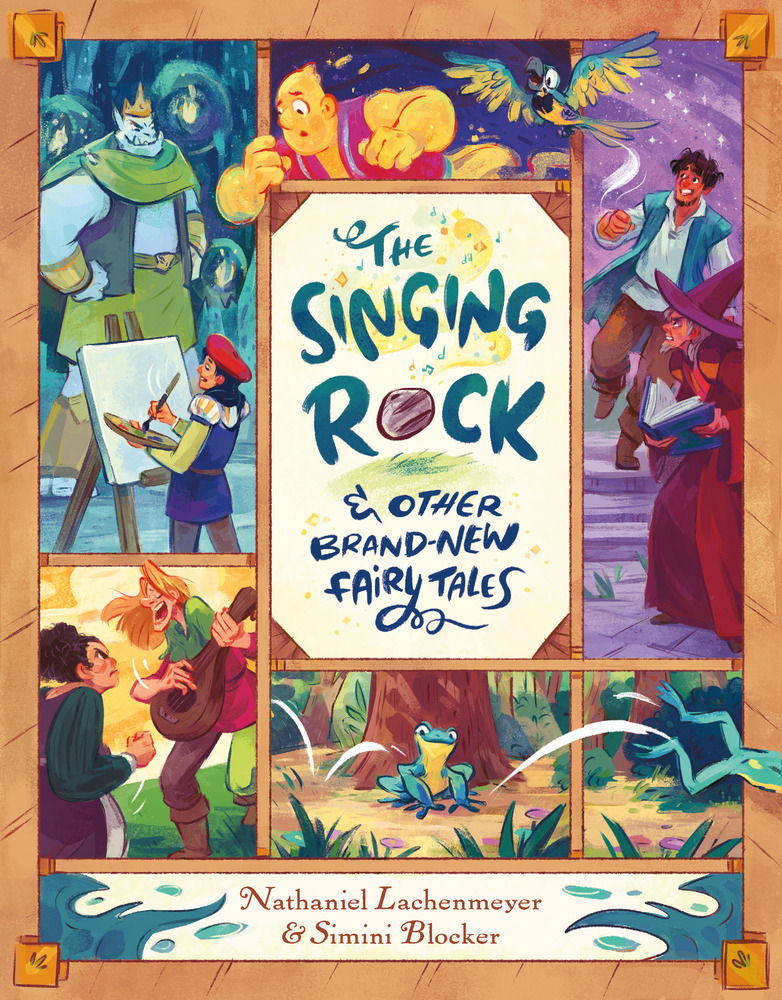 Title: The Singing Rock & Other Brand-New Fairy Tales
Author: Nathaniel Lachenmeyre
Artist: Simini Blocker
Release Date: June 18, 2019
Publisher: First Second
Review Spoilers: Low
GoodReads | Amazon
Fairytale stories and adorable, colorful illustrations collide in Nathaniel Lachenmeyer & Simini Blocker's 'The Singing Rock'. Pegged as a collection of 'brand-new fairy tales' this may be one of the most fun, all-ages graphic novels we've read in a while. I'm not particularly knowledgeable when it comes to fairytales outside of the usual Disney fanfare but I couldn't put this book down. It was fun and clever and had me laughing out loud at times.
'The Singing Rock' introduces four new, clever stories about genies, ogres, magic, and more.
The titular 'Singing Rock' is not the first story in the collection but in fact the second. The inaugural honor goes to 'Hop Hop Wish' which features a genie desperately trying to grant wishes to his reluctant new owner – a frog. It's a great introductory story because genies are familiar to both new readers and old alike and frogs seem to be a staple in fairytale lore. It calls on some familiar imagery to tell an unexpected (and hilarious) story that turns the mythology of the usual three-wish genie on it's head.
This story also helps clue you in on the kind of absurd humor that's soon to come.
'The Singing Rock' is a great story with a resolution you probably wouldn't expect. When a young (and awful sounding) young minstrel crosses paths with a witch who can't stand music you'd imagine things wouldn't work out for the unfortunate musician. But it's another story that turns what could be a familiar feeling story around, setting up a hilarious tale that easily lends itself to the book's title. Out of all the stories, a 'singing rock' is quite unique and catchy.
My favorite two stories, however, are the last two.
It's hard to pick which one is best because the last two really capture the lesson-learned and clever hero dynamics of many fairytales just in creative new ways. In 'The Sorceror's New Pet' a jealous wizard finds himself in an odd predicament while trying to match wits with another, more successful wizard. Meanwhile, in 'Ogreish Art,' a traveling portraitist is called into service by a particularly hard to please client – the King of the Ogres. Without spoiling them, they both have great endings that teach a lesson not just to the reader but to the characters as well!
Each story is fully illustrated in graphic novel format by Simini Blocker who brings these tales to life with almost Disney-like artwork. You can almost see each of the short tories moving on screen as hand-drawn, old school animated shorts. The character designs are fabulous with the genie and ogre king being my favorites (though wizard Athesius is also like way hot). My five year old loved the frog and the illustrations helped keep her attention especially as we're just branching into comics together.
'The Singing Rock' is one of those books that I can genuinely recommend for the whole family. While the stories are a little beyond my youngest reader my oldest and I really enjoyed the stories. The fact that The Singing Rock includes four short but fun stories makes it a great pick for graphic novel bedtime stories as well as independent reading in shorter, more manageable bites.
I'm a big fan of 'The Singing Rock' and it's incredibly enjoyable. As long as you like fun and magic (and obviously graphic novels) you'll like this one!