I love a good non-fiction graphic novel the same as anyone but sometimes it's nice to mix things up with a good, made-up storyline. Who says you can't mix fiction with a how-to-guide? First Second's Maker Comics agree with that sentiment. As their backcover tagline proudly proclaims, the series features "easy do-it-yourself instructions and page-turning plots" to teaching young readers some handy real-life skills.
Right out of the gate they've released two books for potentially very different readers: Fix a Car! and Bake Like A Pro! Whether you want to learn to be a bit more handy around the garage or the kitchen, Maker Comics wants to make it clear early on that they're going to cover a wide variety of topics for readers of all interests! (There are already four more titles planned covering costume making, drawing comics, planting a garden, and building robots.)
So what did we think of the first two books? (Spoiler: we loved them!)


Bake Like A Pro!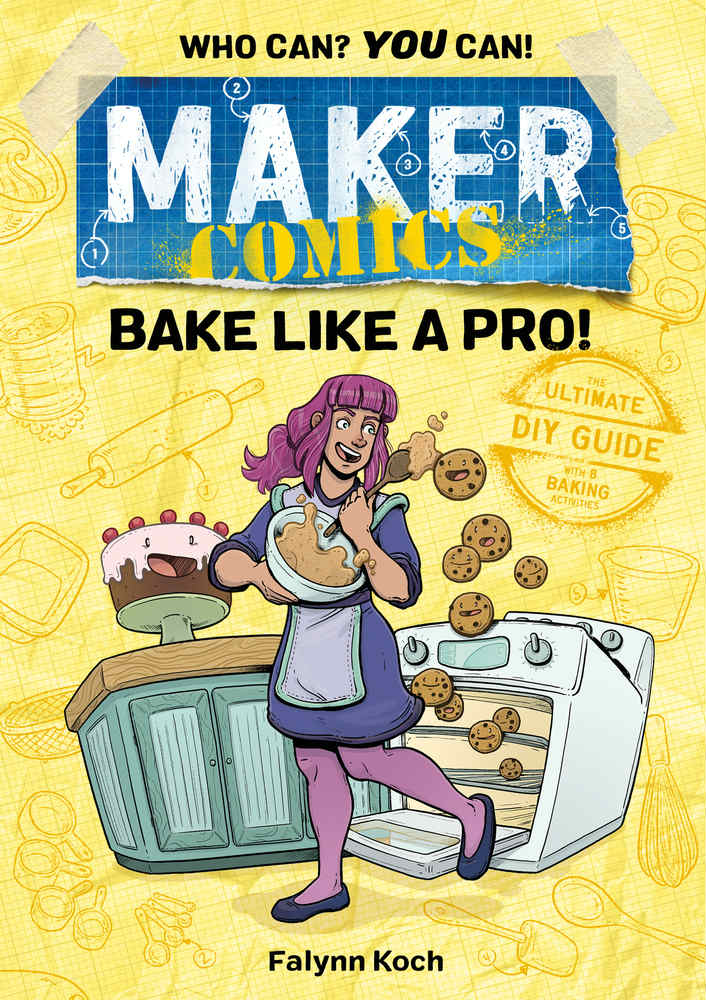 I hate to pick favorites but if I had to pick between the two inaugural Maker Comics titles I would have to choose Back Like A Pro! by a very clim margin simply because it features anthropomorphized food stuffs and it's kinda awesome. Egg shells and insides both talk! How crazy is that?!
I should probably also clarify that the story in Bake Like a Pro! is my favorite. I just love the way that Falynn Koch blends a short yet fully realized fantasy narrative into a how-to guide for baking various treats. I also love how Sage's personal journey towards a love of baking progresses. Topic-wise, however, I am incredibly hopeless at baking and no manner of book can probably ever help me.
That said, Falynn Koch gives it her best shot. I was pretty amazed at all the techniques and baking basics that she was able to cover throughout the book. In eight different recipes she not only covers how to make things but also the scientific why as well. (As a Science Comics veteran it should come as no surprise that she'd sneak some science in.)
I love the visuals that accompany each of the recipes. Bake Like A Pro! helps me with the biggest problem I have when cooking – visualizing the recipes. I always struggle to imagine what each step is supposed to look like and I end up hoping and praying and begging for things to turn out right. Bake Like A Pro! shows you and entertains you all at the same time!
I'm super excited about all the recipes in this book – though realistically the most useful one will probably be the chocolate chip cookies! We interviewed Falynn last week about the book – check out the interview here!


Fix A Car!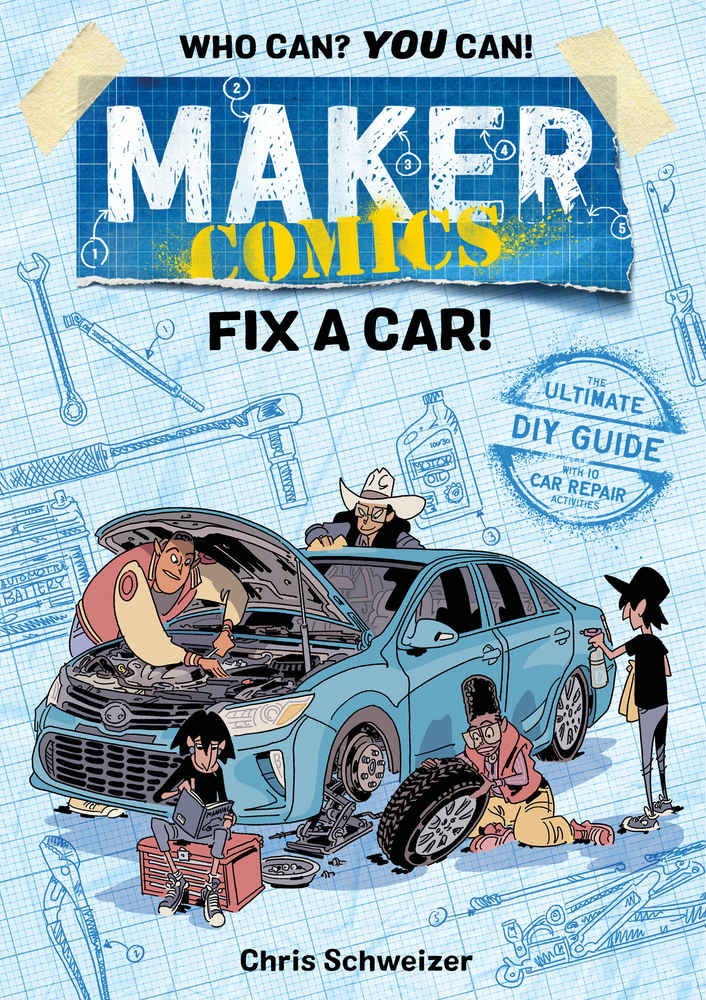 Now, Chris Schweizer's Fix A Car! is perhaps the most personally relevant graphic novel to ever be released. After recently popping my fifth tire in about a year and a half's time, Fix A Car! shows up to save the day. If there's one thing that I need to know how to do it's change a tire and Ms. Gritt's car club is more than happy to help me learn how!
In fact, throughout the books Ms. Gritt shows the five central kiddos all kinds of basic car maintenance tips and tricks. I can't say that the book is going to turn me into an even remotely competent hobbyist mechanic but I'm pretty sure that when I inevitably pop my sixth tire in the near future I'll know what to do!
I owe a lot of my confidence to Chris Schweizer's artwork. I don't have a lot of experience in mechanical drawing or technical schematics but from a layperson's perspective he captures the inner workings of automobiles perfectly. I struggle with overly technical concepts but there wasn't a single car maintenance 'activity' in the book that I couldn't follow. It all made sense.
My only complaint about Fix A Car! is that I wish it were longer. I also wish it were a broader coming-of-age graphic novel because each of the characters introduced has so much obvious potential. You could tell Chris Schweizer could have written so much more about them. They have richly developed backstories that we only get a mere glimpse of in this story. I'd love to see them again!
I really liked a lot about this book and the topic. (If the cars had talked and the kids were wizards then Fix A Car! would have totally edged out Bake Like A Pro! as my favorite — by a very narrow margin, of course.) As I told Chris Schweizer in our interview last week, I loved that he used this book to teach responsible driving as well as responsible car ownership. He does so much with such a short book that I couldn't help but wish for more.


If you ask us, First Second is off to a great start with it's new Maker Comics series and we can't wait to see what else the series has in store. We can't wait to learn more about costuming and gardening — and we hope the series continues past the already listed books. Their Science Comics series is already well past a dozen titles. We hope Maker Comics will be someday, too!