Every year we look forward to what interesting and new interactive exhibits FX brings to the Hilton Bayfront lawn in order to promote its shows. This year, they've gone above and beyond to incorporate art and technology into their showcase.
Taking center stage once again on the lawn of the Hilton San Diego Bayfront Hotel, FXhibition 2018 integrates Near Field Communication (NFC) technology for the first time as part of the following innovative installations from hit shows such as LEGION, AMERICAN HORROR STORY, MAYANS M.C. and ARCHER:
"The LEGION Chamber" art installation: An immersive audiovisual experience commissioned by the internationally-acclaimed Marco Brambilla Studio where participants will find themselves disconnected from the outside world -literally- and fully entrenched in the hypnotic digital realm of David Haller.
"AMERICAN HORROR STORY Eccentricities Gallery": A collection of art and oddities inspired by AHS lore and aided by Augmented Reality (AR) technology, which reveals the secrets behind the objects and clues to the series' upcoming eighth installment.
MAYANS M.C. Deconstructed Bike Zone: The ultimate photo-op for biker fans. The deconstructed motorcycle is a bold display to introduce Mayans M.C., the highly-anticipated series from Kurt Sutter, creator of Sons of Anarchy. It will also feature a gallery of other acclaimed artists' takes on the new series, including El Mac, David Flores and Oscar Magallanes.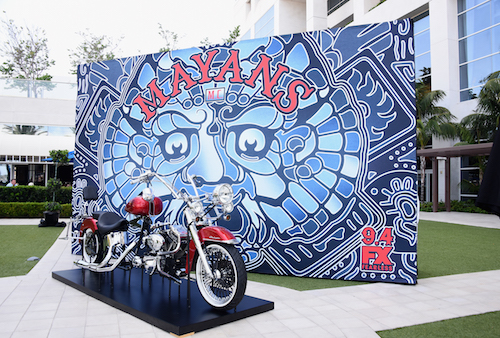 ARCHER Sound Boxes: Fans will have a once-in-a-lifetime opportunity to get inside the heads of their favorite Archer characters with this whimsical installation by capturing a photo of themselves inside suspended sound boxes adorned with character art. Each sound box features classic sound bites from the show.
SUNNY The 13th Sunscreen And Water Stations: FX will bring Camp Paddy's Irish Pub to FXhibition in celebration of the upcoming 13th season of It's Always Sunny in Philadelphia. The space will feature playful camp-themed elements including a photo op, sunscreen and water stations.
FX 3D Me: Any fan can become an FX hero: Just by stepping into a state-of-the-art 360-degree scanner that captures your picture from all angles, you'll be transported into a digital art piece from your favorite show. Participating fans will also have an opportunity to get a physical 3D figurine model of themselves.
The Legion exhibit was part of the showcase that was done in Los Angeles by the internationally-acclaimed Marco Brambilla Studio to promote season two when it debuted. If you're a big fan of infinity rooms, this one is not to be missed. Just know, there is no photography allowed in the American Horror Story exhibit, so that's a bit of a bummer if you've waited outside to see the oddities for yourself.
Do yourself a favor and register for a specific time slot as soon as possible when you show up so that you're not shut out in the general admission line. The experience is fun, but it's less fun if you have to keep running back and forth to the sunscreen and water stations while you're waiting to get into the installations.
FXhibtion Hours:
Thursday July 19th, 12pm – 6pm

Friday July 20th, 10am – 6pm

Saturday July 21st, 10am – 6pm

Sunday July 22nd, 10am – 2pm