Upon hearing that Lewis Tan had been cast in Season 3 of Into the Badlands, I cried out from the mountain tops, "Could this be any more ideal casting!?" Ok, not really from the mountain tops. More like from my fifth floor walk-up. But truly, could this be more perfect casting?
Lewis Tan, a Hapa martial artist/actor, was cast in the hit show Into the Badlands, a show lauded for its beauty, fight sequences, and diverse casting. We've watched Lewis duke it out in Iron Fist as villain Zhou Cheng. And coming up next is his superhero turn in Deadpool 2 as Shatterstar, member of the X-Force. It's like the man was created for the Badlands.
Get a sneak peek of his moves on Twitter or Instagram. Seriously, the dude's social media game is one to be admired. In fact, it's part of how he got the role. Nerdophiles got the chance to interview him before his appearance as Gaius Chau in Into the Badlands.


Can you tell me a little bit about the casting process?
One of the showrunners, Al Gogh, he wrote me on Twitter, said that he was interested and had an idea for a character that I could potentially play on the show. We talked back in and forth over Twitter for a while, and I think a few months later there was a scene that he sent me. And so I put the scene on tape, and the rest is history.
Dang, he contacted you on Twitter?
It's a new day and age; it's kinda cool. It's easy for people to be in touch and obviously Into the Badlands is kinda something that I would want to do, being a martial artist and highly respecting all those guys who work on the show. It was a no-brainer, really, and I'm really glad that it came together. It was destined.
8 months almost over to bring you guys the best action drama on TV. #intothebadlands #gaiuschau @AMC_TV pic.twitter.com/fD3M4YnW8N

— Lewis Tan (@TheLewisTan) April 9, 2018
Have you gotten a lot of offers via Twitter? Your social media game is incredible, so it wouldn't surprise me if you did.
That's awesome that you said that. I'm like, "I don't know if I'm doing it right." But the fans have been really, really cool to me and people that follow me on social media have been 95% very positive and supportive, so that means a lot to me.
And it's a really hard industry, you know. There's a lot of let down every day, every week. Some of the jobs are potentially life-changing jobs, and you really have to have a good support system. So it's been really cool. But yeah, I've been offered a few things over the internet. Most of which I have denied. But there are a few gems in there. And when a guy like Al Gogh writes you, you pay attention, you know?
Absolutely. So you're part of a whole new set of characters coming into the show this season. And you said the fan base has been very supportive. What is it to walk into a show that's already so established and has so much love going towards it?
It's been really exciting, but it's also been kind of weight on my shoulders because I want to deliver the best possible performance, both dramatically and with my martial arts skills. Also, like I was saying, I look up to a lot of these guys. I've always wanted to work with Stephen Fung, and Daniel [Wu], and Andy Chang, who I have worked with before. He's like family to me.
So getting to be on set with them, seeing them and the way that they operate has taught me so much. And I know that I have to bring my A-game because it's important for me that I do a good job for them as well as the fans.
Is there anything you can tell us about your character?
Yeah, sure! So Gaius Chau is the younger brother of Baron Chau. He grew up in a, well, pretty crazy abusive family environment. He had been put in jail for setting Cogs free. And he's in jail in the Chau fortress, in like a basement, in like a backshed. He's been back there for a while and that's when you first meet him. And they've come and recruited him to go on a mission and that's where his story begins. He'll be a really important part in the Badlands tale.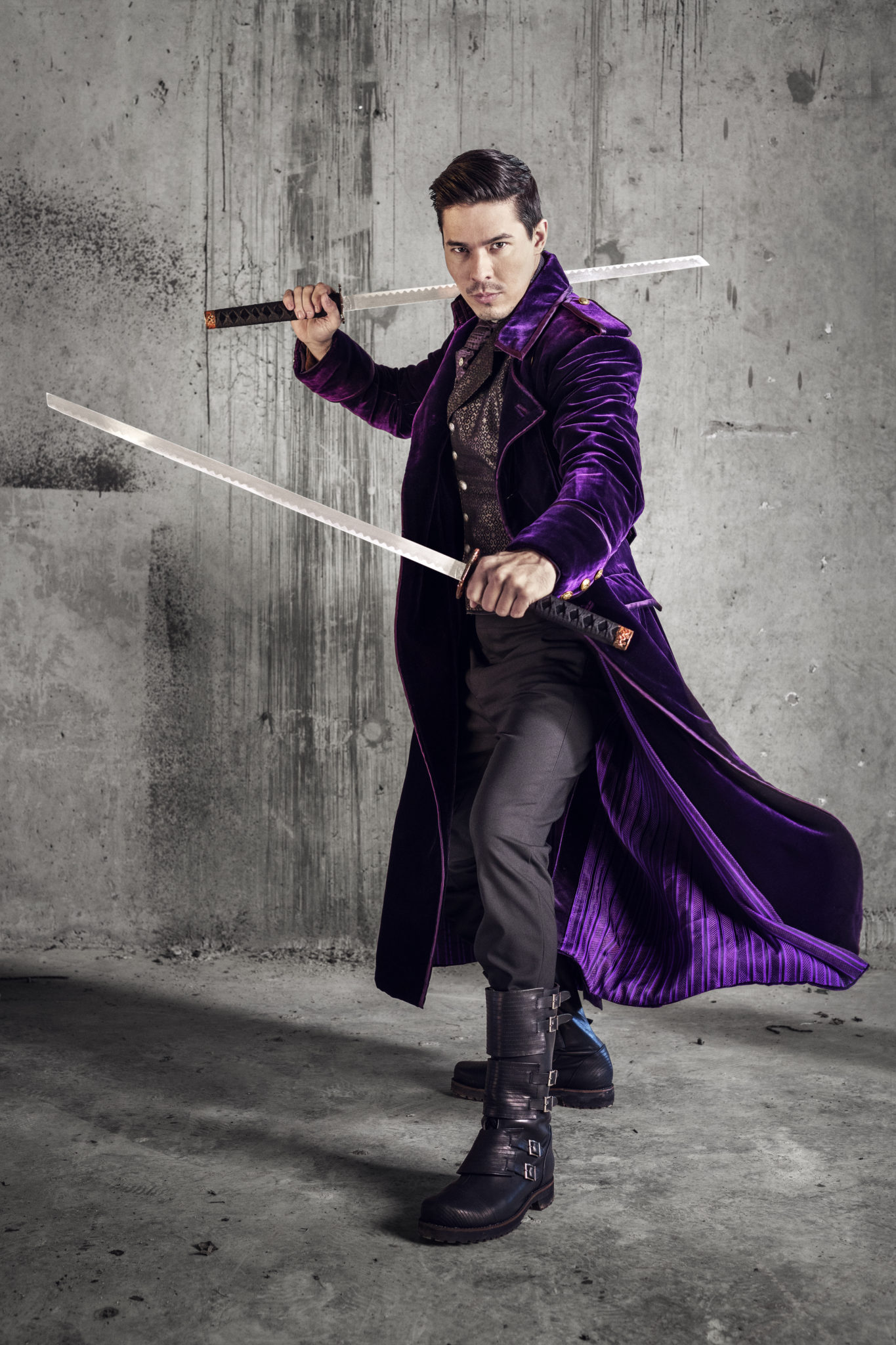 So when you say "they," which side are you fighting for? Who in the show do we have to look forward to seeing you go up against?
Well.. *laughs*… that I don't think I can say, but I will say this. Gaius was get in jail for freeing Cogs, so his intentions on the show are more pure than his sister's. So you'll see what develops out of that.
Cool, cool. There's a lot of factions this season, so that will be really exciting. What was your training like for this show? What kind of martial arts did you look into, all of that?
I've been doing martial arts since I was a kid basically. My father was a national champion. My father is a 2nd unit director, stunt coordinator, fight choreographer. I've grown up on movies sets, especially on action films. So I've been training for many years. I used to compete in kick-boxing, a little bit of jujitsu. I've been training with a katana for four or five years. So I train all the time. I like the quote, "Stay ready so you don't have to get ready."
So I didn't have to do any previous training when I joined the show. I had been training with them since I've been here. I had a lot of martial arts training and sword training previously. So it was a perfect fit.
So maybe what I should ask is what kind of skills can we see you use in this season?
Gaius uses a single blade katana, kind of traditional style. He's a very aggressive fighter. I'd say a mixture of traditional Japanese katana mixed with kung-fu, wushu, and just pure heart and aggression. It's a different style.
I try to adapt each character for the physicality to fit the character and as well as to fit me and my body and how I move. To make it more honest. That's what I try to do for every role.
Do you have any fun stories from the set? I know you guys are filming in Ireland.
I mean, there are endless stories. We really became like a family. I've been here for 7 months. Some of the cast has been here for like 9 months. Ireland is stunning. It's beautiful here, but it's very cold. It's one of the harshest winters they've ever had. So we've had a lot of snow, a lot of rain. We're constantly in the mud, constantly getting injuries.
I've had a few injuries on set that I've had to fight through that were pretty ridiculous. It's funny, it's always the little things that injure you. You never get injured doing some of the crazier stunts. I mean, it's happened before, but at least in my case, I'll do a really crazy stunt or a crazy fight sequence and I'll be okay. And then I'll trip and slip in the snow and be injured for two weeks.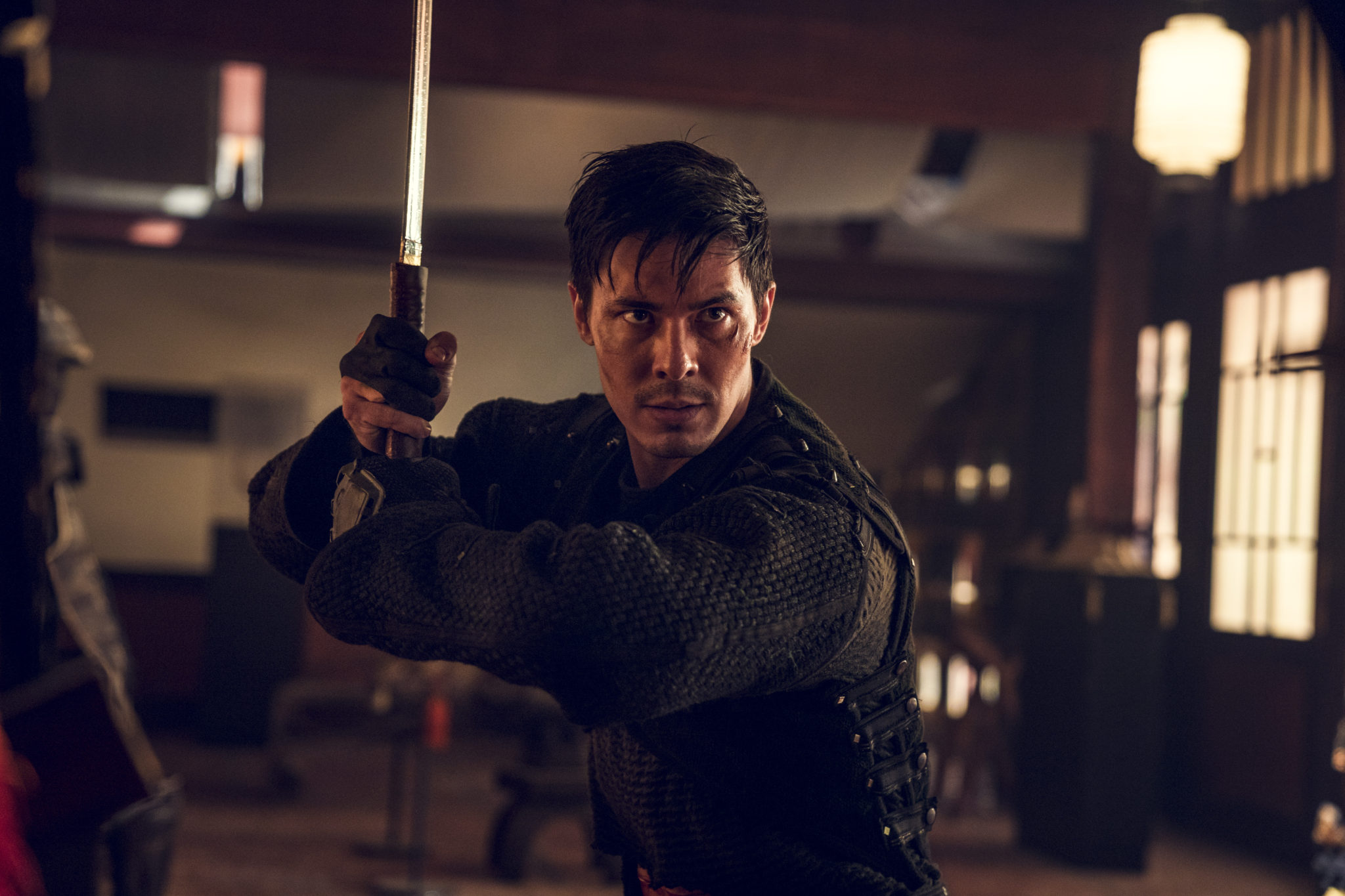 I know you're doing Deadpool 2 which is so exciting. Any other big projects that you want to promote?
There are a few things in the works. Obviously, Deadpool 2 comes out May 18th. I'm just focusing on finishing strong right now with Badlands. There are a few options on the table for when I'm done.
Can you tell us if your character is gonna killed off this season or do you think you're going to keep going for another season?
I mean, I'm still here filming. I have two more weeks of shooting before I can potentially be killed.
It's a rough show, you never know what could happen!
Anything can happen in the Badlands!
Watch Lewis Tan next Sunday, May 13 on Into the Badlands!
*This interview has been edited for length and flow.