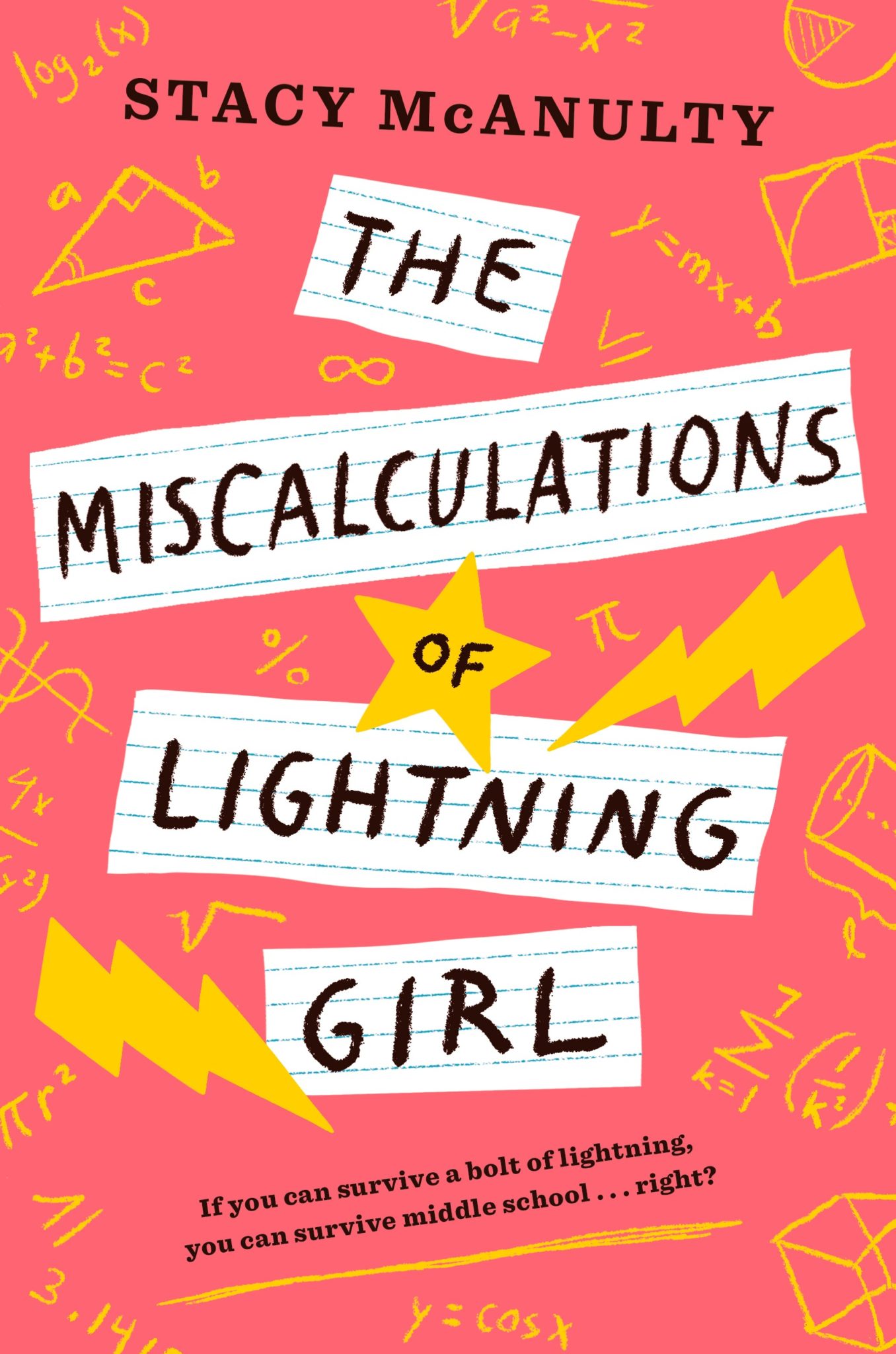 Title: THE MISCALCULATIONS OF LIGHTNING GIRL
Author: Stacy McAnulty
Pub. Date: May 1, 2018
Publisher: Random House
Formats: Hardcover, eBook
Pages: 304
Amazon | B&N | iBooks | TBD | Goodreads
Synopsis
Middle school is the one problem Lucy Callahan can't solve in this middle-grade novel perfect for fans of The Fourteenth Goldfish, Rain Reign, and Counting by 7s.
Lucy Callahan was struck by lightning. She doesn't remember it, but it changed her life forever. The zap gave her genius-level math skills, and ever since, Lucy has been homeschooled. Now, at 12 years old, she's technically ready for college. She just has to pass 1 more test–middle school!
Lucy's grandma insists: Go to middle school for 1 year. Make 1 friend. Join 1 activity. And read 1 book (that's not a math textbook!). Lucy's not sure what a girl who does calculus homework for fun can possibly learn in 7th grade. She has everything she needs at home, where nobody can make fun of her rigid routines or her superpowered brain. The equation of Lucy's life has already been solved. Unless there's been a miscalculation?
A celebration of friendship, Stacy McAnulty's smart and thoughtful middle-grade debut reminds us all to get out of our comfort zones and embrace what makes us different.
"An engaging story, full of heart and hope. Readers of all ages will root for Lucy, aka Lightning Girl. No miscalculations here!" — Kate Beasley, author of Gertie's Leap to Greatness
Review
This is a stellar debut middle-grade novel, especially for gifted kids! I loved everything about this book. Author Stacy McAnulty effectively captures the feeling of middle school growing pains and infuses the book with earnest heart.
The protagonist, Lucy, is a math savant with obsessive-compulsive disorder – and while she has no problem solving math problems, she hasn't quite figured out how to navigate middle school. When her grandmother enrolls her in public school, Lucy does her best to blend in. She 'dumbs' down her math skills, tries desperately to suppress her OCD patterns, and does her best to survive the cruelty of her classmates.
Lucy makes a friend and collaborates on a project to digitize an animal shelter's records. While at the shelter, she develops an algorithm to speed up dog adoptions and falls in love with a scraggly rescue dog named Pi.
This is an excellent book for kids who are interested in math, especially gifted kids. I felt like Lucy's experiences really captured what it's like to feel socially 'different' and advanced compared to your peers. The only other book that really captures that feeling for me is Ender's Game, even though the two books are in completely different genres for completely different audiences.
However, Lightning Girl parallels a lot of the same qualities and feelings of 'otherness' that Ender has. This middle-grade book doesn't shy away from the name-calling and bullying of middle school, but it's much tonally lighter and genuine than its sci-fi ringer.
For those reasons, this book, in particular, would be good for precocious middle-grade readers: the light references to math problems are brilliant jumping off points for mathematically-inclined readers' self-study and exploration, and the protagonist's social struggles feel authentic to struggles gifted students experience.
The math in the book is just enough to remind me how much I've forgotten from high school and college, and it's brilliantly threaded throughout the book. Even though it reminds me of my statistical shortcomings, I did enjoy the way that Lucy experiences her world numerically, and the reader gets a taste of how her mind works.
I also particularly enjoyed the author's portrayal of Lucy's struggle with OCD. It was clearly presented as an everyday challenge that Lucy suffers, but it didn't define the character or make her pitiable. Nor did Lucy's acquired savantism — her journey teaches the reader that her abilities also don't define her and that her brilliance in one area doesn't provide advantages in others. If anything, the pressure from adults, along with the envy and derision from her peers, oftentimes turned Lucy's genius into a burden.
The one issue I had with the book is that I felt the title was a little misleading. I was expecting more of a superhero-esque narrative after reading the title.
Instead, I got something much more substantial. This is a heart-tugging story of one girl's journey through middle school, her personal growth, and learning to be herself around others. It's a gem of a middle-grade book that will equally make readers' hearts ache as much as it makes them swell, no matter what age they are.
About the Author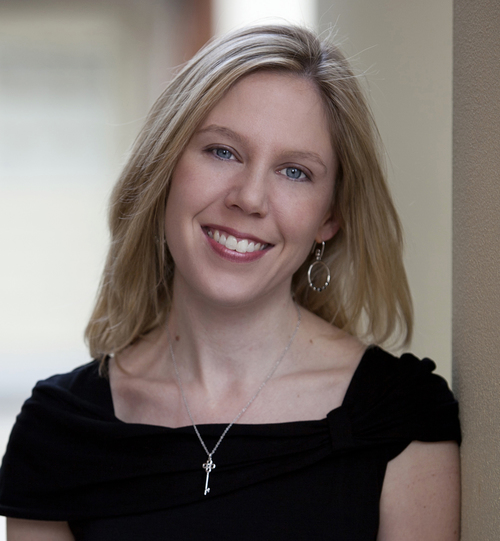 Stacy McAnulty is a children's book author, who used to be a mechanical engineer, who's also qualified to be a paleontologist (NOT REALLY), a correspondent for The Daily Show (why not), and a Green Bay Packer coach (totally!). She is the 2017 Ezra Jack Keats New Writer Honor Recipient for Excellent Ed, illustrated by Julia Sarcone-Roach. Her other picture books include Earth! My First 4.54 Billion Years, illustrated by David Litchfield; Max Explains Everything: Grocery Store Expert, illustrated by Deborah Hocking, Brave and Beautiful, both illustrated by Joanne Lew-Vriethoff; Mr. Fuzzbuster Knows He's the Favorite, illustrated by Edward Hemingway; and 101 Reasons Why I'm Not Taking a Bath, illustrated by Joy Ang. She's also authored the chapter book series Goldie Blox, based on the award-winning toys, and The Dino Files. Her debut middle grade novel, The Miscalculations of Lightning Girl, will publish in May 2018. When not writing, Stacy likes to listen to NPR, bake triple-chocolate cupcakes, and eat triple-chocolate cupcakes. Originally from upstate NY, she now lives in Kernersville, NC with her 3 kids, 3 dogs, and 1 husband.
Website | Twitter | Facebook | Instagram | Goodreads
Giveaway Details
3 winners will receive a finished copy of
THE MISCALCULATIONS OF LIGHTNING GIRL
US Only
Tour Schedule
Week One:
4/23/2018 – Beagles and Books – Interview
4/24/2018 – Mrs. Knott's Book Nook – Review
4/25/2018 – A Dream Within A Dream – Excerpt
4/26/2018 – Here's to Happy Endings – Review
4/27/2018 – She Dreams in Fiction – Excerpt
Week Two:
4/30/2018 – 100 Pages A Day – Review
5/1/2018 – Wonder Struck – Review
5/2/2018 – Nerdophiles – Review
5/3/2018 – The Underground – Guest Post
5/4/2018 – Feed Your Fiction Addiction – Review