If you've been on the internet this week, you've probably already heard the news rocking the fandom world right now. The first Universal FanCon postponed the event one week before opening. Some people's flights and hotels are non-refundable and they're left standing with a bill.
More are left hurt by the "postponement" of a con that was keen on celebrating diversity, and inclusion. The FAQ's the company put out didn't quell fears that this was a wasted effort; they're insisting this is a postponement, not a cancellation. Was it bad luck? Hubris? Or something more sinister?
Who knows. But what we do know is that in the day and age where a rise in white nationalism intersects with the rise of Black Panther, having an event like Universal FanCon could have made a huge difference in the geek spheres.
But never one to take hits lying down, the marginalized folks of the nerd community are already going with another plan. There are a few ways you can participate. First, why not support creatives through the Virtual Artist Alley. A few of my personal favorites are featured: Optimystial Studios (jewelry), Valentine Barker (art), and Tee Franklin (Comics writer/BingoLove)
Secondly, Patrick Michael Strange (New Release Wednesday), as well as Black Heroes Matter and The Nerds of Color have banded together to get another con up and running. The pop-up con has been dubbed WICOMICON, an Algonquin word that means "a place where homes are built." Seems fitting considering the re-housing of the artists and fans alike left reeling in the wake of the Universal Fan Con cancellation. The one-day con will last all day from 10am-7pm. Admission at the door will be only $10 ($5 for FanCon ticket holders) and free for children under 12.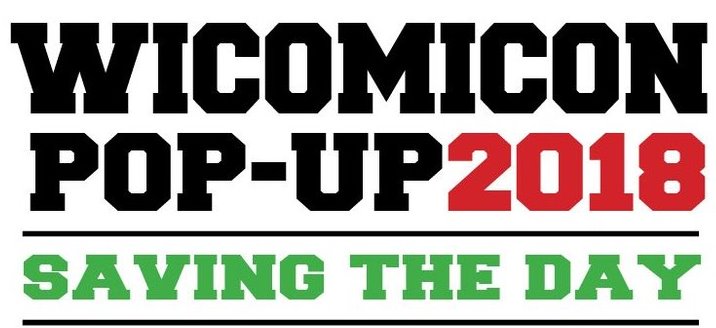 "We knew there were a lot of people in and out of Baltimore hurting when FanCon was postponed, and we wanted to provide some relief," said Keith Chow, founder of Hard NOC Media and The Nerds of Color. "Fortunately, we were able to come together as a community and find a place to celebrate the things we love in the city we love."
"If we are to say that we are a community, then we must truly operate as a community. That means picking each other up when we stumble and fall, and elevating each other to the best of our abilities," said Uraeus, creator of Black Heroes Matter, "We saw a problem that needed solving, and mobilized our collective resources and skills to solve it."
"WICOMICON is what the geek community needs right now," said Karama Horne, a.k.a theblerdgurl. "It's going to allow us to uplift artists, fans, and the city of Baltimore."
"My organizing partners have risen to the occasion and like Peter Parker: 'with great power comes great responsibility,'" said Patrick Michael Strange, host of The New Release Wednesday Show. "So, like pop culture and the comics that we are fond of, it is in times of tragedy and adversity that real heroes emerge and people come together. This is that time."
"I am so pleased to be working with some of the brightest minds in the region on an event that celebrates the best of us when things can look their worst," said André Robinson, executive producer of Carbon-Fibre Media who also serves as executive director of Innovation Villages: Baltimore.
"My partners and I welcome the opportunity to showcase how together we rise when facing adversity," said Be A Boss CEO Elijah Kelley. "You don't have to be a success to become a success."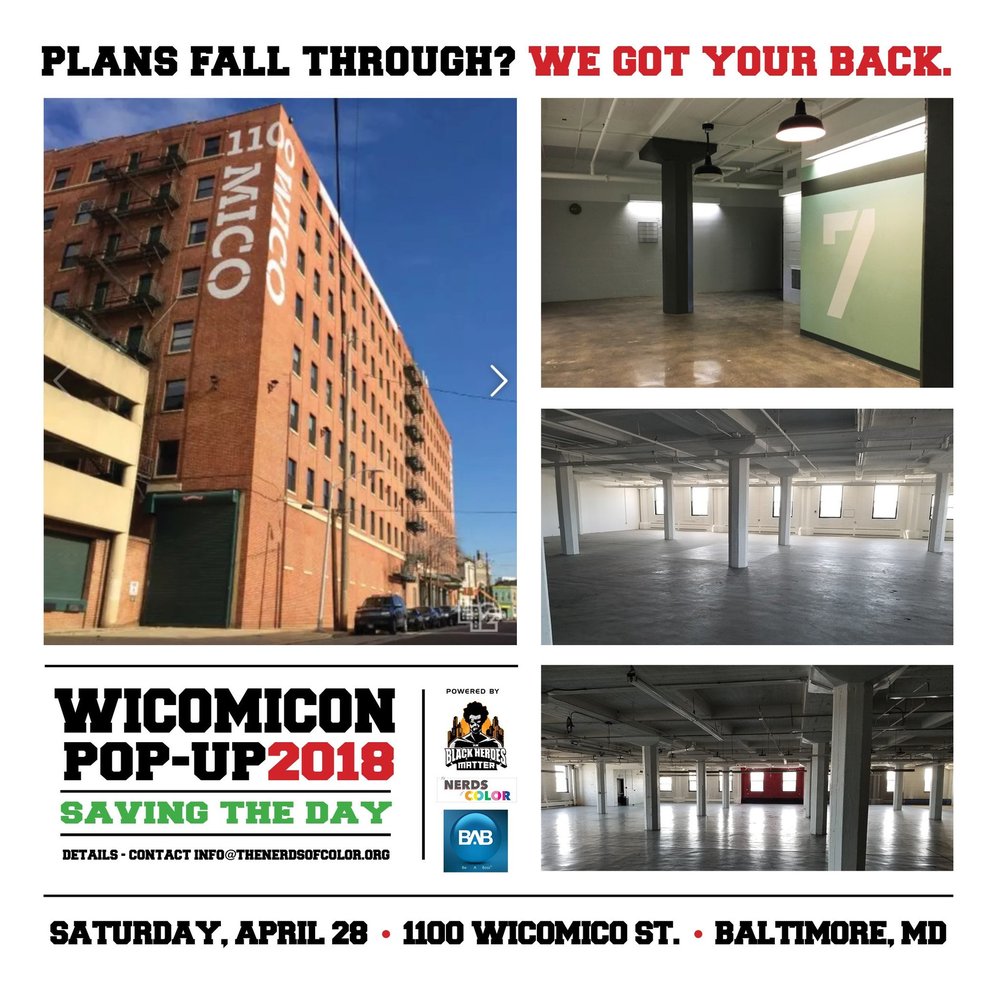 If you're a fan, reach out to them, and volunteer! Every good con needs an army of volunteers and this time it's imperative! Email e.kelley [at] beabossnow.com for more info.
Wouldn't it be the best story that one con crumbles, only to have a fan-run con rise out of the ashes? It would be legendary! So why not be a part of what could be the greatest con story ever?
Please visit hardnocmedia.com/popup for more information on how to be a part of WICOMICON on Saturday, April 28 from 10am to 7pm.
For press inquiries or questions about exhibiting, contact keith [at] hardnocmedia.com
For programming inquiries and panels, contact theblerdgur [at] gmail.com
For cosplaying and entertainment inquiries, contact nrw.press [at] gmail.com
For all other questions, contact info [at] thenerdsofcolor.org
#WICOMICON #CONTOGETHER #SAVETHEDAY