Star Wars: The Last Jedi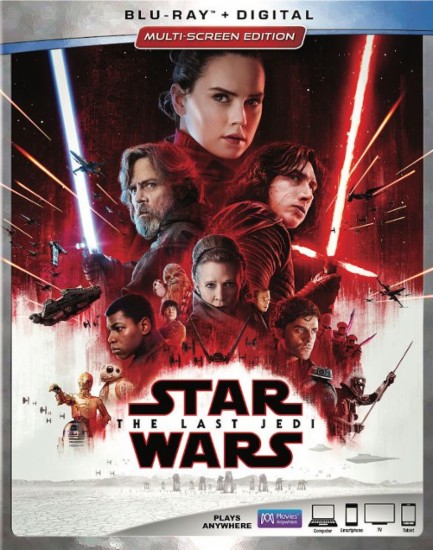 Release Date: March 27, 2018
Cast: Daisy Ridley, Adam Driver, Oscar Isaac, John Boyega, Kelly Mari Tran, Mark Hamill, Carrie Fisher
Studio: Lucasfilm
Extra Feature Rating: ★★★★☆
Rating: ★★★★☆
Review Spoilers: Moderate
Amazon | IMDB | Wikipedia | RT
From the very first moment Star Wars: The Last Jedi hit movie theater screens our staff has been enamored with the film. While you could arguably say that The Last Jedi is the most divisive of the franchise's entries to date it's hard to deny that Rian Johnson did something wholly original. He tells his own story in one of the darker chapters in the Star Wars saga.
For the most part, we loved it.
Our original reviewer gave The Last Jedi five stars and many of the plot twists really resonated with us as fans. In particular we found the revelations about Rey not only fitting but inspiring as she becomes a character defined by her own choices rather than some pre-existing connection to the universe as a whole. A huge theme of the film is forgetting the past and that's very evident in a lot of Rian Johnson's narrative choices. We loved it and it sets up an interesting place for the next — and final — film to pick up.
The characters go on some pretty amazing journeys and we get to meet some new favorites. We also get to see some of our long time heroes have their final adventures. Rose Tico and Admiral Holdo are incredibly additions to the cast of characters. And Poe Dameron's journey from wise-cracking flyboy to a potential leader for the Resistance's remnant is one of the best arcs in the film. Plus seeing Rey take the reins herself without kowtowing to Luke's anti-Jedi sentiments sparks a new sense of home in the franchise. It's a solid film and while I disagree I can see why some people say it's the best of the Star Wars movies.
But I still have our reservations.
I remain very critical of Johnson's decision to pick up immediately where The Force Awakens left off because it extremely limits the new extended universe. Similarly, the fate of the Rebellion in this film extremely limits any future stories set prior to The Last Jedi. And it's hard to see Luke Skywalker as the kind of guy who would create a monster like Kylo Ren by giving up on him – especially when Luke famously refused to think even his father was beyond saving. I mean, Darth Vader massacred children, soldiers, and civilians indiscriminately for decades.
And yet I've watched The Last Jedi about six times over the last few days. It's a movie that you need to watch over and over again to appreciate. There are amazing scenes, unexpectedly great humor, and one of the best casts of characters to ever grace the Star Wars franchise. It's a good movie and I could be more excited to have it finally out on blu-ray so that I can pour over it time and time again.
Special Features
The home blu-ray release of The Last Jedi comes with some pretty incredible special features. This really shouldn't come as much of a surprise. With a film like this you know you're in for some pretty great making-of featurettes. There are several great ones as well as a commentary available for fans who really want to dig deeper into The Last Jedi.
The most impressive of the special features is the documentary The Director and the Jedi. It is over an hour and a half long and features some incredible behind-the-scenes footage. Fans are taken on a journey that spans the entire course of production. Many of the creative choices are explained and fans get a first hand look at the challenges of bringing the film together. It's worth watching if for no other reason to see Carrie Fisher on set one last time.
Another interesting featurette was Balance of the Force. Rian Johnson discusses his philosophy regarding the Force and how he hoped to rethink our understanding of the Force in The Last Jedi. For years we have seen the Force as something that is either good or bad. There's a Light side and a Dark side and nothing in between. But that's not how the Force truly exists and it's a misconception that many of the current entries in the Star Wars canon are seeking to challenge. It's interesting to actually hear from Rian Johnson how and why they made the narrative choices they made especially since it'll have a major effect on Rey's story moving forward.
There are some incredible scenes in The Last Jedi and the filmmakers know that. The bonus features include three special featurettes that break down three of the more iconic scenes. Lighting the Spark: Creating the Space Battle focuses on the opening space battle, Snoke and Mirrors which discusses a hodge podge of moments involving Snoke and the Supremacy, and Showdown on Crait breaks down the final battle between the First Order and The Resistance – as well as Kylo Ren and Luke Skywwalker. I was a huge fan of the Showdown on Crait featurette and if you only watch one that's probably the best to check out!
Andy Serkis Live! (One Night Only) offers nearly six minutes of pre-CGI footage of Andy Serkis as Snoke. Rian Johnson was pretty impressed with his performance which really begs the question of why they even bothered to make the character computer animated. Any Serkis could have pulled off Snoke without the fancy bells and whistles! Really, this just ends up proving it. This scene is great enough with just Serkis's performance!
Speaking of specific scenes, a lot of great scenes were lost in the editing of The Last Jedi.
Now, at least get to see them. The Last Jedi blu-ray release includes several deleted and extended scenes for fans to watch. Many of the scenes do a lot to further certain parts of the film and there are a few that I wish had really made the final cut including basically every deleted scene with Luke. (There's also a super cute one between Finn and BB-8 where he shows him video footage of Rey visiting him in sick bay.) The extended version of the Supremacy incursion is pretty awesome, too. The optional commentary by Rian Johnson is totally worth it but watch the actual scenes yourself beforehand since the commentary effectively overtakes the dialogue!
Folks who redeem the digital code in their blu-ray combo packs will find two additional special features over on Movies Anywhere. There's a largely pointless score-only version of the film but there's also a two minute short featurette called Rebel Rose which focuses on the casting of Kelly Marie Tran as Rose Tico. I love her and she loves the character so much. She's the absolute best and it's such a cool little short.
Final Thoughts
It's hard to say anything else other than you should definitely pick up The Last Jedi now that it's on blu-ray. The Last Jedi is one of those films that begs to be watched over and over again. It needs to be digested. And even if it didn't need to be it's a given that Star Wars fans would anyway. The Last Jedi is a great blu-ray release and it's a must-buy for basically anyone looking to venture back into a galaxy far, far away.
Star Wars: The Last Jedi is available digitally and in a blu-ray combo pack today!