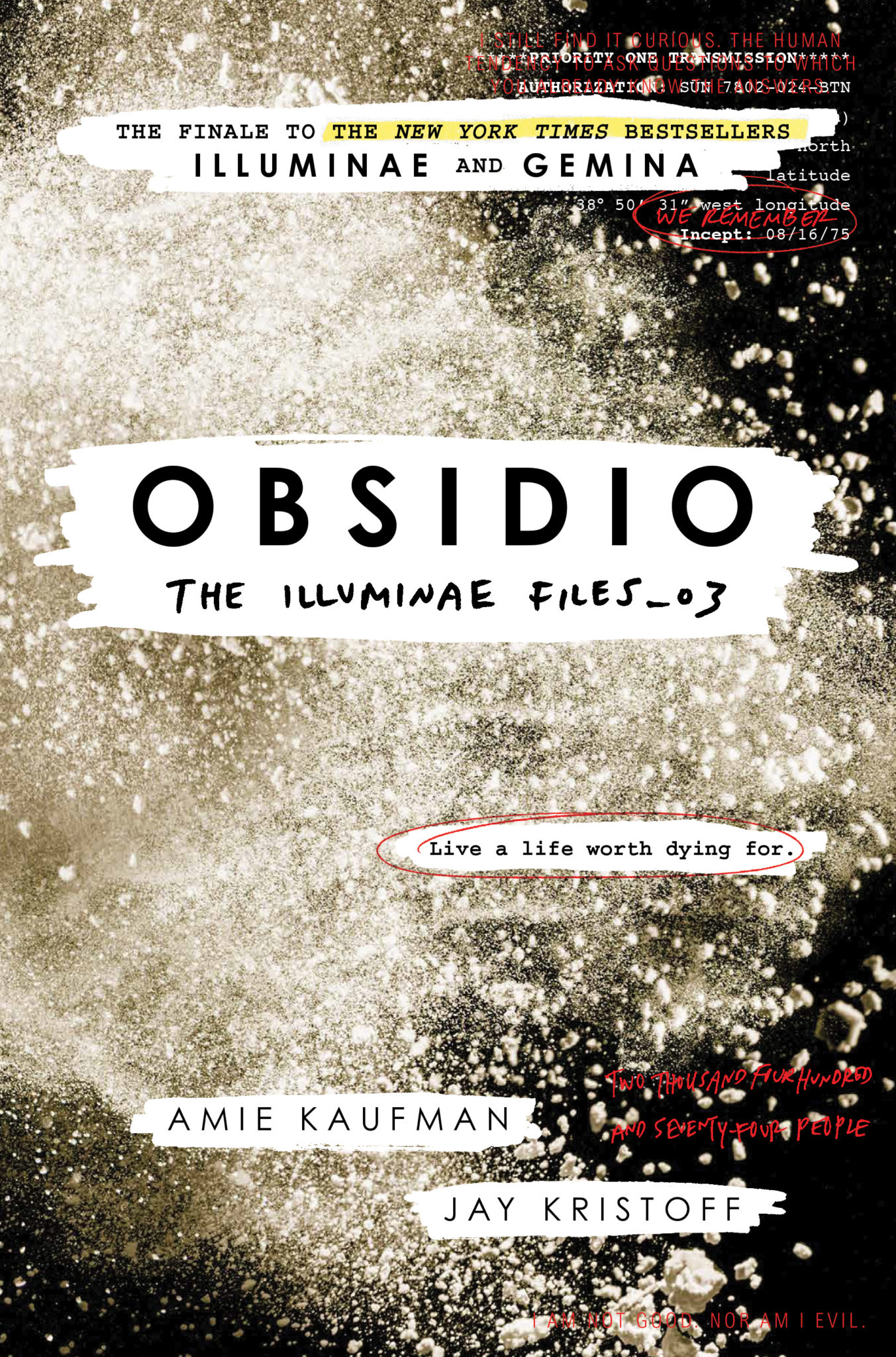 Title: Obsidio
Series: The Illuminae Files #3
Authors: Amie Kaufman & Jay Kristoff
Release Date: March 13, 2018
Publisher: Knopf Books for Young Readers
Pages: 608
Formats: Hardcover, Paperback, eBook, audiobook
Amazon | B&N | iBooks | TBD | Audible | Goodreads


Rating:
When Amie Kaufman and Jay Kristoff's Illuminae first came out I was absolutely blown away. These two authors some how took a found footage perspective and translated into an incredibly unique and captivating literary experience. Presented as a dossier outlining the inhuman treatment and effective genocide of an entire colony of people, Illuminae drew readers into a high stakes journey across galaxies. The series continued in Gemina which offered a brand new perspective to the story.
Now, however, the series comes to a close with the release of Obsidio.
We've teamed up with Rockstar Book Tours in order to promote this last installment in the Illuminae saga. If you haven't read the first two books in the series don't read any further! Well, don't read the synopsis or the review — you can enter the giveaway and read the author information. But if you plan to read the books (which you totally should) you'll definitely be looking at spoilers.
If you're familiar with the series, read on!
Check out our review.
Then enter to win a copy of Obsidio for your very own!
Synopsis
Kady, Ezra, Hanna, and Nik narrowly escaped with their lives from the attacks on Heimdall station and now find themselves crammed with 2,000 refugees on the container ship, Mao. With the jump station destroyed and their resources scarce, the only option is to return to Kerenza—but who knows what they'll find seven months after the invasion?
Meanwhile, Kady's cousin, Asha, survived the initial BeiTech assault and has joined Kerenza's ragtag underground resistance. When Rhys—an old flame from Asha's past—reappears on Kerenza, the two find themselves on opposite sides of the conflict.
With time running out, a final battle will be waged on land and in space, heros will fall, and hearts will be broken.
Our Review
At the end of Gemina, the heroes of our two stories came together to save the survivors of Heimdall Station and wove their casts and narratives into one. The joyfulness of that moment doesn't last long as you can imagine. Especially not when you have such a horrendous entity as AIDAN still hanging around. But before things to south, the Kerenza survivors from the Hypatia make it clear that they have one objective: save the few colony survivors that may be left and let their story be known.
But if you thought this was just going to be Kady, Ezra, Nik, Hanna, and Ellie's story then you're wrong.
In true series fashion the third entry opens the door to a completely different set of characters with a whole new perspective. Kady's cousin, Asha, takes the forefront alongside a long forgotten beau who just happens to be part of the BeiTech occupation force that has murdered and enslaved the few survivors on the colony's surface. Asha and Rhys have two very different points of view throughout this latest chapter in the story but ultimately they too find themselves drawn into the truth that the Illuminae Files seek to reveal.
Don't worry, though, all your other favorites are still on hand! But yet again they find themselves forced to prove themselves as the survivors of Hypatia and Heimdall Station butt heads.
One of the things I always appreciated about this series is that they don't take the fact that their main characters are teenagers for granted. They're young people and they are often treated as such. While they may be heroes they're still seen as kids and though they ultimately overcome that preconception that many adult characters have it's an obvious hinderance. So many young adult series take that for granted. They insert their young characters into situations where they would realistically have little to voice. The Illuminae Files acknowledges that — and then the characters blow those misconceptions out of the water themselves.
From start to finish these kids are being their bad ass selves and I can't help but love everyone moment of it. Well, almost every moment. It's funny because as big of a part as AIDAN plays in this story the AI has always hit me as the weakest link in everything. By Obsidio, I'm honestly just tired of their antics and as helpful as they might be the fact that they massacres large numbers of civilians repeatedly and without warning on a regular basis makes their frequent reactivation feel so out of step with the rest of the story.
Other than that, Obsidio is great.
Obsidio plays out as a fitting conclusion to what has been a captivating science fiction epic. The Illuminae Files are a must-read for young adult science fiction fans — especially those looking for something wholly unique. The series has some truly incredible 'production value' so to speak and this final chapter is no different. You'll find all the colorful transcripts, illustrated scenes, maps, lists of the dead, and more that readers have come to expect from the series.
While I'm sad to say that series has ended, Obsidio wraps up everything perfectly. Fans couldn't want for more!
Giveaway
Luckily three lucky Illuminae fans will win a copy of Obsidio for themselves at the end of this tour. Rockstar Book Tours is giving away three finished copies of the book! Unfortunately, it's only open to US residents. Enter now!
About the Authors
Amie Kaufman is the New York Times bestselling co-author of These Broken Stars and This Shattered World, and Illuminae, the first in a new series starting in 2015. She writes science fiction and fantasy for teens, and her favourite procrastination techniques involve chocolate, baking, sailing, excellent books and TV, plotting and executing overseas travel, and napping.
She lives in Melbourne, Australia with her husband, their rescue dog, and her considerable library. She is represented by Tracey Adams of Adams Literary.
Website | Facebook | Twitter | Instagram | Goodreads
Jay Kristoff is the award-winning author of THE LOTUS WAR trilogy, a Japanese-inspired steampunk fantasy. Part 3, ENDSINGER, is out now. He's also co-author of the upcoming ILLUMINAE (with Amie Kaufman), a YA Sci-Fi… thing, to be released by Knopf/Random House in 2015, and NEVERNIGHT, the first part of a new fantasy trilogy kicking off in 2016.
Jay is 6'7 and has approximately 13380 days to live. He abides in Melbourne with his secret agent kung-fu assassin wife, and the world's laziest Jack Russell.
He does not believe in happy endings.