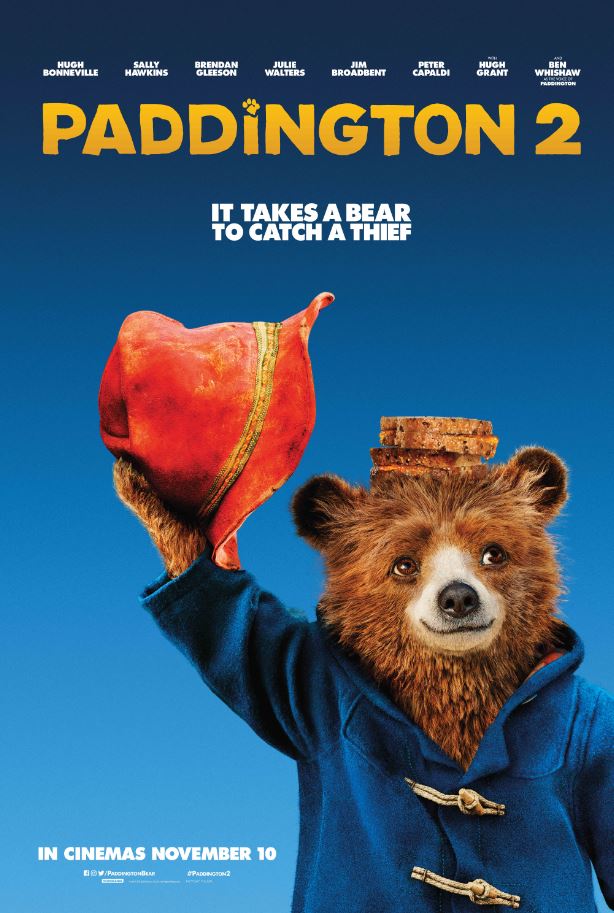 Release Date: January 12, 2018
Cast: Ben Whishaw, Hugh Bonneville, Sally Hawkins, Brendan Gleeson, Julie Walters, Jim Broadbent, Peter Capaldi, Hugh Grant
Director: Paul King
Studio: Heyday Films, StudioCanal, Canal+, Ciné+
Distributor: StudioCanal
IMDB | Rotten Tomatoes | Wikipedia
Spoilers: Low

Here it is, the best movie of 2018, and only a week into it! Aren't we lucky?
Paddington 2 is the tale of one lovable bear who is making a life for himself in jolly old London town. Ben Whishaw voices that delightful bear, Paddington, who lives with the Brown Family. The sequel picks up with Paddington having adjusted quite well to life with his neighbors. The community is benefitting from his presence in a number of cheerful ways. His aunt's birthday is on the horizon though so it's up to Paddington to get a job, make a few coins, and buy her the perfect present. But of course, things don't always go according to plan.
Paddington 2 is the most delightful, charming, cheerful movie. There isn't a bad bone in it. Whereas other family-friendly fare often has a bully or enemy who antagonizes the hero, no such thing exists here because it would be entirely out of character. Paddington is the light of the world.
"If you're kind and polite, everything will come right."
This is his motto and it comes across in every layer of the film. Paddington is kind and polite even to his foes because he isn't out to beat them, he's out to do what's right.
In that adventure to do what's right, Paddington finds himself up against Phoenix Buchanan, an over the hill actor played to absolute perfection by Hugh Grant. Grant's Buchanan is empty-headed and vain, but really all he wants is to put on the best one-man show the world has ever seen! Unfortunately, his means to accomplish this put him at odds with Paddington, and we can't be having that now can we?
The neighborhood gang and family are back and they are similarly going through their own small crisis. Henry Brown, the patriarch of the family is going through a midlife crisis, Mary the mother is longing for adventure, and the kids are trying to find their own identities, as Judy runs a newspaper by ladies only and Jonathan hides his love of trains as he goes by J-Dawg.
The neighbors are trying to sell the news or overcome their own sadness and Paddington is there to help, lending good advice and a marmalade sandwich. This friendly bear may find himself behind bars, but even there he sees the best in people!
Paddington 2 is just a delight, I cannot overstate that. It is a movie that feels good without any meanness or smugness. Its charm is familiar, at times you might be reminded of something twee, like a Wes Anderson film (Grand Budapest Hotel specifically), the difference is Paddington s entirely sincere, not an ounce of irony to it.
Paddington 2 is in theaters everywhere. Go see it and be happy. And learn some manners while you're at it!