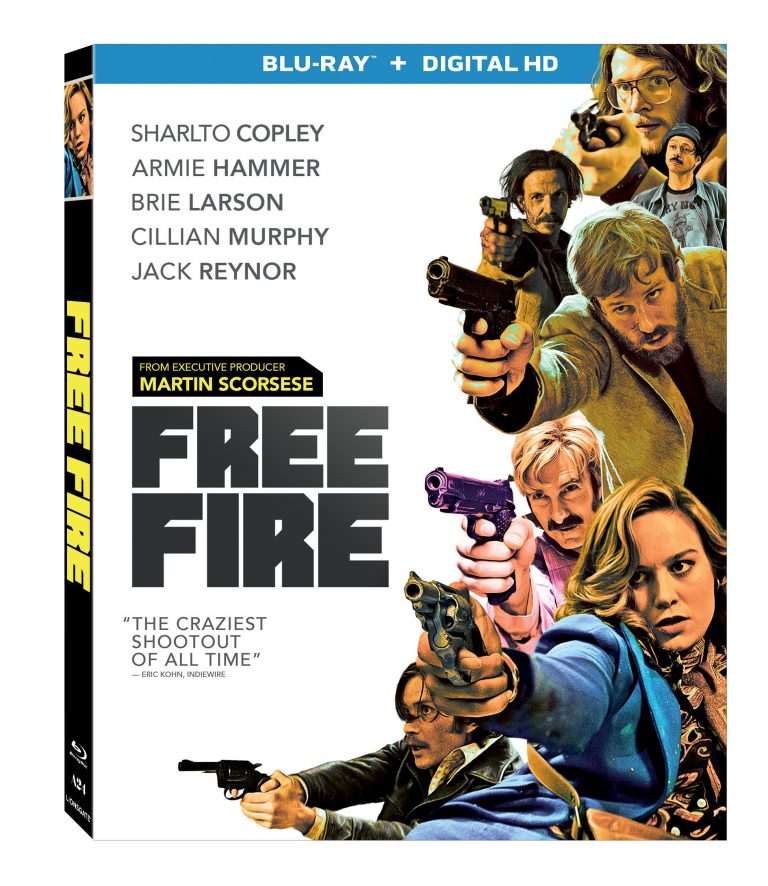 Release Date: July 18, 2017
Cast: Brie Larson, Sharlto Copley, Armie Hammer, Cillian Murphy, Jack Reynor, Babou Ceesay
Director: Ben Wheatley
Studio: Film4 Productions, BFI, Rook Films, Protagonist Pictures
Extra Feature Rating: ★★★★☆
Rating: ★★★★☆
Review Spoilers: Mild
IMDB | Rotten Tomatoes | Wikipedia
Free Fire is one of my favorite action movies of the year so far – and that's saying something, considering we've also just had Edgar Wright's Baby Driver hit theatres. Set in 1970s Boston, Cillian Murphy is a member of the IRA looking to procure some weapons from a weasley pair of gunrunners played by Sharlto Copley and Babou Ceesay. He's assisted by a few seedy characters who were hired for the job and the whole deal is organized by Bree Larson's Justine and Armie Hammer's Ord.
The deal immediately gets tense when it's revealed that Vernon, played by Copley, brought the wrong kind of gun to the deal – multiply that by thirty and Chris, played by Murphy, is already less than impressed. But he wants the guns and he has the money, so Vernon's people bring the rest of them in. When Harry, played by Jack Reynor, is unloading the guns, he recognizes one of Chris' helpers and all bets are off. He did something so unforgivable that their confrontation tips off more than an hour of gunfights.
From that description, Free Fire may not sound much like a comedy-slash-action movie, but the caliber of actors that this movie recruited deliver their one-liners with vicious aplomb. Essentially taking place in one warehouse for the entirety of the film, it could have been easy to for scenes to get repetitive: point, shoot, shout, repeat. However, each actor was able to give their role enough variety to set them apart from one another. None of their pasts are detailed, beyond the night before, yet there are hints of the characters throughout.
Hammer is particularly fun as a glib marksman who must have had some type of military training at one point. He plays off of Copley's greedy, but cowardly, Vernon and Reynor's impulsive Harry well. Bree Larson and Babou Ceesay are both criminally underutilized, but the scenes they do inhabit are especially enjoyable.
The film feels authentic to what might happen when you throw a questionable group of criminals together in a room, give them guns, but very little training for most, and let them shout at each other. They're in over their heads, they're in it for themselves, and there's no telling who is going to get out of the gunfight alive – if anyone.
Special Features
After you've watched the film once, you can watch it again with the Audio Commentary turned on and provided by Ben Wheatley, Cillian Murphy, and Jack Reynor. Recorded after the premiere of the film in Ireland, the three of them give a running commentary over the movie as it plays. For anyone who wants to learn more about how the shots were done, behind-the-scenes tidbits, and stories from the set, this is the perfect edition to the blu-ray.
Be sure to watch the film first before delving into this special feature. There is not a lot of long monologuing in the film that you'll miss, but they do speak loudly over the dialogue and you'll be lost as to who the characters are if this is your introduction to Free Fire.
The Making of Free Fire featurette also allows the cast and crew to give their commentary on the shoot. It's interesting to hear their thoughts on shooting what is essentially a non-stop action movie, where once they're shot and on the ground, they're shot and on the ground crawling around for the rest of the shooting.
Interspersed between interviews with the actors talking about their filming experience and their characters, is a behind-the-scenes look at how scenes were shot. It was interesting to catch the glimpses of makeup being put on, the cast joking around, trying out different scenes. The practical and special effects discussed in the segment were also thoroughly explored.
What was really interesting to learn? Director Ben Wheatley was essentially editing the film in real time on set and there were something like 400 storyboard pages tracking where and how characters moved throughout the film. It's an informative, lengthy segment that also gives audiences this gem from Bree Larson, "The one thing that I have really learned from the men here is that every surface is a canvas for which to draw a penis on."
For anyone who loved Free Fire and wants to know what else this production company has put out, they include a number of trailers for plenty of critically acclaimed films, including Moonlight and Swiss Army Man. It's not a huge number of special features that are included, but the length and depth that the two main clips (one bonus feature is the entire movie over again) go into should be enough to satisfy audiences.
Final Thoughts
It's such a joy to watch this eclectic group of actors come together for Free Fire in a stripped down performance that essentially happens in real time, in one room, with plenty of one-liners. There are tons of laughs to be had, but the violence is never glossed over. This film makes a point to show the audiences each shot, every wound, all of the gruesome details, and some of the pointlessness of what happens over the hour and a half.
Director Ben Wheatley crafted such a lovely film that it's a joy to be able to watch it alongside his running commentary with some of the stars. He's funny, mindful, and it gives viewers an idea of just how much careful thought was put into Free Fire.
I wholeheartedly recommend that anyone who missed this film in theaters to pick it up on blu-ray and find a giant, surround sound television to watch it on.