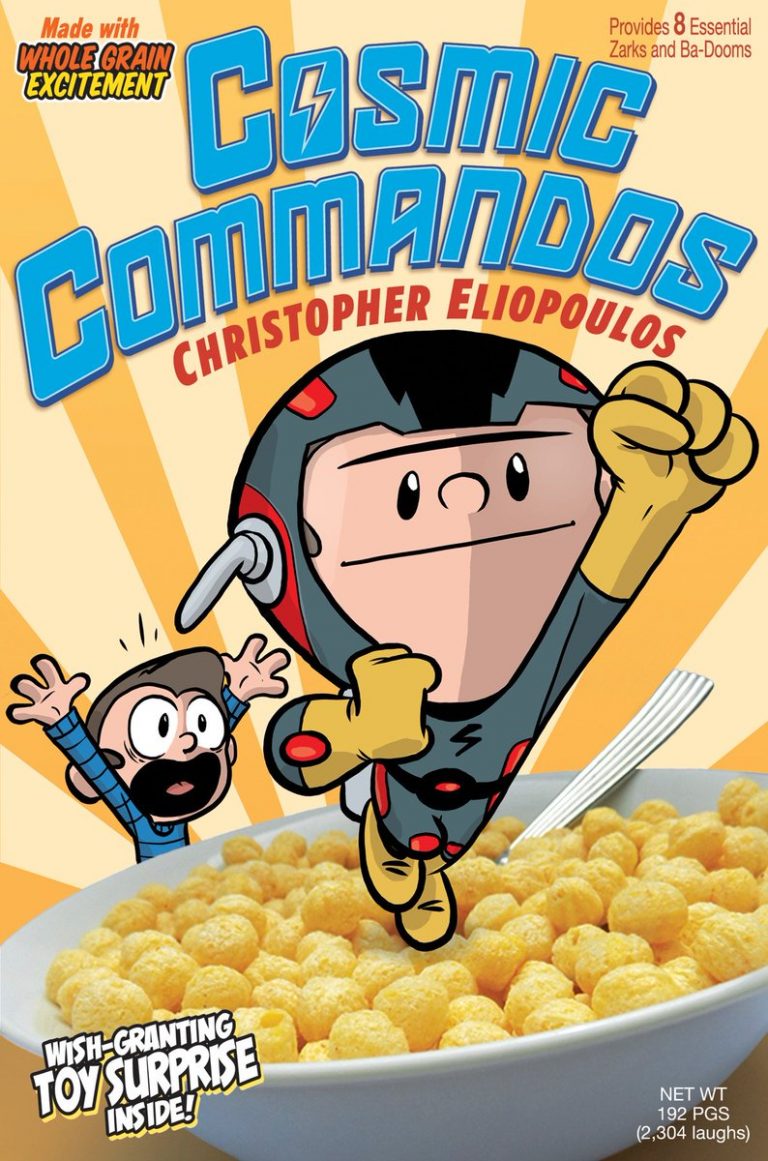 Author: Christopher Eliopoulos
Release Date: July 4, 2017
Publisher: Dial
Review Spoilers: Mild
GoodReads | Amazon

Video games and graphic novels are the perfect combination in Christopher Eliopoulos's brand new book,
Cosmic Commandos
. When a young boy accidentally brings his favorite video game to life, he has to rely on his skills – and ultimately his twin brother – to save the day. It's a fun story and Eliopoulos brings everything to life with his quirky, unique illustrations.
Cosmic Commandos
is undoubtedly going to be lapped up by the middle grade graphic novel crowd.
I was really excited when I first got our review copy of this book because I love Christopher Eliopoulos' work. I first became familiar with him through his work with Marvel Comics. I absolutely loved Franklin Richards: Son of a Genius and as silly as Lockjaw and the Pet Avengers may have seemed, it was a lot of fun. Plus he did one of the cutest back up comic strips ever for Poe Dameron Vol. 1. (Seriously, BB-8 plays matchmaker on the Resistance base – you need to read it.) And if you've got little kids in your life, his biographical Ordinary People Change the World picture book series with Brad Metzer is amazing.
So obviously the idea of reading a brand new, original graphic novel that Christopher Eliopoulos both wrote and illustrated was an exciting prospect.
Cosmic Commandos follows a boy named Jeremy, whose only real interests are video games and giving his identical twin brother, Justin, as much grief as possible. The two are as different as possible because, while Jeremy comes off as angry and apathetic, his brother is the studious sort that likes to think things through first. If you've been wondering about the cereal box facade on the book's cover, the reason for it is that one morning Jeremy finds a magic ring that ultimately grants his wish to bring his favorite video game – the titular Cosmic Commandos – to life.
It sounds great at first, right?
Jeremy gets to be a superhero and since he's so great at the game he figures he can easily dispatch any threats that come his way. The problem is that he's never defeated the last level and as much as Justin wants to help him, Jeremy isn't having it.
Ultimately, though, Jeremy has to accept that his life isn't as lame as he thinks and that his brother isn't just some annoying, identical tag along. The book ends on a high note that hints at an upcoming sequel (which Eliopoulos confirmed on Twitter) but it's a complete, standalone story. That's nice because those can be hard to find when so many publishers focus so heavily on series.
I really enjoyed the story, though I will admit that it was hard seeing just how mean Jeremy was to his brother Justin all the time. I had siblings and I definitely teased them a lot but I wasn't mean to them literally every waking moment. A big part of the book is Jeremy and Justin learning to work together and by the end their relationship is much better. Still, it's a rough journey there.
Fun fact, though. The main characters are actually based on Eliopoulos's twin sons, also named Jeremy and Justin – though the boys are much older than their illustrated counterparts. And hopefully the real Jeremy wasn't that mean to the real Justin growing up!
If you're looking for a fun, new book for the kids to check out this summer then you can't go wrong with Cosmic Commandos. The story is entertaining and who doesn't like the idea of video games coming to life and gaining your own superpowers? Kids are going to love it and they'll eagerly await the second book – which according to Eliopoulos will be trading video games for monster movies!